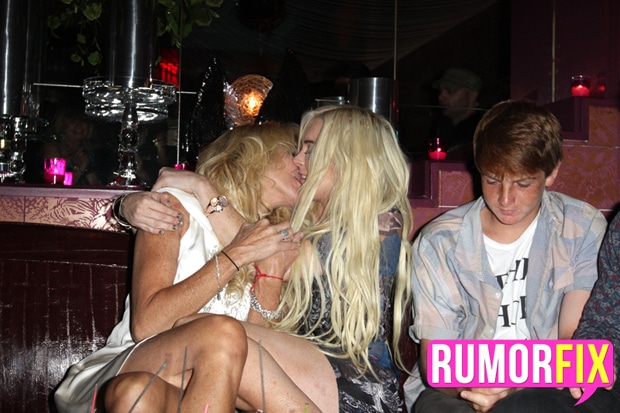 Where paradise begins and hell ends…or is it the other way around?
The world has been put oh high alert since Dina Lohanmade an appearance with Access Hollywood where the part time troubador (her lyrical pronouncements make your ears bleed) and full time media whore (I still adore you Dina, it's just me Scallywag doing my job keeping your phony ass in check…oh dear) made a point of gushing over her very hawt mess, Lindsay Lohan.
Said the proud mother with the onset of her hawt bixch making an appearance as Elizabeth Taylor (who must be choking on diamond pellets somewhere in heaven) in the lifetime movie, 'Liz and Dick(head)'
"There's so many similarities [between them] … the tabloids, they attacked [Liz] as well," Dina continued. "She's really learned a lot, she's grown up a lot."
"This town is tough… Lindsay is 25, so it's for her to talk about her demise, or whatever was going on at the time. I felt as a mother, yes, I'm going to protect my children publicly, privately, I kick their butts. I'm a single mom, of course I do!"
Of course that's like a wealth manager at Goldman Sachs telling you they're going to make as many phone calls as it takes to get that one shithead on the board of directors who keeps blocking your bid to own the money making machine you want to take public, but then again what do I know about 'single' parents cheering their hawt messes on for ultimate glory? I'm just the lonely son of a misguided stork that hatched before a rodent could get to it.
And for mother's day? Surely Lilo will have something in store for mommy once she hobbles out of a gutter somewhere downtown in the next few minutes?
"Lindsay will plan something.She's good at that and she'll dress me."
Yes, Lindsay will dress Momma as Elizabeth Taylor and between the pair of them they will hustle to a slow waltz of sizzling pork ribs on the backyard bbq, a gallon of the bubbly good shit, a carton of red Marlboros and a pleasant afternoon of back slapping, proud that they are somehow alive and still at it.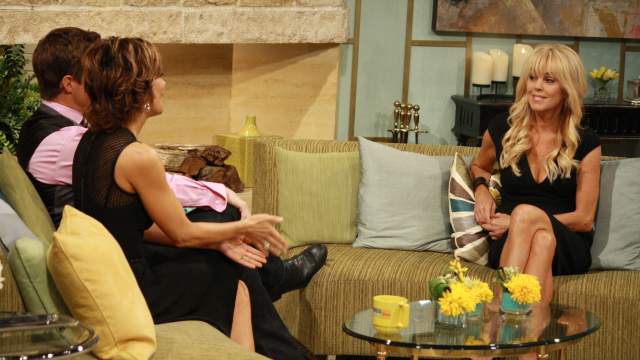 Lindsay Lohan's face worse for wear; puffy and blotched.
Lindsay Lohan and Samantha Ronson: These two bixches insist they're not back together.
Lindsay Lohan laughs off brutal Rosie O'Donnell assault calling her a loser.
Lindsay Lohan is adamant that she did not get into a fist fight at a Hollywood nightclub.
Video: Lindsay Lohan's Changing Face – 25 Years in 60 seconds. The grief….
Lindsay Lohan is no longer a legal pariah. Will the public rebel?
Michael Lohan now insists porn star did not have sex with Lindsay while he slept.
Lindsay Lohan insists she is not a hit and run disaster.
Lindsay Lohan goes back to red. But is it just a ploy?
Will Terry Richardson cave in and become Lindsay Lohan's next love conquest?
Never mind Lilo is no longer a home body but a party animal once again.
Lindsay Lohan turns out to be a complete flop on SNL.
Lindsay Lohan announces she is now clean. But what happened to her face?
Lilo appears in court dressed like a Stepford wife. Inches away from freedom at last.
Lindsay Lohan gets into an altercation at the Standard hotel after accused of wearing a wig.
New Lindsay Lohan photo shoot: cleavage, nipples and wanton lust.
My hero Lilo arrives to NYC with a new poodle coat and what appears to be a pronounced double chin.
Yippe my hero Lilo changed her mind and is now heading off to Dubai for star studded new year's eve bash.
This can't be true? My hero Lilo turns down easy New Year's Eve money…
My hero Lindsay Lohan would like to inform all you haters that her Playboy cover spread is selling like hot cakes at the news stands.
Please Lindsay Lohan what's up with the double chin lately?
The courts heap praise on our hero Lindsay Lohan as a criminal reincarnate.
Lindsay Lohan's only unairbrushed Playboy shot released.
Breaking news: Lindsay Lohan finds her missing purse minus $10 000.
Lindsay Lohan Playboy entire photo spread leaked on line. Bye bye one million dollars.
My hero released from jail after only 4 and half hours. Pass me champagne!
My hero Lindsay Lohan crashes J. Edgar movie premiere party and freaks A listers out.»
MY HERO LINDSAY LOHAN IS ORDERED TO GO BACK TO JAIL.
LINDSAY LOHAN: LOOK AT ME, NO MORE METH TEETH (FOR NOW).
MY HERO LINDSAY LOHAN AGREES TO SPREAD FOR PLAYBOY FOR A COOL $1 MILLION BUCKS.
MICHAEL LOHAN: 'I THINK MY LITTLE GIRL IS A CRACKHEAD.'
Oh no! Lindsay Lohan scores herself a 5th mugshot picture.
Lindsay Lohan would like to explain how she ended up looking like a fashion faux pas in overdrive in court today.
My favorite hero's probation is revoked. Lindsay Lohan bail set at $100 000.
IT'S TIME TO FIND OUT WHICH A GRADE CELEBRITY WHORE THESE TEETH BELONG TO.
LINDSAY LOHAN, MY FAVORITE HAWT MESS IS BEING SUED AGAIN…
LINDSAY LOHAN TRIES TO BUY $5000 WORTH OF CLOTHES WITH NO MONEY OR CREDIT. SECURITY CAMERAS WATCHED HER CAREFULLY.
Lindsay Lohan is now living the life of a haute couture fashion model courtesy of designer Philip Plein.»
LINDSAY LOHAN CAUSES A SCENE AS SHE TELLS OFF HER MILLIONAIRE BOYFRIEND'S MODEL WIFE.
Did Lindsay Lohan slice up a fellow reveler at V magazine's party at the Boom Boom room last night?
Gawd no! Don't let this be Moma Lohan making out with the wicked wench of Crack-ville!!
Marc Jacobs has Lindsay Lohan kicked out of his after party.»
LINDSAY LOHAN HAS PAPARAZZO THROWN OUT OF FASHION TENTS.
LINDSAY LOHAN TO JUDGE; " I CAN'T AFFORD COUNSELING BUT I SURE CAN AFFORD $1200 LOUBOUTINS."
LINDSAY LOHAN WANTS TO SHOW YOU HER POOLSIDE POT BELLY.
LINDSAY LOHAN- A PERFECT BELLIGERENT MESS(AGAIN).
LINDSAY LOHAN GOES FOR THE SHEER LOOK.
GUESS WHICH DRUNK BITCH THIS IS?
PAYOLA: STARRING LINDSAY LOHAN AND CO.
LINDSAY LOHAN JUST WANTS TO PARTY ALL THE TIME.
IS THIS ONE READY TO COME OUT OF THE OVEN YET?
Say goodbye to Lindsay Lohan. Oh the tears…
IS LINDSAY LOHAN GETTING READY TO RETURN TO JAIL?
THE PAPARAZZI PHOTO THAT SET POLICE ON LILO
LINDSAY LOHAN ACCUSED OF STEALING A $5000 NECKLACE.