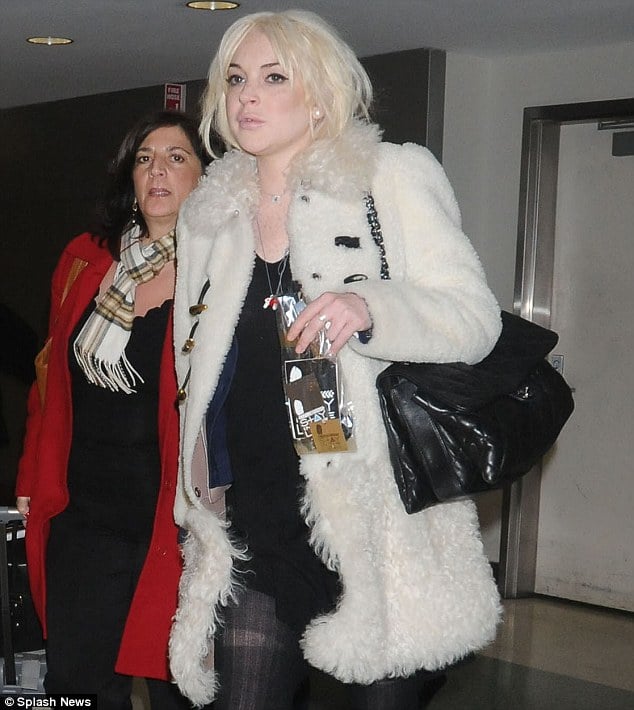 Kids, I'm as giddy as the average New Yorker with the knowledge that our collective hero Lindsay Lohanhas once again graced us with her presence, just in time for yes you guessed it:'It's not NY Fashion week unless I pop round and make one hell of a scene like I did last season!"
But like most things in Lilo's life, her arrival was met with some degree of consternation:
dailymail.co.uk: An insider told TMZ she was threatening to sue over the reports which claimed she was drinking on last Sunday night at the Chateau Marmont in Hollywood.
She insists she only drank water all night and blamed rumours of her hard-partying on why she gets offered so few acting roles.
Drinking water all night? So Demi Moore was smoking cans of red bulland Lilo was snorting pounds of water. Hmm- I can believe that if you tell me to. And of course when Lilo tells you she only gets offered so few acting roles because of consistent partying rumors you better believe her. Then again there are these hard to deny eye witness accounts rumors too that might have some reason as to why Lilo has been forced to adopt a second class existence as a Playboy model that she only managed to eke out a mere near million out of.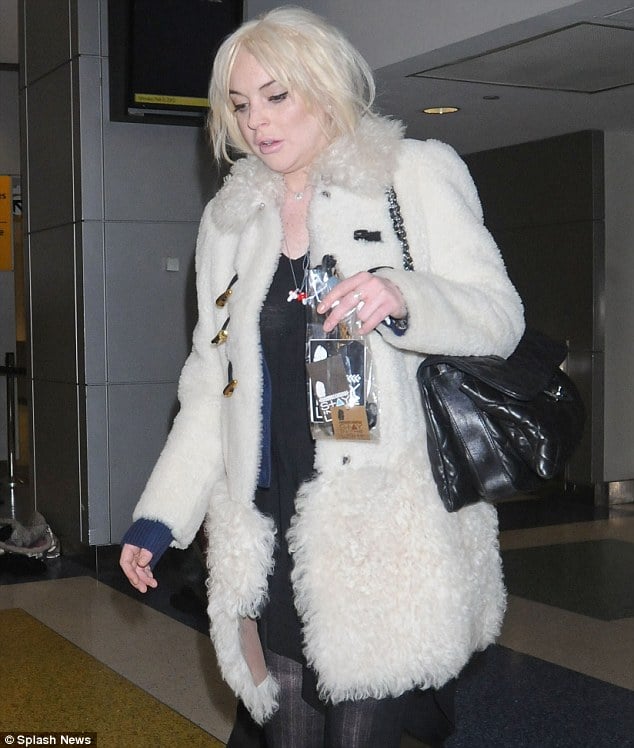 Of course no report on Lilo would be complete without the following report from neighbors who are sick and tired of her highness and simply want her to move:
Her former neighbours in Venice Beach have also come out recently saying she was a nightmare to live next door to, because of all the drama and partying she brought with her.
Never mind Lilo, fashion week is here and before you can even blink and snort another gallon of water you will be back in the press again telling us your version of how you miraculously managed to get ejected out of some fashion show. Then again that's probably a rumor I'm already making up, so I better be quiet and just wait for you to clatter down the street when you're good and ready to cause the next scene. Of course don't forget your water bottle Lilo…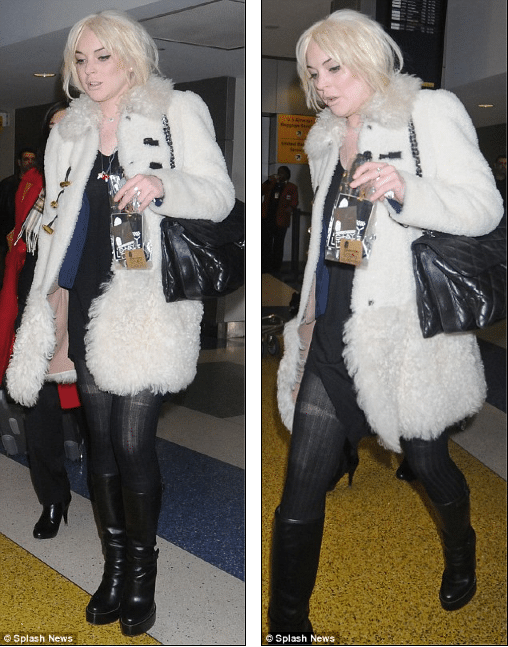 Yippe my hero Lilo changed her mind and is now heading off to Dubai for star studded new year's eve bash.
This can't be true? My hero Lilo turns down easy New Year's Eve money…
My hero Lindsay Lohan would like to inform all you haters that her Playboy cover spread is selling like hot cakes at the news stands.
Please Lindsay Lohan what's up with the double chin lately?
The courts heap praise on our hero Lindsay Lohan as a criminal reincarnate.
Lindsay Lohan's only unairbrushed Playboy shot released.
Breaking news: Lindsay Lohan finds her missing purse minus $10 000.
Lindsay Lohan Playboy entire photo spread leaked on line. Bye bye one million dollars.
My hero released from jail after only 4 and half hours. Pass me champagne!
My hero Lindsay Lohan crashes J. Edgar movie premiere party and freaks A listers out.»
MY HERO LINDSAY LOHAN IS ORDERED TO GO BACK TO JAIL.
LINDSAY LOHAN: LOOK AT ME, NO MORE METH TEETH (FOR NOW).
MY HERO LINDSAY LOHAN AGREES TO SPREAD FOR PLAYBOY FOR A COOL $1 MILLION BUCKS.
MICHAEL LOHAN: 'I THINK MY LITTLE GIRL IS A CRACKHEAD.'
Oh no! Lindsay Lohan scores herself a 5th mugshot picture.
Lindsay Lohan would like to explain how she ended up looking like a fashion faux pas in overdrive in court today.
My favorite hero's probation is revoked. Lindsay Lohan bail set at $100 000.
IT'S TIME TO FIND OUT WHICH A GRADE CELEBRITY WHORE THESE TEETH BELONG TO.
LINDSAY LOHAN, MY FAVORITE HAWT MESS IS BEING SUED AGAIN…
LINDSAY LOHAN TRIES TO BUY $5000 WORTH OF CLOTHES WITH NO MONEY OR CREDIT. SECURITY CAMERAS WATCHED HER CAREFULLY.
Lindsay Lohan is now living the life of a haute couture fashion model courtesy of designer Philip Plein.»
LINDSAY LOHAN CAUSES A SCENE AS SHE TELLS OFF HER MILLIONAIRE BOYFRIEND'S MODEL WIFE.
Did Lindsay Lohan slice up a fellow reveler at V magazine's party at the Boom Boom room last night?
Gawd no! Don't let this be Moma Lohan making out with the wicked wench of Crack-ville!!
Marc Jacobs has Lindsay Lohan kicked out of his after party.»
LINDSAY LOHAN HAS PAPARAZZO THROWN OUT OF FASHION TENTS.
LINDSAY LOHAN TO JUDGE; " I CAN'T AFFORD COUNSELING BUT I SURE CAN AFFORD $1200 LOUBOUTINS."
LINDSAY LOHAN WANTS TO SHOW YOU HER POOLSIDE POT BELLY.
LINDSAY LOHAN- A PERFECT BELLIGERENT MESS(AGAIN).
LINDSAY LOHAN GOES FOR THE SHEER LOOK.
GUESS WHICH DRUNK BITCH THIS IS?
PAYOLA: STARRING LINDSAY LOHAN AND CO.
LINDSAY LOHAN JUST WANTS TO PARTY ALL THE TIME.
IS THIS ONE READY TO COME OUT OF THE OVEN YET?
Say goodbye to Lindsay Lohan. Oh the tears…
IS LINDSAY LOHAN GETTING READY TO RETURN TO JAIL?
THE PAPARAZZI PHOTO THAT SET POLICE ON LILO