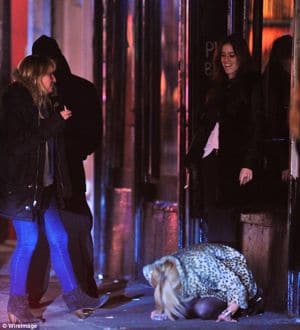 Lilo this midnight hour is scraping the pavement with her tonsils…
Mercy us, the saliva sliding off the pavement and all the way to our dorm seems to have a distinct odor to it. What kind of odor you wonder? As usual the dailymail.co.uk takes up the fight….
Sitting in a grimy street, head face-first on the pavement, troubled star Lindsay Lohan appears to be down and out as she leaves a New York bar.
Looking decidedly the worse for wear, Lohan – who as part of her probation is not allowed to drink alcohol – appeared to have spent the best part of the evening hanging out with friends in The Cabin Down Below bar soon after arriving in New York by private jet.
After emerging, she is seen stooping on the floor, groping for support, and struggling to stay atop her high platform heels.
Struggling because she's misplaced her cork screw, her pristine martini glass, her fuzzy rolled up $20 bill, her earl grey morning tea bag, her floppy rabbit foot good luck charm?
Dressed in a very short black dress, leopard print coat, the Machete star kneels on the floor, cigarette in hand, laughing uncontrollably and inadvertently exposed her underwear.
Laughing uncontrollably because somewhere in the background is another impending disaster with Lindsay's personal autograph about to be etched on it with a hint of Vermouth lite?
The 24-year-old stumbles to her feet while her laughing friends – including Samantha Swetra who was recently involved in a fight with Boardwalk Empire actress Paz de la Huerta – show little concern.
Finally one of them goes to her aid.
Goes to her aid with a carefully brewed teacup of rare kabuchi hibiscus tea leaves…
Lohan attempted to play down the scenes this morning tweeting: 'Is it not allowed to slip and fall? im always a klutz!!!'
Which has the chipmunks wondering- what will Mr "I don't approve of your folly" Parole officer who at this very moment is wiping the vermouth off his tender loins say?
But of course on second looks it looks like the stench careening off the sidewalk momentarily made our Lindsay dizzy. Right?
IS THIS ONE READY TO COME OUT OF THE OVEN YET?
MICHAEL LOHAN WILL NOT TOLERATE HIS LITTLE GIRL DROPPING THE LOHAN BIT
MY HERO PAZ GOT ARRESTED LAST NIGHT FOR STARTING A DRUNKEN BRAWL.
PAYOLA: STARRING LINDSAY LOHAN AND CO.