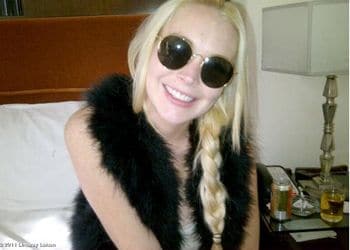 Lindsay Lohan has a confession to make. What you wonder? The media whoredom of the dentist who gave her mouth a facelift. That's right kids, our collective heroine Lindsay 'I know how to make more money and be a jack ass at the same time' took to her twitter yesterday to give her dentist, Dr I'mhereforanycelebritywhore24x7 Dorfmann the plug of a lifetime.
Wrote our heroine: 'Thanks Dr Dorfmann for the zoom… My gums are so sore though!'
Kids, me thinks that the little munchkins that Dr Dorfmann calls his secretaries are going to get blisters on their ears after the deluge of ensuing phone calls which will have his assistants signing up for disability pursuant to damaged ear lobes pursuant to aspiring media whores running over to get their own set of 'no more crack teeth and other inconveniences ' now that I met Dr Dorfmann. Personally, I'm still trying to save up for the bus fare, but even I am hopeful I'll make it to Dr Dorfmann's office, what although I'll have to say or do to get my free set of free teeth may well need some imagination (the things us bloggers are forced to do…).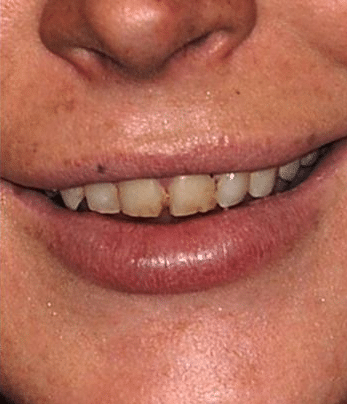 One day in the not too distant future when our hero is lining up for her prison meal of ghoulash and burned turnips she will at least have the pleasure of knowing when she catches the reflection of her shiny teeth and shiny life against the prison spoon not everything in her life is a downward spiral.
Don't you wish you could get a free pair of white pearls this afternoon? Of course you do…Dr Dorfmann and his munchkins are waiting for your phone call now: 1800 MEDIA WHORE
MY HERO LINDSAY LOHAN AGREES TO SPREAD FOR PLAYBOY FOR A COOL $1 MILLION BUCKS.
MICHAEL LOHAN: 'I THINK MY LITTLE GIRL IS A CRACKHEAD.'
Oh no! Lindsay Lohan scores herself a 5th mugshot picture.
Lindsay Lohan would like to explain how she ended up looking like a fashion faux pas in overdrive in court today.
My favorite hero's probation is revoked. Lindsay Lohan bail set at $100 000.
IT'S TIME TO FIND OUT WHICH A GRADE CELEBRITY WHORE THESE TEETH BELONG TO.
LINDSAY LOHAN, MY FAVORITE HAWT MESS IS BEING SUED AGAIN…
LINDSAY LOHAN TRIES TO BUY $5000 WORTH OF CLOTHES WITH NO MONEY OR CREDIT. SECURITY CAMERAS WATCHED HER CAREFULLY.
Lindsay Lohan is now living the life of a haute couture fashion model courtesy of designer Philip Plein.»
LINDSAY LOHAN CAUSES A SCENE AS SHE TELLS OFF HER MILLIONAIRE BOYFRIEND'S MODEL WIFE.
Did Lindsay Lohan slice up a fellow reveler at V magazine's party at the Boom Boom room last night?
Gawd no! Don't let this be Moma Lohan making out with the wicked wench of Crack-ville!!
Marc Jacobs has Lindsay Lohan kicked out of his after party.»
LINDSAY LOHAN HAS PAPARAZZO THROWN OUT OF FASHION TENTS.
LINDSAY LOHAN TO JUDGE; " I CAN'T AFFORD COUNSELING BUT I SURE CAN AFFORD $1200 LOUBOUTINS."
LINDSAY LOHAN WANTS TO SHOW YOU HER POOLSIDE POT BELLY.
LINDSAY LOHAN- A PERFECT BELLIGERENT MESS(AGAIN).
LINDSAY LOHAN GOES FOR THE SHEER LOOK.
GUESS WHICH DRUNK BITCH THIS IS?
PAYOLA: STARRING LINDSAY LOHAN AND CO.
LINDSAY LOHAN JUST WANTS TO PARTY ALL THE TIME.
IS THIS ONE READY TO COME OUT OF THE OVEN YET?
Say goodbye to Lindsay Lohan. Oh the tears…
IS LINDSAY LOHAN GETTING READY TO RETURN TO JAIL?
THE PAPARAZZI PHOTO THAT SET POLICE ON LILO