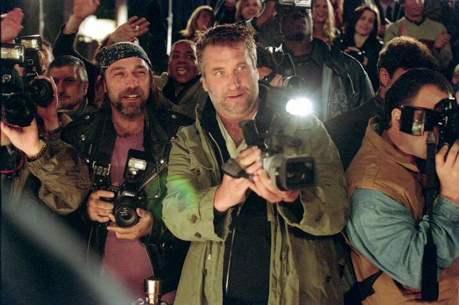 "Media whores," it's a catchy phrase that has lately been making the rounds and making its indoctrination in the daily lexicon we call English. To have suggested someone was a media whore as late as 2005 would have had most people wincing and wondering what exactly you were talking about. That of course was then and as we now move firmly into 2010 and the age of hyper social networking, frantic media attention and photo sharing validation (more about this later) the two ugly words don't seem too ugly anymore. In fact it has now become a strange rite of passage that if you are to be anyone, taken seriously or get yourself 'correctly' exposed whoring your 'manufactured' image is the new (con) game in town. Of course there is a lot at stake and the players know it.
As media stalkers, our implicit game is to give these 'creatures' their six minutes of fame, preferred three quarter angle and the buzz they so desperately desire because we know it's what turns bored yuppies/hipsters and aspiring dilettantes into collective goo (sort of…). It's all rather delicious because it helps this delusional merry go round world keep going round at a very dizzy silly speed. That said we decided to pause, put our own cameras down and ask who exactly are the new breed of 'media whores,' what they are after and how exactly have they gotten  to where they are and why it even matters.
As we finally turn to our preferred list of spectacular media whores we offer one caveat to all those nominated on this prodigious list, this article wasn't written to knock you off your pedestal (that is a feat that we feel you are better served to achieve on your own…) but rather an attempt to educate (ourselves and) the public as to how we suddenly found ourselves dreaming about you in our sleep. That said, here is our list and if you happen to find yourself on it, never mind we're sure you will still be adored by us and your minions and paradoxically thrilled that you once again managed to get your mug on another paper. No hard feelings if you catch our drift…


Coming in at number 10 on a flash is the strange figure of Derek Blasberg.
For those of you who don't know Derek, he has been hailed as a writer (of what we don't know…) turned preferred arm candy of privileged photo sensitive young women. Apparently rumor has it that