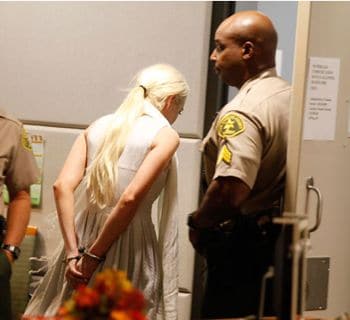 Michael Lohan: 'I think my little girl is a crackhead.'
Lindsay Lohan would like to explain how she ended up looking like a fashion faux pas in overdrive in court today.
Oh no! Lindsay Lohan scores herself a 5th mugshot picture.
Kids, let's all say this together and slowly- 'life just isn't fair!' Who of course is uttering this through her meth stained teeth is our collective hero Lindsay 'all I wanna do is have a great time on your dime' Lohan.
Why you wonder? Let's all pack our plastic baggies away and watch the video courtesy of TMZ:
As the judge is sitting there explaining to Lilo why she is essentially a fxck up you can begin to see the little tears called 'but I was only trying to get one over the court and now you wanna send me to jail nigga?' act.
As Judge Sautner get on the business of explaining point by point how our Lilo screwed up (and the list is long, from no shows at designated community service meets, to being kicked out of the community service center for being a no show, for only bothering to turn up once out of 9 scheduled appointments at the women's center and only for one hour as opposed to the alloted 4 hours, how the Probation department had no business sending our hero to the red cross and how Lilo can now expect to have time spent there not count, cause essentially it was Lilo's way of trying to get one over amongst other instances of Lilo trying to get one over) one begins to notice our hero fidget, nervously looking at her lawyer, Shawn Holley, blinking 'I thought you said you bribed the judge' message, with her lawyer forced to look the other way in exasperation, blinking in slow motion, 'bounced checks don't travel far in tinsel town.'
As you can imagine all these horrible mean things made our Lilo cringe and cry rivers of coke stained tears from the bottom of her heart. Of course you and I can't see the tears, but you can be sure they're pouring like an avalanche from every depressed artery wall underneath her creamy white pearl skin noticeable to every chipmunk with extra sensory perception.
Lilo's lawyer, Shawn Holley tried in vain to pass off some clever lies about Lilo having to party her ass of overseas being a class A delinquent as opposed to a class D delinquent, but Judge Sautner wasn't convinced, even having the audacity to audibly mutter something about Lilo supposedly being an actress or something like that I hear shit.
Judge Sautner then goes off to show her contempt for the Probation department for having the audacity to give our collective hero a glowing report card, failing to understand that like most easter bunnies that romp in crack dens, the Probation department was simply in awe of our collective hero and understood that having our collective hero doing some real back breaking labor would not have been the best look north of Malibu.
As the video drags on it suddenly becomes apparent to Lilo that Judge Sautner will not play along with the rich and famous can always get one over us gag, which leads to our heroine giving her lawyer another look that says 'I can't believe this shit is happening to me,' with Shawn Holley feigning a 'don't worry about a thing' look while all the while day dreaming about the poulet cordon en blue dinner her new squeeze is cooking her later tonight.
Eventually everyone had enough of the 'Lilo and Law' show and that's when the sheriff appeared, gave Lilo a knowing wink before our heroine replayed an oscar winning performance of her stoically turning around and having those handcuffs revisit their lost love.
At present Judge Sautner has ordered that Lilo serve a bunch of hours at the morgue come November 2 where Judge Sautner, Lilo and her lawyer will reconvene to wonder out aloud how America's favorite white trash ended up falling off the gravy train. Lilo may assuming Californian jails  suddenly free up see herself serve up to 18 months jaif for failing to honor the terms of her probation. Something even Judge Sautner grumbled is a very unlikely result.
One day whilst Lilo is licking empty plastic baggies in some city morgue she'll suddenly stop, notice a dead body moving before violently shuddering – that in fact it's her own dead body. Such it seems are the misadventures of supposed movie star idols that insist that they are invincible high velocity made for TV heroines when in actuality all they really are deflated punctured second hand human beings struggling to pass off their own lies to an audience that can't help but watch a jilted heroine seek love and adulation when in actuality there is nothing but hate and torment…
Such are the preferred past times of an America in moral decay.
IT'S TIME TO FIND OUT WHICH A GRADE CELEBRITY WHORE THESE TEETH BELONG TO.
LINDSAY LOHAN, MY FAVORITE HAWT MESS IS BEING SUED AGAIN…
LINDSAY LOHAN TRIES TO BUY $5000 WORTH OF CLOTHES WITH NO MONEY OR CREDIT. SECURITY CAMERAS WATCHED HER CAREFULLY.
Lindsay Lohan is now living the life of a haute couture fashion model courtesy of designer Philip Plein.»
LINDSAY LOHAN CAUSES A SCENE AS SHE TELLS OFF HER MILLIONAIRE BOYFRIEND'S MODEL WIFE.
Did Lindsay Lohan slice up a fellow reveler at V magazine's party at the Boom Boom room last night?
Gawd no! Don't let this be Moma Lohan making out with the wicked wench of Crack-ville!!
Marc Jacobs has Lindsay Lohan kicked out of his after party.»
LINDSAY LOHAN HAS PAPARAZZO THROWN OUT OF FASHION TENTS.
LINDSAY LOHAN TO JUDGE; " I CAN'T AFFORD COUNSELING BUT I SURE CAN AFFORD $1200 LOUBOUTINS."
LINDSAY LOHAN WANTS TO SHOW YOU HER POOLSIDE POT BELLY.
LINDSAY LOHAN- A PERFECT BELLIGERENT MESS(AGAIN).
LINDSAY LOHAN GOES FOR THE SHEER LOOK.
GUESS WHICH DRUNK BITCH THIS IS?
PAYOLA: STARRING LINDSAY LOHAN AND CO.
LINDSAY LOHAN JUST WANTS TO PARTY ALL THE TIME.
IS THIS ONE READY TO COME OUT OF THE OVEN YET?
Say goodbye to Lindsay Lohan. Oh the tears…
IS LINDSAY LOHAN GETTING READY TO RETURN TO JAIL?
THE PAPARAZZI PHOTO THAT SET POLICE ON LILO
LINDSAY LOHAN ACCUSED OF STEALING A $5000 NECKLACE.