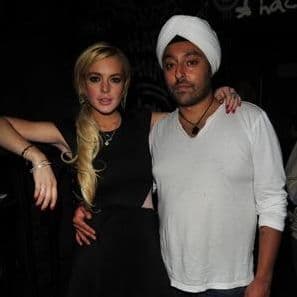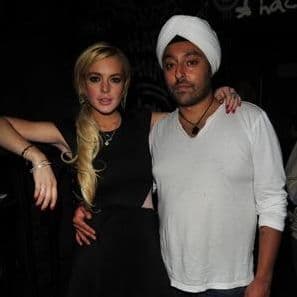 Kids, I have to confess, I have taken to an electric woodpecker that gently taps me on my forehead the minute the god Sheba announces that Lilo has dared to breathe and announce her audacious existence. As you can imagine since that fateful purchase, my head is pistoned with jack hole grooves the size of Mt Vesuvius after shocks. Nevertheless, like you, I am resigned to live my life through the fierce beast called jack me off Lilo.
That said it's time for the newest merry go round chapter of the Lindsay Lohan explosion TV show, starring of course Lilo herself and any sucker she can find along the road to buy her blow and cause a scene with. Which introduces us to the next contestant on the "I love Lindsay show," Vikram Chatwal, Lilo's current love interest and a millionaire hotelier (Lilo sure knows which ones to go for) and his wife (please you didn't think Lilo would fall in love with something easy?!) Priya Sachdev.
In the latest installment of why does my life never go right, Lilo according to the NY Post is reported to have crossed paths with Vikram's wife, Priya at NY's Dream Hotel (which her estranged husband owns) where apparently the kind beast of shattered glasses is said to have said with love and affection visible disdain, 'You are his wife?!' which was then followed by a heartfelt hug dirty stare best reserved for movie cameo roles.
Apparently Lohan who has all but moved into Vikram's pad (she's installed a crack oven by the baby's room- yes, that's right, Vikram has a baby girl…) whom Vikram flew in for the recent NY fashion debacle week in his private jet was apparently snooping when she decided this past Wednesday to drop by the Dream hotel where Vikram was hosting a dinner, with his estranged wife. That of course is when the dirty looks started flowing down the drapery and it was later reported a throng of onlookers had to intervene to calm Lilo down. Such it seems are the dramatic overtures of a starlet in search of life beyond an empty crack den.
One day when Vikram is nursing a bloody hangover and his estranged wife is nursing her husband back to his senses, Vikram will suddenly hear the catcall of a two fisted ex actress called Lilo as she angrily beats down the front door. At that stage, Vikram will slowly search his wife's face for a reaction before realizing that the love affair was just in his head.
Isn't it time you fell in love with someone who's bound to eventually destroy your life too…?
Lindsay Lohan is now living the life of a haute couture fashion model courtesy of designer Philip Plein.
Did Lindsay Lohan slice up a fellow reveler at V magazine's party at the Boom Boom room last night?
Gawd no! Don't let this be Moma Lohan making out with the wicked wench of Crack-ville!!
Marc Jacobs has Lindsay Lohan kicked out of his after party.»
LINDSAY LOHAN HAS PAPARAZZO THROWN OUT OF FASHION TENTS.
LINDSAY LOHAN TO JUDGE; " I CAN'T AFFORD COUNSELING BUT I SURE CAN AFFORD $1200 LOUBOUTINS."
LINDSAY LOHAN WANTS TO SHOW YOU HER POOLSIDE POT BELLY.
LINDSAY LOHAN- A PERFECT BELLIGERENT MESS(AGAIN).
LINDSAY LOHAN GOES FOR THE SHEER LOOK.
GUESS WHICH DRUNK BITCH THIS IS?
PAYOLA: STARRING LINDSAY LOHAN AND CO.
LINDSAY LOHAN JUST WANTS TO PARTY ALL THE TIME.
IS THIS ONE READY TO COME OUT OF THE OVEN YET?
Say goodbye to Lindsay Lohan. Oh the tears…
IS LINDSAY LOHAN GETTING READY TO RETURN TO JAIL?
THE PAPARAZZI PHOTO THAT SET POLICE ON LILO