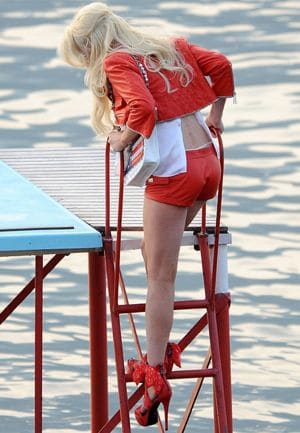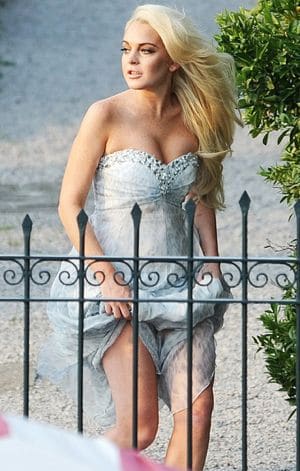 Why bother with Hollywood when you can resurrect yourself as a haute couture sophisticated fashion model.  Lindsay Lohan will always know better than you and infinitely achieve more than you. Sit back as she shows you how…
Kids, this is the part where I will ask you to throw caution to the wind and look for your own mobile jackhammer to poke your eyes out as you cast your eyes on this hawt mess called Lilo as faux fashion model. As you can plainly see this hawt bixch can certainly strike a steely pose, and if you aren't feeling goosebumps right about now then not a drop of the good moonshine or red blood flows through your veins.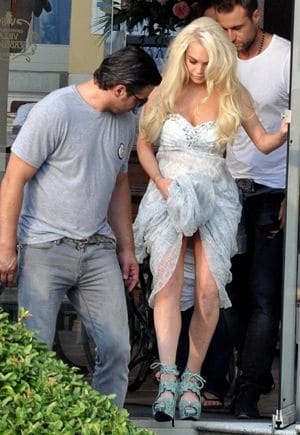 Not even a day after been announced the new collective mess pin up sweetheart for German heart throb designer Phillip Plein (I just made the heart throb part up myself, just to lend our Lilo an air of exclusivity and gumption for the camera man- work it Lilo!) our collective media whore (yes one day Lilo's personal love letters will pour into my email inbox where me and the chipmunks, Vladimir and Fyodor will gently rub them against the nape of our necks….) has been put to the task of translating the German designer into the next dizzy must have for all 15 year old girls in the town of Rive Gauche, Paris Santa Barbara, CA.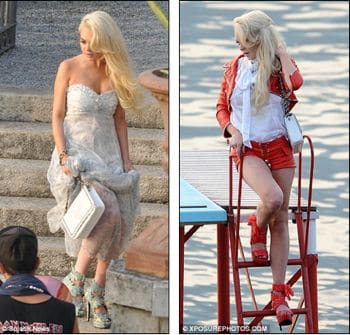 Kids as I too go look for my own loose bag of the good shit (you think that hawt bixch has all the fun?) I leave you a series of images to contemplate as our collective vixen parades deep into the remnants of your imagination.
Why bother being a Hollywood actress when you can let some two bit German designer resurrect your existence?
Isn't it time you became a popular washed up actress too, unless of course you already are…?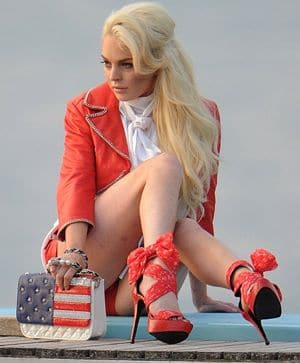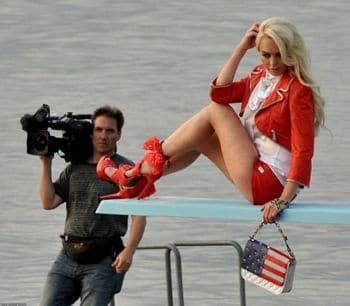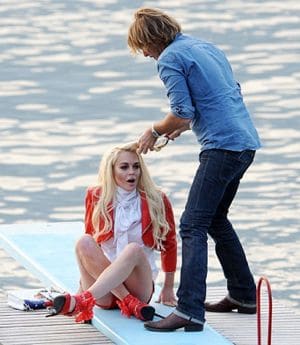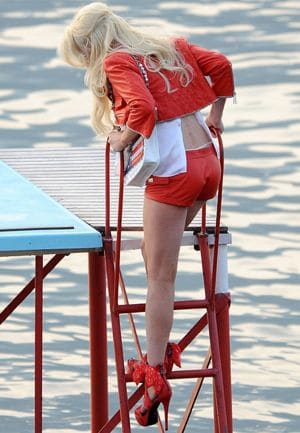 LINDSAY LOHAN CAUSES A SCENE AS SHE TELLS OFF HER MILLIONAIRE BOYFRIEND'S MODEL WIFE.
Did Lindsay Lohan slice up a fellow reveler at V magazine's party at the Boom Boom room last night?
Gawd no! Don't let this be Moma Lohan making out with the wicked wench of Crack-ville!!
Marc Jacobs has Lindsay Lohan kicked out of his after party.»
LINDSAY LOHAN HAS PAPARAZZO THROWN OUT OF FASHION TENTS.
LINDSAY LOHAN TO JUDGE; " I CAN'T AFFORD COUNSELING BUT I SURE CAN AFFORD $1200 LOUBOUTINS."
LINDSAY LOHAN WANTS TO SHOW YOU HER POOLSIDE POT BELLY.
LINDSAY LOHAN- A PERFECT BELLIGERENT MESS(AGAIN).
LINDSAY LOHAN GOES FOR THE SHEER LOOK.
GUESS WHICH DRUNK BITCH THIS IS?
PAYOLA: STARRING LINDSAY LOHAN AND CO.
LINDSAY LOHAN JUST WANTS TO PARTY ALL THE TIME.
IS THIS ONE READY TO COME OUT OF THE OVEN YET?
Say goodbye to Lindsay Lohan. Oh the tears…
IS LINDSAY LOHAN GETTING READY TO RETURN TO JAIL?
THE PAPARAZZI PHOTO THAT SET POLICE ON LILO