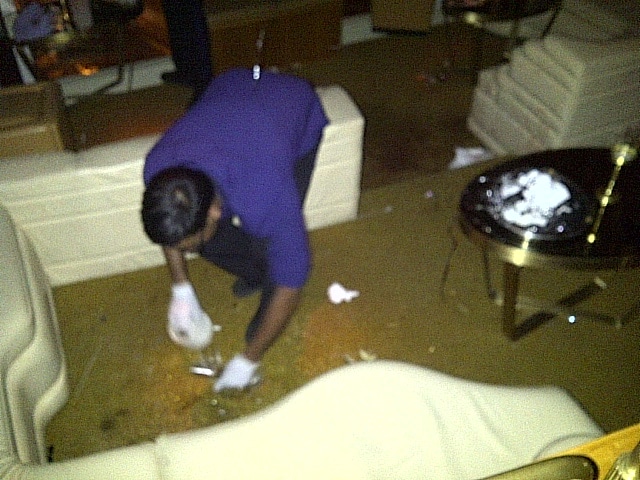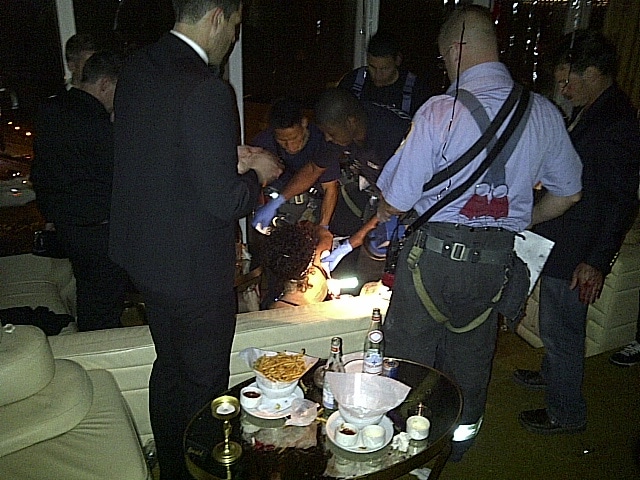 Rumors are starting to fly that pain in the proverbial ass and good for nothing wild child Lindsay Lohan may be responsible for putting an abrupt end to V magazine's bash at the Standard Hotel's Boom Boom room last night after an altercation with a fellow reveler turned very ugly. Apparently Lindsay Lohan was seen earlier that evening throwing drinks at one V mag photographer:
ology: And just last night, while making her rounds at Fashion Week, Lindsay decided she didn't want to be photographed (ah, the irony), and threw her drink at a V photographer who tried to snap a pic of the starlet. The photog  tweeted about the altercation, writing: "Wow. Lindsay Lohan is as trashy as they always say. She threw drinks and glasses to me as we tried to take a shot for @vmagazine."
According to one of our sources it turns out that more than throwing glasses at photographers was going on. Apparently one young female reveler had an artery on her arm erupt after a jagged glass hit her arm, courtesy of a belligerent Ms Lohan.
At this juncture no one quite knows if Lilo is to blame, but one thing's for sure the cops and emergency units came and had a very serious issue of a profusely bleeding guest. Judging from the pictures below, the cut looked fairly nasty (the carpet doesn't look sweet either does it?).
So we're left to wonder did America's collective hawt mess leave another nasty mark in her wake or is this just an opportunistic rumor flying around? Let's see Lilo's publicists explain this one….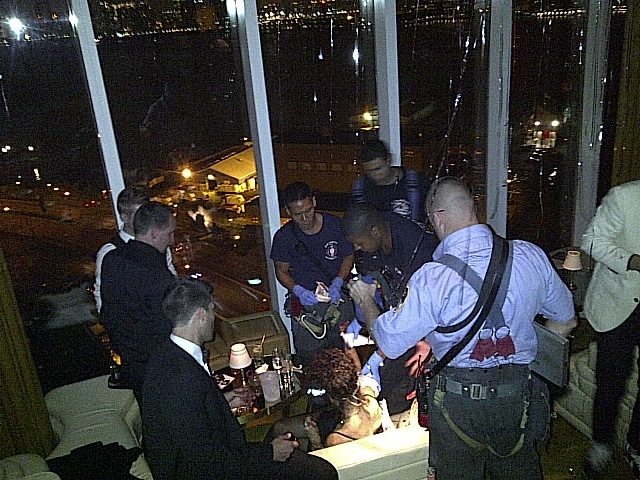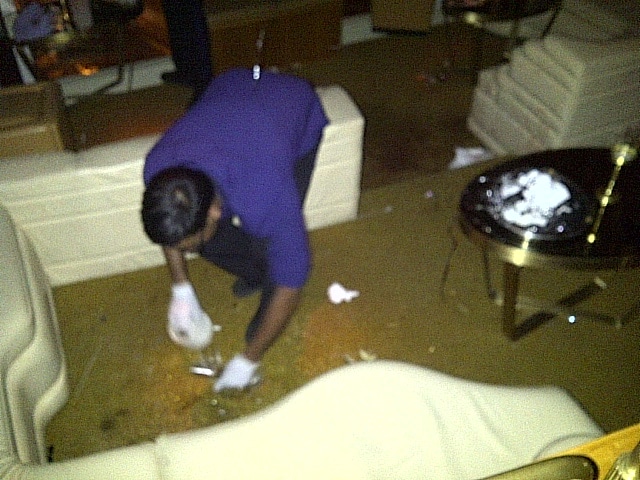 Gawd no! Don't let this be Moma Lohan making out with the wicked wench of Crack-ville!!
Marc Jacobs has Lindsay Lohan kicked out of his after party.»
LINDSAY LOHAN HAS PAPARAZZO THROWN OUT OF FASHION TENTS.
LINDSAY LOHAN TO JUDGE; " I CAN'T AFFORD COUNSELING BUT I SURE CAN AFFORD $1200 LOUBOUTINS."
LINDSAY LOHAN WANTS TO SHOW YOU HER POOLSIDE POT BELLY.
LINDSAY LOHAN- A PERFECT BELLIGERENT MESS(AGAIN).
LINDSAY LOHAN GOES FOR THE SHEER LOOK.
GUESS WHICH DRUNK BITCH THIS IS?
PAYOLA: STARRING LINDSAY LOHAN AND CO.
LINDSAY LOHAN JUST WANTS TO PARTY ALL THE TIME.
IS THIS ONE READY TO COME OUT OF THE OVEN YET?
Say goodbye to Lindsay Lohan. Oh the tears…
IS LINDSAY LOHAN GETTING READY TO RETURN TO JAIL?
THE PAPARAZZI PHOTO THAT SET POLICE ON LILO