Lindsay Lohan wants to show you her poolside pot belly.
Even this will come to pass…
Poor Lindsay Lohan. A cursory look at the photos below taken while the sometimes actress was on shoot for Plum Miami magazine reveal something less than stellar. And if our collective hero's expressions can tell us a story it would be that 'the pot belly and saggy ass just has to go…'
dailymail.co.uk: She had been posing for a photo shoot for an upcoming magazine spread, but once it was all over Lindsay Lohan couldn't resist puffing on a cigarette.
After all that hard work, Lohan appeared to be stressed out and decided to unwind poolside in a tiny striped bikini with her sister Ali.
But the star's once enviable figure has given way to a pot belly, which she exposed while changing from her bikini.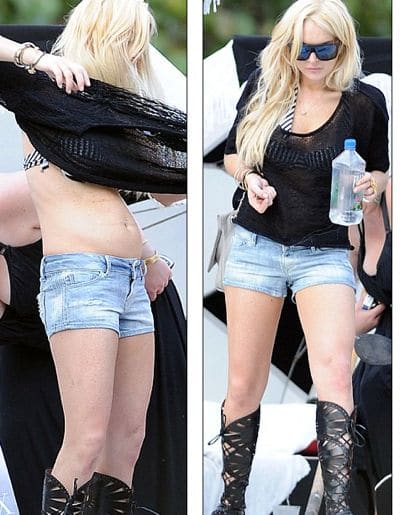 Pot belly? Not our collective Lindsay? After all isn't that a cardinal sin when you're busy selling yourself as a vixen for the unimaginable?
Perhaps it's the veneer of hungry paparazzi jamming their mugs up Lilo's face that has this buxom beauty who on a windy day could pass for a washed up for a 43 year old former/current drug addict weathered femme fatale despondent? But then again, Lilo and the shiny camera boy always go hand in hand, which is to say our beloved Lilo will have to make an effort to do a few sit ups if she's to hold on to her mantle of preferred media trash ensemble.
Don't you wish you were under the relentless guise of a cruel press too?