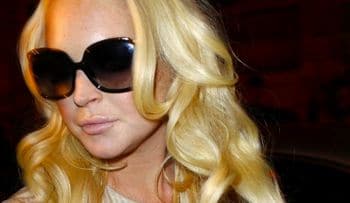 Kids it's time to sit in front of our collective TV set as the drama called how 'I became a megalomaniac fxck up,' resumes its next installment.
In this week's installment we find out how our heroine Lilo racks up an outstanding $100 000 limousine bill (and you thought splurging on the occasional taxi was being buoyant) and how her publicist, Media Whore Propaganda LLC feigns any knowledge of the temptress' outstanding debts.
eonline: Her rep told E! News yesterday, "Lindsay has not been served with any lawsuit, and we cannot comment on a lawsuit we have not yet seen."
Oh, but it's coming, according to the plaintiff.
Attorney Laurie Rau of Chavos & Rau PLC has confirmed to E! News that Elite Transportation Limo and Security Services filed suit against Lohan and Tri-Star Entertainment in Orange County Superior Court for extensive unpaid services, including chauffeured transportation and private security in California and beyond.
Tsk, tsk, tsk- looks like someone hasn't ponied up on their bill? Or could it all be an instance of one limo service trying to get one over our heroine and a cheap public relations stunt?
Elite company has made efforts for months to contact Lohan to resolve the issue, but did not receive a response from the actress or Tri-Star, who owe Elite roughly $100,000, according to Rau. If she hasn't received the papers yet, she should be getting them any time now, the lawyer added.
But in case you're wondering how our collective hawt mess racked such astronomical car fees (perhaps the coco pop runs come with gold gilded plastic baggies?) here's Tri-Star's breakdown:
Per the suit, Lohan booked limos for her friends and family and used the service herself between February 2009 and May 2009.
With a rate that reached as much as $6,000 per hour, including bodyguards, Lohan allegedly racked up $33,978 in unpaid charges. Her tab now comes to $90,585.79, including penalties and late fees.
$6000 per hour? Makes you wonder what else our little heroine was getting? Well by now that should be pretty obvious or not- right?
One day, whilst Lilo is flying her private concorde over the universe she will stop to reflect as she jets over Pluto how there used to be a time that she was limited by her physical limitations and the constraints of some nasty rumors and enablers, but as she orbits past Pluto and to the next planet she will look back in the reflection mirror and wonder to herself 'good riddance with that planet Earth!' – it was after all never big enough to parlay with her ego…
LINDSAY LOHAN TRIES TO BUY $5000 WORTH OF CLOTHES WITH NO MONEY OR CREDIT. SECURITY CAMERAS WATCHED HER CAREFULLY.
Lindsay Lohan is now living the life of a haute couture fashion model courtesy of designer Philip Plein.»
LINDSAY LOHAN CAUSES A SCENE AS SHE TELLS OFF HER MILLIONAIRE BOYFRIEND'S MODEL WIFE.
Did Lindsay Lohan slice up a fellow reveler at V magazine's party at the Boom Boom room last night?
Gawd no! Don't let this be Moma Lohan making out with the wicked wench of Crack-ville!!
Marc Jacobs has Lindsay Lohan kicked out of his after party.»
LINDSAY LOHAN HAS PAPARAZZO THROWN OUT OF FASHION TENTS.
LINDSAY LOHAN TO JUDGE; " I CAN'T AFFORD COUNSELING BUT I SURE CAN AFFORD $1200 LOUBOUTINS."
LINDSAY LOHAN WANTS TO SHOW YOU HER POOLSIDE POT BELLY.
LINDSAY LOHAN- A PERFECT BELLIGERENT MESS(AGAIN).
LINDSAY LOHAN GOES FOR THE SHEER LOOK.
GUESS WHICH DRUNK BITCH THIS IS?
PAYOLA: STARRING LINDSAY LOHAN AND CO.
LINDSAY LOHAN JUST WANTS TO PARTY ALL THE TIME.
IS THIS ONE READY TO COME OUT OF THE OVEN YET?
Say goodbye to Lindsay Lohan. Oh the tears…
IS LINDSAY LOHAN GETTING READY TO RETURN TO JAIL?
THE PAPARAZZI PHOTO THAT SET POLICE ON LILO