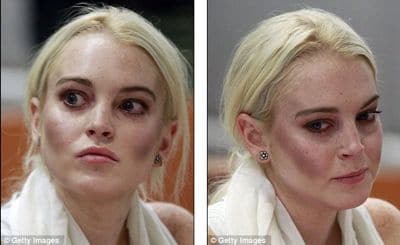 Michael Lohan: 'I think my little girl is a crackhead.'
Oh no! Lindsay Lohan scores herself a 5th mugshot picture.
Kids, I've been standing in front of the mirror these last 3 hours and yet I still can't perfect the messed up, bizarre red garish red blush across my face look with hooker pretend me not white shawl look. Who did though manage to perfect this look for her court appearance today (yes our heroine found herself crossing the law again and meted out another inconvenient punishment...) was our collective highness, Lindsay Lohan.
As is wanton when the camera boy is about to take your picture, attention and detail to ones appearance is often the first order of the day, which is probably what inspired our collective heroine to affect the look of a greyhound damsel strutting it for Vogue look. Instead what Lilo managed to affect had more to do with the "I'm just your run of the mill crack ho with boyfriend crackdealer punch marks on my face, ain't life an inconvenience look about me.'
In fact some celebrity make up artists (who knew make up artists, are celebrities too these days?) have gone to print to say that Lilo's make up at court today was 'dirty' and 'heavily handed applied.'
Kids, in Lilo's defense it's hard to get the colors and the texture on cue when you're holding a crack pipe in one hand, a crack dealer's peen in the other hand and a half memorized excuse as to how you came to blow off your probation requirements. Please give a gal a break!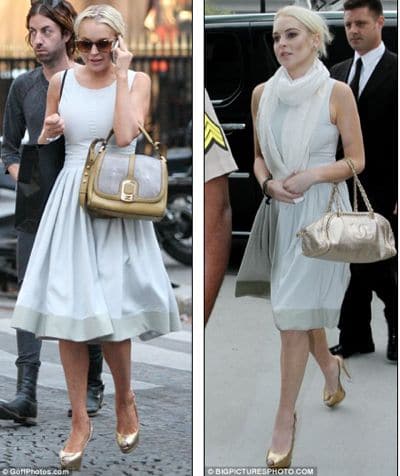 And then there's the dress to consider. To be honest even I am flattered that Lilo tried to affect a bygone 1950's starlet look at me too look but the more I paid attention to Lilo's body type the more I became disappointed that she didn't hustle into court with something a little bit more true to form like a short half torn 'fxck me slut dress' with her firm nipples exploding at the seams and her derriere clustered a quarter inch short of disappearing up her navel.
If Lilo had turned up to court looking like her usual self, I'm almost positive instead of having being revoked her probation and made to fork out $100 000 meant for coco pops she'd probably be sitting in some sun drenched bar north of Malibu beach wondering to herself how she keeps managing to tempt fate and hard labor.
Never mind one day Lilo will be walking past a Rocky Horror Halloween costume shop where she will suddenly wonder to herself as the virgin goddess of Morticia screams back at her if there's always another look she can always pull off in the more than likely event she ever gets to face another judge once this mess goes away.
My favorite hero's probation is revoked. Lindsay Lohan bail set at $100 000.
IT'S TIME TO FIND OUT WHICH A GRADE CELEBRITY WHORE THESE TEETH BELONG TO.
LINDSAY LOHAN, MY FAVORITE HAWT MESS IS BEING SUED AGAIN…
LINDSAY LOHAN TRIES TO BUY $5000 WORTH OF CLOTHES WITH NO MONEY OR CREDIT. SECURITY CAMERAS WATCHED HER CAREFULLY.
Lindsay Lohan is now living the life of a haute couture fashion model courtesy of designer Philip Plein.»
LINDSAY LOHAN CAUSES A SCENE AS SHE TELLS OFF HER MILLIONAIRE BOYFRIEND'S MODEL WIFE.
Did Lindsay Lohan slice up a fellow reveler at V magazine's party at the Boom Boom room last night?
Gawd no! Don't let this be Moma Lohan making out with the wicked wench of Crack-ville!!
Marc Jacobs has Lindsay Lohan kicked out of his after party.»
LINDSAY LOHAN HAS PAPARAZZO THROWN OUT OF FASHION TENTS.
LINDSAY LOHAN TO JUDGE; " I CAN'T AFFORD COUNSELING BUT I SURE CAN AFFORD $1200 LOUBOUTINS."
LINDSAY LOHAN WANTS TO SHOW YOU HER POOLSIDE POT BELLY.
LINDSAY LOHAN- A PERFECT BELLIGERENT MESS(AGAIN).
LINDSAY LOHAN GOES FOR THE SHEER LOOK.
GUESS WHICH DRUNK BITCH THIS IS?
PAYOLA: STARRING LINDSAY LOHAN AND CO.
LINDSAY LOHAN JUST WANTS TO PARTY ALL THE TIME.
IS THIS ONE READY TO COME OUT OF THE OVEN YET?
Say goodbye to Lindsay Lohan. Oh the tears…
IS LINDSAY LOHAN GETTING READY TO RETURN TO JAIL?
THE PAPARAZZI PHOTO THAT SET POLICE ON LILO
LINDSAY LOHAN ACCUSED OF STEALING A $5000 NECKLACE.