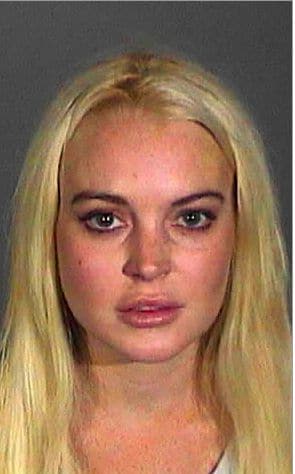 Michael Lohan: 'I think my little girl is a crackhead.'
Lilo will always be my preferred hawt bixch.
Kids, take a solemn look at the above picture and you will notice the frothy double chin starting to set dour expression of a media whore treading perilously close to that precipe  called the point of no return. But that's okay too, because it seems this is what Judge Sautner must have meant yesterday when she told our heroine 'and I hear you're an actress or some shit like that.'
The truth is Lilo is an actress of the highest caliber, but as you can see, one crack pipe plus another crack pipe equals two crack pipes, which is what Judge Sautner was talking about when she was referring to our hero supposedly being an actress. An actress that gets to make the candid camera goodness of mug shots.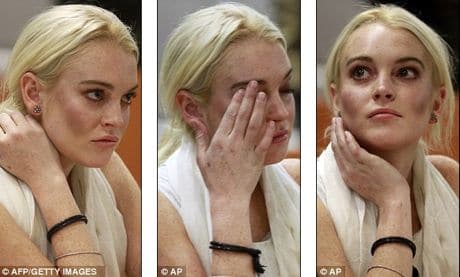 Remanded to appear before the court on November 2nd, Lilo must be wondering to herself if this is indeed the perfect action movie role that she has always envisaged playing. Either way, the tears of Babylonia are wildly slipping down her gates as the world looks on and wonders, will a solid little stint see our heroine right?
See which mugshot best fits Lindsay, because there's nothing that says 'fashion trendsetter' when you too will soon be seen sashaying down the street with your own 'I'm a Lindsay Lohan mugshot fan for life!' t-shirt.
Shouldn't you be wearing this hawt to go fashion accessory too?
Lindsay Lohan would like to explain how she ended up looking like a fashion faux pas in overdrive in court today.
My favorite hero's probation is revoked. Lindsay Lohan bail set at $100 000.
IT'S TIME TO FIND OUT WHICH A GRADE CELEBRITY WHORE THESE TEETH BELONG TO.
LINDSAY LOHAN, MY FAVORITE HAWT MESS IS BEING SUED AGAIN…
LINDSAY LOHAN TRIES TO BUY $5000 WORTH OF CLOTHES WITH NO MONEY OR CREDIT. SECURITY CAMERAS WATCHED HER CAREFULLY.
Lindsay Lohan is now living the life of a haute couture fashion model courtesy of designer Philip Plein.»
LINDSAY LOHAN CAUSES A SCENE AS SHE TELLS OFF HER MILLIONAIRE BOYFRIEND'S MODEL WIFE.
Did Lindsay Lohan slice up a fellow reveler at V magazine's party at the Boom Boom room last night?
Gawd no! Don't let this be Moma Lohan making out with the wicked wench of Crack-ville!!
Marc Jacobs has Lindsay Lohan kicked out of his after party.»
LINDSAY LOHAN HAS PAPARAZZO THROWN OUT OF FASHION TENTS.
LINDSAY LOHAN TO JUDGE; " I CAN'T AFFORD COUNSELING BUT I SURE CAN AFFORD $1200 LOUBOUTINS."
LINDSAY LOHAN WANTS TO SHOW YOU HER POOLSIDE POT BELLY.
LINDSAY LOHAN- A PERFECT BELLIGERENT MESS(AGAIN).
LINDSAY LOHAN GOES FOR THE SHEER LOOK.
GUESS WHICH DRUNK BITCH THIS IS?
PAYOLA: STARRING LINDSAY LOHAN AND CO.
LINDSAY LOHAN JUST WANTS TO PARTY ALL THE TIME.
IS THIS ONE READY TO COME OUT OF THE OVEN YET?
Say goodbye to Lindsay Lohan. Oh the tears…
IS LINDSAY LOHAN GETTING READY TO RETURN TO JAIL?
THE PAPARAZZI PHOTO THAT SET POLICE ON LILO
LINDSAY LOHAN ACCUSED OF STEALING A $5000 NECKLACE.