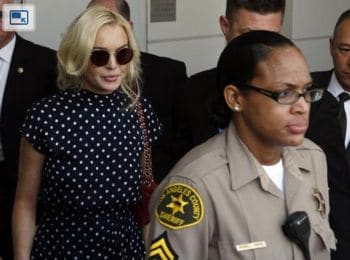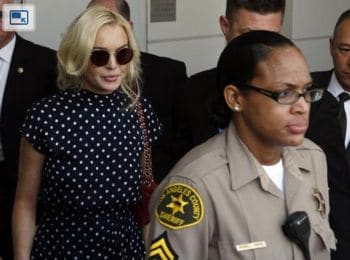 The sun always smiles over Lindsay Lohan's crack pipe!
Kids, me and the chipmunks have broken last year's crate of cheap champagne and begun in the rejoicing of our collective hero's immediate release from a hard labor served jail time of a very long 4 and half hours. Hear ye hear ye- the corks are flying all over the dungeon! No more seconds for you young man (watch the chipmunks violently whimper in the background alas…they were so looking forward to getting loaded Monday morning…)
Checking in at the LA county jail system last night at 8.50pm to serve her 30 day punishment for contempt of her probation our hero was predictably miraculously released at 1.40 am this morning, cause them jails are way overcrowded (well that's what that officer's fxcked up expression in the photo above said).
Of course this is the type of justice all you munchkins should be expecting if you happen to be a celebrity miscreant in and out of the legal system (this is the 5th time our media whore has licked the paint off the LA county jail system, air kissed her jail buddy hos hello and goodbye again, which means the 6th time might get our collective heroine 7 and a quarter hours and a group hug from the warden).
Just in case you think the world is stacked against you mere mortals Justice Sautner did impose some fucked up easy harsh stipulation that Lilo will having to going forward serve out all her community service at the county morgue (which is like asking Lilo to eat choc chip fat free ice cream for eternity) or risk serving an extra 270 days in the slammer.
Final score tally: Lindsay Lohan: 478 999 999 World Citizen who follows law: minus 78 trillion.
Don't you wish you could make it as a celebrity miscreant too? Of course you do…
My hero Lindsay Lohan crashes J. Edgar movie premiere party and freaks A listers out.»
MY HERO LINDSAY LOHAN IS ORDERED TO GO BACK TO JAIL.
LINDSAY LOHAN: LOOK AT ME, NO MORE METH TEETH (FOR NOW).
MY HERO LINDSAY LOHAN AGREES TO SPREAD FOR PLAYBOY FOR A COOL $1 MILLION BUCKS.
MICHAEL LOHAN: 'I THINK MY LITTLE GIRL IS A CRACKHEAD.'
Oh no! Lindsay Lohan scores herself a 5th mugshot picture.
Lindsay Lohan would like to explain how she ended up looking like a fashion faux pas in overdrive in court today.
My favorite hero's probation is revoked. Lindsay Lohan bail set at $100 000.
IT'S TIME TO FIND OUT WHICH A GRADE CELEBRITY WHORE THESE TEETH BELONG TO.
LINDSAY LOHAN, MY FAVORITE HAWT MESS IS BEING SUED AGAIN…
LINDSAY LOHAN TRIES TO BUY $5000 WORTH OF CLOTHES WITH NO MONEY OR CREDIT. SECURITY CAMERAS WATCHED HER CAREFULLY.
Lindsay Lohan is now living the life of a haute couture fashion model courtesy of designer Philip Plein.»
LINDSAY LOHAN CAUSES A SCENE AS SHE TELLS OFF HER MILLIONAIRE BOYFRIEND'S MODEL WIFE.
Did Lindsay Lohan slice up a fellow reveler at V magazine's party at the Boom Boom room last night?
Gawd no! Don't let this be Moma Lohan making out with the wicked wench of Crack-ville!!
Marc Jacobs has Lindsay Lohan kicked out of his after party.»
LINDSAY LOHAN HAS PAPARAZZO THROWN OUT OF FASHION TENTS.
LINDSAY LOHAN TO JUDGE; " I CAN'T AFFORD COUNSELING BUT I SURE CAN AFFORD $1200 LOUBOUTINS."
LINDSAY LOHAN WANTS TO SHOW YOU HER POOLSIDE POT BELLY.
LINDSAY LOHAN- A PERFECT BELLIGERENT MESS(AGAIN).
LINDSAY LOHAN GOES FOR THE SHEER LOOK.
GUESS WHICH DRUNK BITCH THIS IS?
PAYOLA: STARRING LINDSAY LOHAN AND CO.
LINDSAY LOHAN JUST WANTS TO PARTY ALL THE TIME.
IS THIS ONE READY TO COME OUT OF THE OVEN YET?
Say goodbye to Lindsay Lohan. Oh the tears…
IS LINDSAY LOHAN GETTING READY TO RETURN TO JAIL?
THE PAPARAZZI PHOTO THAT SET POLICE ON LILO
LINDSAY LOHAN ACCUSED OF STEALING A $5000 NECKLACE.