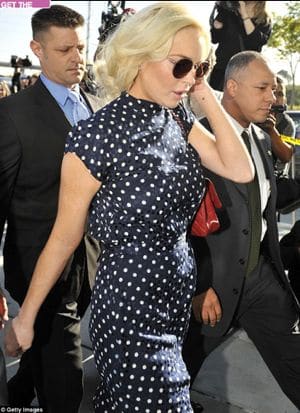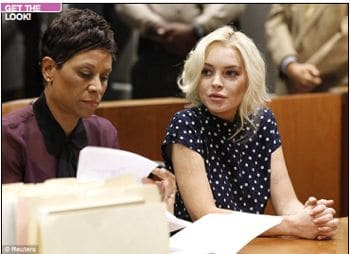 Kids in some weird way justice today was served today but in the real world the justice dished out to our collective heroine amounts to a petty slap on the wrist courtesy of the jam packed jails that our love interest Lilo will probably only get to see anywhere from 3 minutes to 9 minutes a far cry from the 30 to 270 day sentence imposed by our fighter of greater good Justice Sautner.
Rather than sending our Lilo back to jail today our heroine was given the liberty to continue shooting her $1 million Playboy shoot because in Los Angeles finishing nudie magazine covers counts as legitimate reasons as to why you can take a long sip of your whiskey before tending to the task of stripping for vast fortunes and then taking an in and out (quite literally) visit to the local jail house.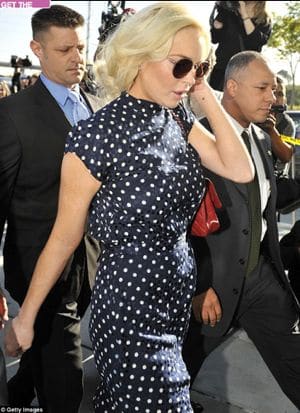 Justice Sautner then went on to ramble something about some half way house refusing to take on Lilo because even they consider her ass bad news which probably sent our heroine a shiver of relief as she was once again ostracized to the privacy of the morgue (because dead people can't complain) where she will serve the remainder of her probation and any time not physically served in jail even if the judge tried to make it sound like Lilo will be given no freebies this time, no house arrests, no rooftop parties,no drive by coco pop deliveries. Zip.
One day whilst our hero is licking the porridge off her prison spoon she will catch the reflection of her tousled mane, the sliver of half dried coco resin and the expression of ordinary prisoners wondering silently to themselves why crime only pays when you are a pampered celebrity whore with the 24 x7 benediction of legal system custom made for movers and shakers on the go.
If only you could be as fabulous as Lilo…
LINDSAY LOHAN: LOOK AT ME, NO MORE METH TEETH (FOR NOW).
MY HERO LINDSAY LOHAN AGREES TO SPREAD FOR PLAYBOY FOR A COOL $1 MILLION BUCKS.
MICHAEL LOHAN: 'I THINK MY LITTLE GIRL IS A CRACKHEAD.'
Oh no! Lindsay Lohan scores herself a 5th mugshot picture.
Lindsay Lohan would like to explain how she ended up looking like a fashion faux pas in overdrive in court today.
My favorite hero's probation is revoked. Lindsay Lohan bail set at $100 000.
IT'S TIME TO FIND OUT WHICH A GRADE CELEBRITY WHORE THESE TEETH BELONG TO.
LINDSAY LOHAN, MY FAVORITE HAWT MESS IS BEING SUED AGAIN…
LINDSAY LOHAN TRIES TO BUY $5000 WORTH OF CLOTHES WITH NO MONEY OR CREDIT. SECURITY CAMERAS WATCHED HER CAREFULLY.
Lindsay Lohan is now living the life of a haute couture fashion model courtesy of designer Philip Plein.»
LINDSAY LOHAN CAUSES A SCENE AS SHE TELLS OFF HER MILLIONAIRE BOYFRIEND'S MODEL WIFE.
Did Lindsay Lohan slice up a fellow reveler at V magazine's party at the Boom Boom room last night?
Gawd no! Don't let this be Moma Lohan making out with the wicked wench of Crack-ville!!
Marc Jacobs has Lindsay Lohan kicked out of his after party.»
LINDSAY LOHAN HAS PAPARAZZO THROWN OUT OF FASHION TENTS.
LINDSAY LOHAN TO JUDGE; " I CAN'T AFFORD COUNSELING BUT I SURE CAN AFFORD $1200 LOUBOUTINS."
LINDSAY LOHAN WANTS TO SHOW YOU HER POOLSIDE POT BELLY.
LINDSAY LOHAN- A PERFECT BELLIGERENT MESS(AGAIN).
LINDSAY LOHAN GOES FOR THE SHEER LOOK.
GUESS WHICH DRUNK BITCH THIS IS?
PAYOLA: STARRING LINDSAY LOHAN AND CO.
LINDSAY LOHAN JUST WANTS TO PARTY ALL THE TIME.
IS THIS ONE READY TO COME OUT OF THE OVEN YET?
Say goodbye to Lindsay Lohan. Oh the tears…
IS LINDSAY LOHAN GETTING READY TO RETURN TO JAIL?
THE PAPARAZZI PHOTO THAT SET POLICE ON LILO