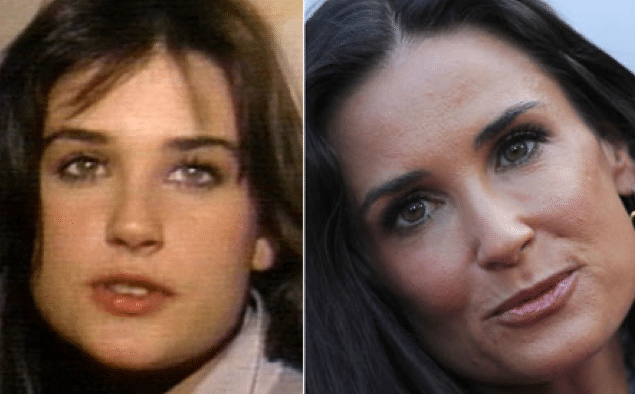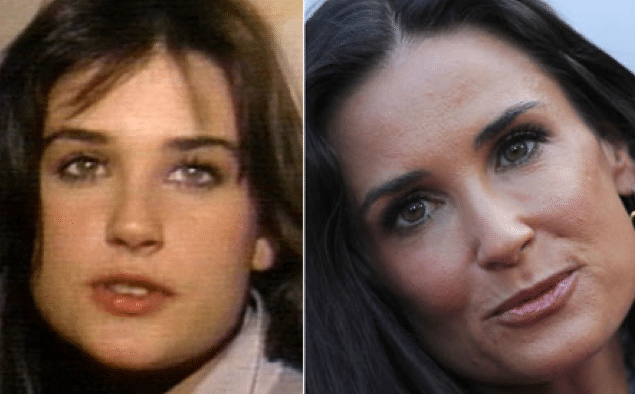 Kids like you I'm scratching my head and wondering when Demi Moore became a 15 year old truant? Not that I don't mind to be frank with you. After all there's nothing like watching a glamorous has been self imploding in public and tugging at our collective heart strings. Yes Demi I get it, you want that 19 year old back, but he's gone and f'd it. So you'll have to get used to living the like the rest of us for a while: dejected and disillusioned. Hmm, now that I got that out my system bixches it's time to figure what good shit Demi was smoking before she carked it on the floor. Shall we?
Here are our 5 choices:
2/ Cindy the crack pipe, sister to Johnny of the crack pipe.
3/ Heroin, cause Demi's too vain to bother injecting that shit up her veins.
4/ Red Bull, cause that's all the bixch ever consumes. In Demi's dictionary a roast beef sandwich with roast broiled potato wedges equated to a six pack of Red Bull and an extra thin pink straw
or as some have been speculating:
5/ One potential guess could be synthetic cannabis. Known as "K2," "Spice" or "herbal incense," it's a blend of herbs, spices and a synthetic compound similar to THC, the psychoactive ingredients in marijuana.
"It's a relaxed high," Dr. John Sharp, MD, faculty member of Harvard Medical School explained to Us Weekly Friday. "People who aren't used to it can feel uncomfortable and self-conscious. Others feel relaxed physically," added Dr. Sharp, a psychiatrist who has worked in celebrity rehab centers.
And then there was that wonderful prank phone call to 911 which turned out not to be so much of a prank. Of course what disturbed me the most isn't Demi convulsing on the floor clutching the Emmy she never got to win but that windpipe talking to the operator in the other room doing her best to avoid coming clean with what it is that Demi has gone and consumed. If you've ever watched a high speed car chase, this was it but in slow motion. Of course you had to applaud the 911 operator who by now was texting TMZ to let them know that he had Demi Moore on the other line strung out on some wicked potion, and wondering when they would paypal him his pony money.
Listen again:
"It's not marijuana," the unidentified female caller tells the dispatcher. "It's similar to incense."
Incense? Or insane?
Oh dear, don't you wish you were an ex glamorous something or other clamoring for a sliver of self respect in front of every living douche in the world with their tongue wagging in disgust amazement . Unless of course you already are…
Demi Moore wants to confess she wasn't snorting coco puffs but instead inhaling nitrous gas.
Demi Moore rushed to hospital after snorting too much of the good stuff.
Is Demi Moore now licking the good stuff off Scott Vincent Borba's tonsils?
Ashton Kutcher's one night stand has secrets to tell and a lump of money in her bank account.
Jilted Demi Moore seeks divorce lawyer.
SECOND ROUND OF ASHTON KUTCHER CHEATING ACCUSATIONS, AMERICA PREPARES FOR DEMI'S NEXT ROUND OF TWITPICS.
ISN'T IT TIME YOU BITCHES TWEETED A PICTURE OF YOURSELF WEARING A BIKINI TOO?
DEMI MOORE POSTS BIKINI PICS ON TWITTER AS RUMORS FLY THAT ASHTON IS A CHEATER
DEMI MOORE BONDS WITH HER DAUGHTER WITH A POLE DANCING DEMONSTRATION.
Demi Moore and daughter Tallulah show off identical figures whilst at Sao Paulo Fashion week.