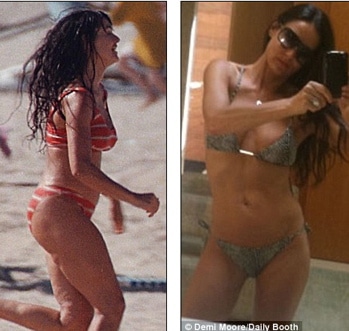 As bitterly contested rumors mount that husband Ashton Kutcher 32 has been out at an Italian restaurant "kissing and groping" a 20 year old blonde, it seems that an aging Demi Moore 47 has taken to Twitter to attempt to recapture her lost youth with a bit of good old fashioned media whoring. Is this not a cry for help, the kind that usually precedes a boorish bout of all too teenage self-destruction?
Australian News: In behaviour slightly more befitting a teenager, The Charlie's Angels beauty has been taking photos of herself in a tiny bikini and posting them up on her Twitter page for the whole world to see.
Posing provocatively in her bathroom wearing the skimpy two-piece and shades, the mother-of-three used her iPhone to take the photographs.
Though almost unanimously derided as 'childish' with a soft slap on the wrist, it should still be nonetheless surprising that the manner in which the vast majority of media outlets have carefully spoken of Demi's antics in tones that more than verge on the congratulatory.
The UK Daily Mail: She appears in better shape than she did in her 30s, when she was famously caught displaying cellulite while jogging along a beach in Florida.
PopEater: Now maybe we should demand a recount for the just-released World's Hottest Bikini Bodies List.
Be it either an adolescent attempt to make her husband jealous, or to match his alleged juvenile behavior, does Demi really believe – as so many stars who refuse to grow up and turn to silicone seem to – that by acting out like a tween she can somehow regain her lost youth? And why are we so intent on reinforcing these rather misguided beliefs?
Why, moreover, is it that younger women intent on baring themselves for us after an alleged £200,000 of plastic surgery are routinely berated, while we cannot help but drool over Demi for her shameless self-promotion, all but certainly calculated to threaten Ashton by displaying that she has mass desirability?
Star: When Demi learns the truth of about the steamy session — which Ashton's rep denied — it will be her worst fear come true.
"All along, Demi was told it would never work, that he's going to cheat," a friend tells Star. "When she finds out that it happened, she'll be devastated."
Could this be her way of acting out — a cry for help — and our way of appeasing her in hopes of pushing her forward into the typically ugly jilted celebrity downward spiral?
Demi Moore bonds with her daughter with a pole dancing demonstration.
Punk'd- What is it with Pretty Boys that play vicious pranks?