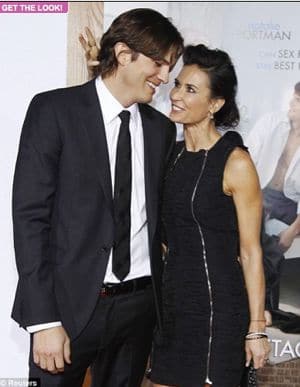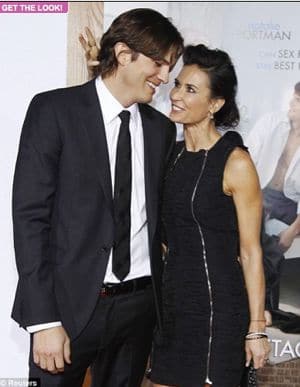 Love don't live here anymore.
Publicly humiliated courtesy of her husband Ashton Kutcher's purported womanizing and the failure of last ditch efforts to save their marriage it has been reported that our antiquated heroine of broken hearts, Demi Moore has sought a divorce lawyer.
Off the back of incestuous rumors that toy boy Ashton was shlepping it up with 23 year old Texan bimbo Sara Leal (who's gone on to demand a fat payola payment for her side of the booty call) a chagrined Moore who had been taking to twitter to exfoliate her wounded soul it seems has finally had enough.
Said one entertainment industry insider ( a nebulous term if this author has ever heard one) Ms Moore has said to have discussed the following:
'The discussion included her living arrangements and how a divorce  would impact her assets. She is worth about £97 million and Kutcher is also worth close to that.
'This is a huge and very tough decision for Miss Moore to take. But her trust has been shattered.'
Which is all another way of saying 'that blood marks will be found all the way from Ashton's peon to Demi's bruised ego for some time to come, never mind the lawyers circling over their intended prey.'
Sometimes it's easier living make believe and playing make believe roles on twitter TV than having to face up to the unscrupulous footprints and missed calls of reality.
Never mind hopefully another blockbuster made for gossip TV show will redeem our Demi…
SECOND ROUND OF ASHTON KUTCHER CHEATING ACCUSATIONS, AMERICA PREPARES FOR DEMI'S NEXT ROUND OF TWITPICS.
ISN'T IT TIME YOU BITCHES TWEETED A PICTURE OF YOURSELF WEARING A BIKINI TOO?
DEMI MOORE POSTS BIKINI PICS ON TWITTER AS RUMORS FLY THAT ASHTON IS A CHEATER
DEMI MOORE BONDS WITH HER DAUGHTER WITH A POLE DANCING DEMONSTRATION.
Demi Moore and daughter Tallulah show off identical figures whilst at Sao Paulo Fashion week.