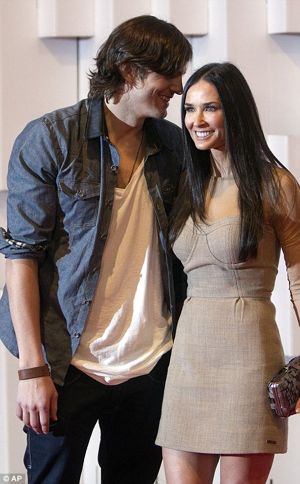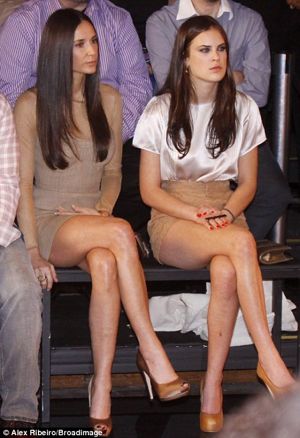 Can you tell who's had more plastic surgery?
Fashionistas in Sao Paulo were treated to a lot of leg when the 48 year old actress Demi Moore and her 16 year old daughter Tallulah Belle dropped by to watch Demi's 28 year old love interest husband Ashton Kutcher strut his stuff for the Brazilian designer Colcci. To say there were tears of joy on the runway would be an understatement.
dailymail.co.uk: At 16, Tallulah Belle is fresh-faced, glossy-haired and elegantly slender. And thanks to £220,000 of cosmetic surgery, so is her mother Demi Moore.
Sitting side by side in the front row of a fashion show, it is hard to spot the difference between the teenager and the 48-year-old actress.
The pair looked more like sisters than mother and daughter as they both showed plenty of spray-tanned leg in their neutral toned outfits.
One day when Brazil makes it legal for sons and fathers to look alike, Ashton too will fly one day back to Brazil and take his rightful place with his future sixteen year old son, looking like the buoyant 17 year older brother his future son never had.
Shouldn't you be a Hollywood runway model too?
SECOND ROUND OF ASHTON KUTCHER CHEATING ACCUSATIONS, AMERICA PREPARES FOR DEMI'S NEXT ROUND OF TWITPICS.
ISN'T IT TIME YOU BITCHES TWEETED A PICTURE OF YOURSELF WEARING A BIKINI TOO?
DEMI MOORE POSTS BIKINI PICS ON TWITTER AS RUMORS FLY THAT ASHTON IS A CHEATER
DEMI MOORE BONDS WITH HER DAUGHTER WITH A POLE DANCING DEMONSTRATION.