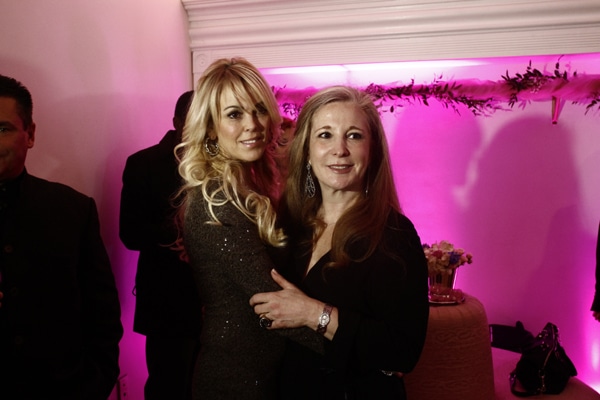 Kids my eyeballs nearly fell out of their sockets this past week upon dropping by uber haute couture designer Randi Rahm's chic private boite at her 5th avenue atelier residence. There in the middle of one of the sprawling rooms was the dreamy visage of one of my long time idols- Dina Lohan, mother to of course our collective universal idol, Lindsay Lohan.
With the ceremonious pizaaz of a madame who has been through it all before (and how) the diva (let's not kid ourselves otherwise kids) held magnanimous court as she gingerly surveyed the room and delicately proceeded to take pleasure in the good graces of our gracious bar help. To the left were desperate young men trying to get Dina to notice them and to the right desperate young women inconsolable in their trepidation in the company of the finer things in life- Dina.
In the other room was the refined presence of Randi Rahm and her right hand man- dandy and fashionista at large, Nicholas Parnell who was himself bending backwards to make sure that I noticed Randi's wonderful designs. To be sure how could I not? With a bevy of super slinky models cavorting the landscape in her hand made elegant gowns (the essence of which can be described as high end theatrical camp that one expects from a leading lady in exotic materials) I could do nothing but wonder if I had somehow turned up to a 1930's silent film plot, with the anti heroine in the other room plotting her own media coup.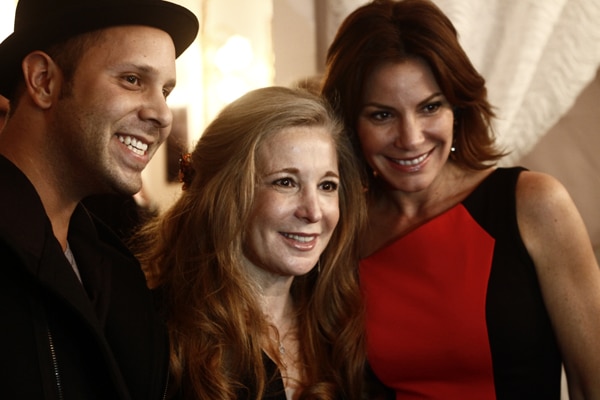 From there Randi Rahm took me upstairs for a private tour where she proudly displayed works in progress, gowns being made and the facilitation of row after row of sewing machines (this had to be a period film by now) which honed in on the timeless and careful manufacturing of hand made haute couture- sadly almost a dying type of fashion design.
Ms Rahm proceeds to explain that in essence she fell into the business a few years ago, curious to explore her creativity (she has an exceptional artist/painter background) before finding herself in high demand by the society and fashion stock and not to mention the Hollywood set. Fans and collectors of her work include: Beyonce, Vivica Fox, Vanessa Williams, Joan Rivers.
Returning downstairs this scallywag proceeded to hold court with Dina, who initially hostile to this journalist (I wonder why?) was eventually kicking back another champagne as the young studs in the background continued to plot their eventual migration to diva Dina.
A wonderful evening Ms Rahm, thank you for having me. Also look out for Randi's Prom, a philanthropic gala being held on April 12th at the Essex House to benefit Operation PROM and the Children's Storefront (a non profit for under privileged children).
Notable guests that evening also included; Mad Men's Talia Balsam, NYC Housewives Luann DeLesseps, musician Ron Grant, VH-1 Personality/Celebrity Stylist (JayZ, Naomi Cambell, Mariah Carey) June Ambrose, Golden Globe and Emmy nominated Screenwriter Christopher Solimine, Comedian Felonious Munk, NYC Socialites Kathryn Chenault, Meryl and Alan Cohen/Cohen's Fashion Optical, Lillian Vernon, Lise Evans and Maria Vecchiotti, Producer and socialite Chris Young (and Real Housewives of NY regular) and his fiance Allison Petit.
Randi Rahm's Exquisite Creations