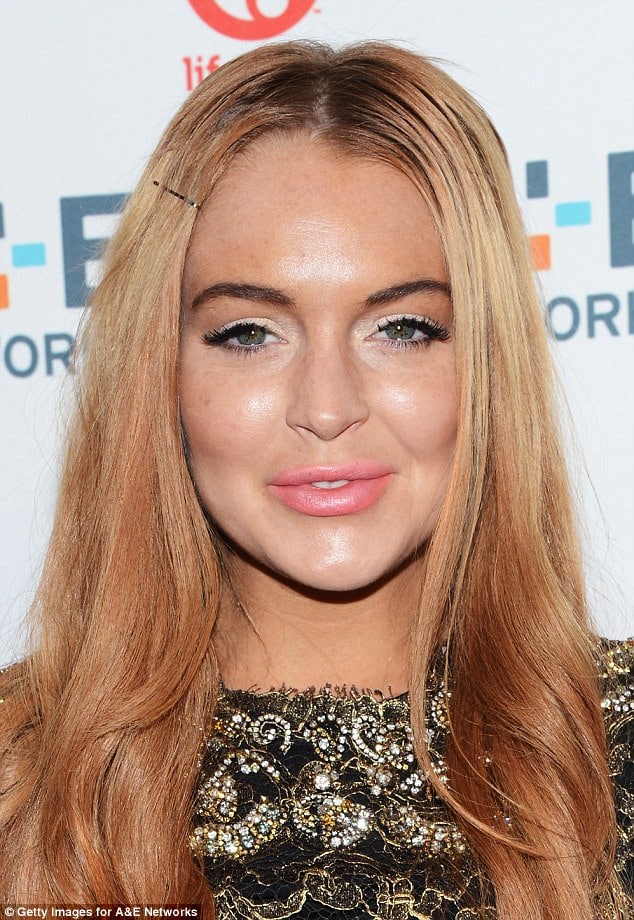 Lindsay Lohan is a washout at only at age 25…
In an industry like Hollywood and being a 24/7 media whore, one's looks for the camera boy are invaluable. That said, pundits have been wondering again about one particular lass' exterior glow, or rather the lack of it. Yes, Lilo, cause that's the shit that makes us get up in the morning and rejoice with the knowledge that our designated telegenic spiritual advisor is there to cajole us through another day.
Appearing at a recent event, the trophy media whore was looking noticeably worse for wear and the camera boy couldn't help but notice that the national treasure chest otherwise known as Lilo was looking rather unsightly…
From the grilled sausages that passed as our highness' lips (yes this is why I went to drama school, so I could spend my mornings pontificating on useless twats like Lilo….blah), the greasy pancake job that is supposed to be our heroine's make up and from the sweaty forehead that is cracking from the stench of girlhood freckles and let's not forget those flaring nostrils that have been in constant overdrive ever since she discovered where Coco Columbia was on the map. And pleaaaze don't get me started on that pouch under Lilo's chin, that shit just ain't ever going away- it's like built in water tank hibernating for mankind.
Of course there was also the wobbly knees and those bludgeoned hands (kids factory workers have better manicured hands) but worse of all was the fake tan that seeped from her hair (yes even that shit is fake or so now I have been told it's back to it's natural color, nauseating tomato red) and onto her high heels. After all if you're going to make yourself look like a prized hawt bixch one should never abstain from a complete spray tan over one's body.
Never mind when Lilo finally makes it back on the big screen she'll once again show us mere mortals why she is the enigma that she is.
Don't you wish you were a hawt bixch making the daily camera boy rounds too…unless of course you already are.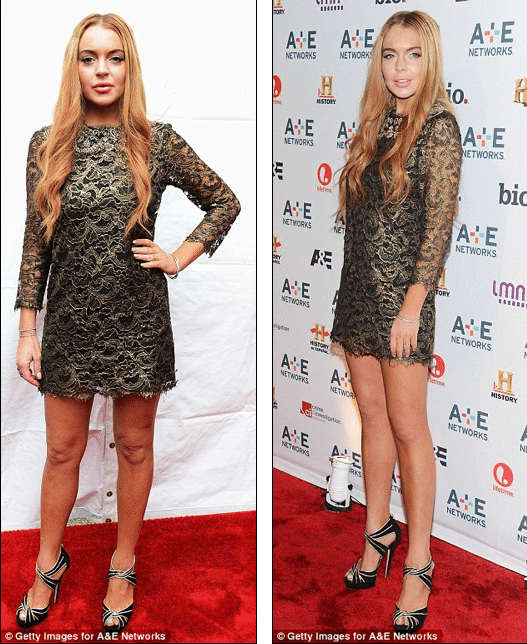 Lindsay Lohan and Samantha Ronson: These two bixches insist they're not back together.
Lindsay Lohan laughs off brutal Rosie O'Donnell assault calling her a loser.
Lindsay Lohan is adamant that she did not get into a fist fight at a Hollywood nightclub.
Video: Lindsay Lohan's Changing Face – 25 Years in 60 seconds. The grief….
Lindsay Lohan is no longer a legal pariah. Will the public rebel?
Michael Lohan now insists porn star did not have sex with Lindsay while he slept.
Lindsay Lohan insists she is not a hit and run disaster.
Lindsay Lohan goes back to red. But is it just a ploy?
Will Terry Richardson cave in and become Lindsay Lohan's next love conquest?
Never mind Lilo is no longer a home body but a party animal once again.
Lindsay Lohan turns out to be a complete flop on SNL.
Lindsay Lohan announces she is now clean. But what happened to her face?
Lilo appears in court dressed like a Stepford wife. Inches away from freedom at last.
Lindsay Lohan gets into an altercation at the Standard hotel after accused of wearing a wig.
New Lindsay Lohan photo shoot: cleavage, nipples and wanton lust.
My hero Lilo arrives to NYC with a new poodle coat and what appears to be a pronounced double chin.
Yippe my hero Lilo changed her mind and is now heading off to Dubai for star studded new year's eve bash.
This can't be true? My hero Lilo turns down easy New Year's Eve money…
My hero Lindsay Lohan would like to inform all you haters that her Playboy cover spread is selling like hot cakes at the news stands.
Please Lindsay Lohan what's up with the double chin lately?
The courts heap praise on our hero Lindsay Lohan as a criminal reincarnate.
Lindsay Lohan's only unairbrushed Playboy shot released.
Breaking news: Lindsay Lohan finds her missing purse minus $10 000.
Lindsay Lohan Playboy entire photo spread leaked on line. Bye bye one million dollars.
My hero released from jail after only 4 and half hours. Pass me champagne!
My hero Lindsay Lohan crashes J. Edgar movie premiere party and freaks A listers out.»
MY HERO LINDSAY LOHAN IS ORDERED TO GO BACK TO JAIL.
LINDSAY LOHAN: LOOK AT ME, NO MORE METH TEETH (FOR NOW).
MY HERO LINDSAY LOHAN AGREES TO SPREAD FOR PLAYBOY FOR A COOL $1 MILLION BUCKS.
MICHAEL LOHAN: 'I THINK MY LITTLE GIRL IS A CRACKHEAD.'
Oh no! Lindsay Lohan scores herself a 5th mugshot picture.
Lindsay Lohan would like to explain how she ended up looking like a fashion faux pas in overdrive in court today.
My favorite hero's probation is revoked. Lindsay Lohan bail set at $100 000.
IT'S TIME TO FIND OUT WHICH A GRADE CELEBRITY WHORE THESE TEETH BELONG TO.
LINDSAY LOHAN, MY FAVORITE HAWT MESS IS BEING SUED AGAIN…
LINDSAY LOHAN TRIES TO BUY $5000 WORTH OF CLOTHES WITH NO MONEY OR CREDIT. SECURITY CAMERAS WATCHED HER CAREFULLY.
Lindsay Lohan is now living the life of a haute couture fashion model courtesy of designer Philip Plein.»
LINDSAY LOHAN CAUSES A SCENE AS SHE TELLS OFF HER MILLIONAIRE BOYFRIEND'S MODEL WIFE.
Did Lindsay Lohan slice up a fellow reveler at V magazine's party at the Boom Boom room last night?
Gawd no! Don't let this be Moma Lohan making out with the wicked wench of Crack-ville!!
Marc Jacobs has Lindsay Lohan kicked out of his after party.»
LINDSAY LOHAN HAS PAPARAZZO THROWN OUT OF FASHION TENTS.
LINDSAY LOHAN TO JUDGE; " I CAN'T AFFORD COUNSELING BUT I SURE CAN AFFORD $1200 LOUBOUTINS."
LINDSAY LOHAN WANTS TO SHOW YOU HER POOLSIDE POT BELLY.
LINDSAY LOHAN- A PERFECT BELLIGERENT MESS(AGAIN).
LINDSAY LOHAN GOES FOR THE SHEER LOOK.
GUESS WHICH DRUNK BITCH THIS IS?
PAYOLA: STARRING LINDSAY LOHAN AND CO.
LINDSAY LOHAN JUST WANTS TO PARTY ALL THE TIME.
IS THIS ONE READY TO COME OUT OF THE OVEN YET?
Say goodbye to Lindsay Lohan. Oh the tears…
IS LINDSAY LOHAN GETTING READY TO RETURN TO JAIL?
THE PAPARAZZI PHOTO THAT SET POLICE ON LILO