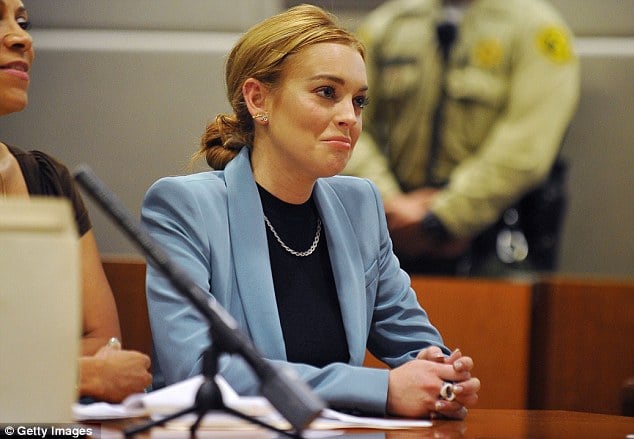 Today the angels wept with joy and did quite lines behind God's back with the revelation that our collective hero Lindsay Lohan has been officially pardoned and is now no longer a legal pariah.
There to pardon her from legal chaos and probation for the first time in almost 4 years was Lilo's new found friend, Judge Stephanie Sautner who ordained that our collective misfit was no longer a misfit but once again a law abiding citizen who could once again hold her head up high in America.
Dressed like a Stepford wife in a matching sky blue pant suit, her red hair in a neat bun, her sticky cokey bags no longer to be seen and wearing sensible low heeled pumps our collective vixen strutted into a bath of sunlight that God had cast for her onto the boulevard after Judge Sautner declared our Lilo redeemed and welcomed back to humanity once again.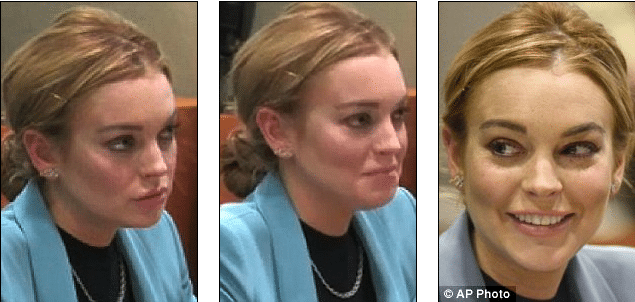 Said the messiah Sautner: "She did it. She has done everything that this court has asked of her." And taking a deep breath and winking to Satan who was watching from the back of the court she declared the following : 'Probation terminates today. Now.'
Offered Lilo's cokey boy Steve Honig: "Lindsay is ending one chapter and starting the next. She is very eager to get back on set and dive into her next few projects."
But the question remains; will America take to a clean fun loving toned down Lilo capable of performing on magic sets or will we all come to long for those days where she used to play killer roles as America's favorite coked up self hating trash hag stumbling over her shadow at 5 am in the morning by some busted up crack den clutching missing necklaces, smashed champagne glasses, being in essence the freak show we never dared ride on but jealously wished we had….'
Bookie odds are now 7:5 in Las Vegas that Lilo will be back in front of a judge within 18 months….
Michael Lohan now insists porn star did not have sex with Lindsay while he slept.
Lindsay Lohan insists she is not a hit and run disaster.
Lindsay Lohan goes back to red. But is it just a ploy?
Will Terry Richardson cave in and become Lindsay Lohan's next love conquest?
Never mind Lilo is no longer a home body but a party animal once again.
Lindsay Lohan turns out to be a complete flop on SNL.
Lindsay Lohan announces she is now clean. But what happened to her face?
Lilo appears in court dressed like a Stepford wife. Inches away from freedom at last.
Lindsay Lohan gets into an altercation at the Standard hotel after accused of wearing a wig.
New Lindsay Lohan photo shoot: cleavage, nipples and wanton lust.
My hero Lilo arrives to NYC with a new poodle coat and what appears to be a pronounced double chin.
Yippe my hero Lilo changed her mind and is now heading off to Dubai for star studded new year's eve bash.
This can't be true? My hero Lilo turns down easy New Year's Eve money…
My hero Lindsay Lohan would like to inform all you haters that her Playboy cover spread is selling like hot cakes at the news stands.
Please Lindsay Lohan what's up with the double chin lately?
The courts heap praise on our hero Lindsay Lohan as a criminal reincarnate.
Lindsay Lohan's only unairbrushed Playboy shot released.
Breaking news: Lindsay Lohan finds her missing purse minus $10 000.
Lindsay Lohan Playboy entire photo spread leaked on line. Bye bye one million dollars.
My hero released from jail after only 4 and half hours. Pass me champagne!
My hero Lindsay Lohan crashes J. Edgar movie premiere party and freaks A listers out.»
MY HERO LINDSAY LOHAN IS ORDERED TO GO BACK TO JAIL.
LINDSAY LOHAN: LOOK AT ME, NO MORE METH TEETH (FOR NOW).
MY HERO LINDSAY LOHAN AGREES TO SPREAD FOR PLAYBOY FOR A COOL $1 MILLION BUCKS.
MICHAEL LOHAN: 'I THINK MY LITTLE GIRL IS A CRACKHEAD.'
Oh no! Lindsay Lohan scores herself a 5th mugshot picture.
Lindsay Lohan would like to explain how she ended up looking like a fashion faux pas in overdrive in court today.
My favorite hero's probation is revoked. Lindsay Lohan bail set at $100 000.
IT'S TIME TO FIND OUT WHICH A GRADE CELEBRITY WHORE THESE TEETH BELONG TO.
LINDSAY LOHAN, MY FAVORITE HAWT MESS IS BEING SUED AGAIN…
LINDSAY LOHAN TRIES TO BUY $5000 WORTH OF CLOTHES WITH NO MONEY OR CREDIT. SECURITY CAMERAS WATCHED HER CAREFULLY.
Lindsay Lohan is now living the life of a haute couture fashion model courtesy of designer Philip Plein.»
LINDSAY LOHAN CAUSES A SCENE AS SHE TELLS OFF HER MILLIONAIRE BOYFRIEND'S MODEL WIFE.
Did Lindsay Lohan slice up a fellow reveler at V magazine's party at the Boom Boom room last night?
Gawd no! Don't let this be Moma Lohan making out with the wicked wench of Crack-ville!!
Marc Jacobs has Lindsay Lohan kicked out of his after party.»
LINDSAY LOHAN HAS PAPARAZZO THROWN OUT OF FASHION TENTS.
LINDSAY LOHAN TO JUDGE; " I CAN'T AFFORD COUNSELING BUT I SURE CAN AFFORD $1200 LOUBOUTINS."
LINDSAY LOHAN WANTS TO SHOW YOU HER POOLSIDE POT BELLY.
LINDSAY LOHAN- A PERFECT BELLIGERENT MESS(AGAIN).
LINDSAY LOHAN GOES FOR THE SHEER LOOK.
GUESS WHICH DRUNK BITCH THIS IS?
PAYOLA: STARRING LINDSAY LOHAN AND CO.
LINDSAY LOHAN JUST WANTS TO PARTY ALL THE TIME.
IS THIS ONE READY TO COME OUT OF THE OVEN YET?
Say goodbye to Lindsay Lohan. Oh the tears…
IS LINDSAY LOHAN GETTING READY TO RETURN TO JAIL?
THE PAPARAZZI PHOTO THAT SET POLICE ON LILO