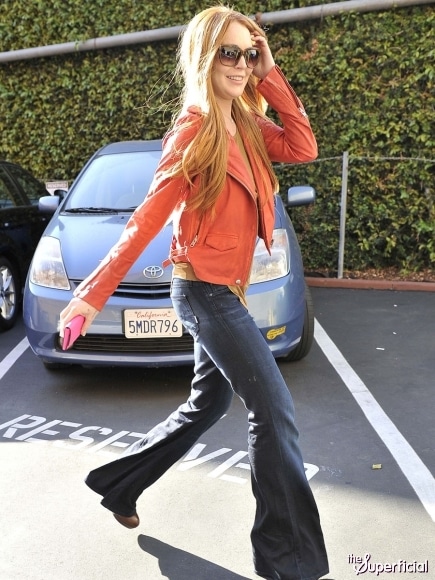 Kids, me and the chipmunks are smirking in disbelief and wondering what our collective heroine Lindsay Lohan is up to following the latest chapter in the mega grossing drama otherwise known as "America's favorite sweetheart would like to share with you another compelling chapter in her life. Chapter 788XXe3: How I dyed my hair back to red….and once again found sanity."
But according to the NY Daily News there might be other reasons as to why our collective hawt bixch dyes her hair red:
The 25-year-old starlet may have been inspired to make a hair color change after photographers in New York recently confused her with another world-famous blond star — 66-year-old rocker Debbie Harry.
Harry was snapped wearing a black hooded sweatshirt and a pair of aviator sunglasses nearly identical to a pair Lohan was spotted in two days earlier.
Both stars had been seen leaving the Mercer Hotel in New York during the week, further confusing the paparazzi.
And confusing the paparazzi is never a good thing when your bread and butter is no longer contingent on whether you even book a role as an actress anymore but whether you can continue whoring out your image for the piranhas called tabloid media that have taken joy out of menacing (yes, guilty as accused…blah!) our collective hawt bixch as she sashays up and down the pony trail as our post teenage messiah.
The dailymail on the other hand has taken the tact that our collective hawt bixch may have decided to ditch the blonde mane (really did anything look more displaced than the sight of a puffy over peroxide menace sashaying in knee high boots with the air of entitlement normally reserved for Napoleon Bonaparte's generals?) in a subdued effort at getting back to her roots (literally) and resurrecting herself back to the damsel in hawt distress that we all came to know and love when she first entered the promenade called 'I'm betting on becoming a Hollywood legend anyway which way I can….'
dailymail.co.uk: The hue is almost identical to her natural hair colour and the shade she became famous for and seen with, in classics such as Mean Girls and The Parent Trap. 
The return of her natural colour comes as Lindsay continues on her mission to try and win back her flailing career after a string of arrests and legal woes.
Her professional life has taken a battering due to her constant legal problems which have spanned over several years.
The actress is currently close to settling her most recent scandal in a matter of weeks.
Time will of course tell whether our collective highness resurrects her image or whether in some clever way her image will resurrect her, which in some way is the real acting that is going on here and frankly worthy of a special mention by the academy; "Lindsay Lohan: best performing media parasite on the promenade."
Isn't it time you also embarked on a career in Hollywood, whatever Hollywood really means anymore….?
Will Terry Richardson cave in and become Lindsay Lohan's next love conquest?
Never mind Lilo is no longer a home body but a party animal once again.
Lindsay Lohan turns out to be a complete flop on SNL.
Lindsay Lohan announces she is now clean. But what happened to her face?
Lilo appears in court dressed like a Stepford wife. Inches away from freedom at last.
Lindsay Lohan gets into an altercation at the Standard hotel after accused of wearing a wig.
New Lindsay Lohan photo shoot: cleavage, nipples and wanton lust.
My hero Lilo arrives to NYC with a new poodle coat and what appears to be a pronounced double chin.
Yippe my hero Lilo changed her mind and is now heading off to Dubai for star studded new year's eve bash.
This can't be true? My hero Lilo turns down easy New Year's Eve money…
My hero Lindsay Lohan would like to inform all you haters that her Playboy cover spread is selling like hot cakes at the news stands.
Please Lindsay Lohan what's up with the double chin lately?
The courts heap praise on our hero Lindsay Lohan as a criminal reincarnate.
Lindsay Lohan's only unairbrushed Playboy shot released.
Breaking news: Lindsay Lohan finds her missing purse minus $10 000.
Lindsay Lohan Playboy entire photo spread leaked on line. Bye bye one million dollars.
My hero released from jail after only 4 and half hours. Pass me champagne!
My hero Lindsay Lohan crashes J. Edgar movie premiere party and freaks A listers out.»
MY HERO LINDSAY LOHAN IS ORDERED TO GO BACK TO JAIL.
LINDSAY LOHAN: LOOK AT ME, NO MORE METH TEETH (FOR NOW).
MY HERO LINDSAY LOHAN AGREES TO SPREAD FOR PLAYBOY FOR A COOL $1 MILLION BUCKS.
MICHAEL LOHAN: 'I THINK MY LITTLE GIRL IS A CRACKHEAD.'
Oh no! Lindsay Lohan scores herself a 5th mugshot picture.
Lindsay Lohan would like to explain how she ended up looking like a fashion faux pas in overdrive in court today.
My favorite hero's probation is revoked. Lindsay Lohan bail set at $100 000.
IT'S TIME TO FIND OUT WHICH A GRADE CELEBRITY WHORE THESE TEETH BELONG TO.
LINDSAY LOHAN, MY FAVORITE HAWT MESS IS BEING SUED AGAIN…
LINDSAY LOHAN TRIES TO BUY $5000 WORTH OF CLOTHES WITH NO MONEY OR CREDIT. SECURITY CAMERAS WATCHED HER CAREFULLY.
Lindsay Lohan is now living the life of a haute couture fashion model courtesy of designer Philip Plein.»
LINDSAY LOHAN CAUSES A SCENE AS SHE TELLS OFF HER MILLIONAIRE BOYFRIEND'S MODEL WIFE.
Did Lindsay Lohan slice up a fellow reveler at V magazine's party at the Boom Boom room last night?
Gawd no! Don't let this be Moma Lohan making out with the wicked wench of Crack-ville!!
Marc Jacobs has Lindsay Lohan kicked out of his after party.»
LINDSAY LOHAN HAS PAPARAZZO THROWN OUT OF FASHION TENTS.
LINDSAY LOHAN TO JUDGE; " I CAN'T AFFORD COUNSELING BUT I SURE CAN AFFORD $1200 LOUBOUTINS."
LINDSAY LOHAN WANTS TO SHOW YOU HER POOLSIDE POT BELLY.
LINDSAY LOHAN- A PERFECT BELLIGERENT MESS(AGAIN).
LINDSAY LOHAN GOES FOR THE SHEER LOOK.
GUESS WHICH DRUNK BITCH THIS IS?
PAYOLA: STARRING LINDSAY LOHAN AND CO.
LINDSAY LOHAN JUST WANTS TO PARTY ALL THE TIME.
IS THIS ONE READY TO COME OUT OF THE OVEN YET?
Say goodbye to Lindsay Lohan. Oh the tears…
IS LINDSAY LOHAN GETTING READY TO RETURN TO JAIL?
THE PAPARAZZI PHOTO THAT SET POLICE ON LILO