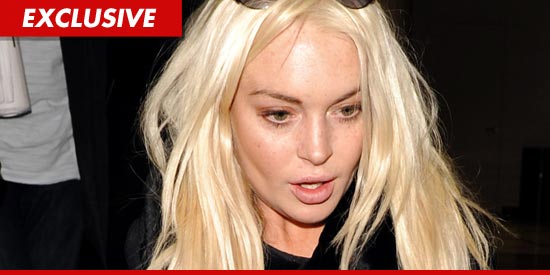 Kids our collective media whore 'I almost fooled the world but I at least fooled Matt Lauer 'was back to her old tricks this weekend as she was seen holding court at NYC hot boite Le Baron after her disastrous performance this past Saturday night on SNL.  According to sources our hawt bixch was there very late into the final wee hours only leaving after her honor was apparently affronted by two highly testerone muscular men fighting for the grace of her good company.
Said our collective hawt bixchvia her publicist after being questioned in relation to her Today interview where she categorically affirmed that she was no longer interested in the party scene and was now a committed 'homebody:' (yes kids the vile is gurgling at the back of my throat and unfortunately the bottle of good shit that I would normally sling to bring it all back down got finished last night…)
"Lindsay was the consummate professional all week," adding: "When someone says they are a homebody, it doesn't mean they stay locked in their house every day and night."
Hmm, that's an interesting bunch of crock. But what do I care? I'm just a gullible fan. Right Matt?
Kids, let me tell you I have to confess Lilo is beyond my fav hawt bixch on the circuit. To go out and say she's Bambi in her new Gap disguise outfit and to then turn out at like Calligula in her sparking Versace neon like outfit at the dawn of dead with clanking Champagne flutes takes the type of moxie that so few of us can only imagine.
If only you were as brilliant as Lilo…unless of course you already are.
Lindsay Lohan turns out to be a complete flop on SNL.
Lindsay Lohan announces she is now clean. But what happened to her face?
Lilo appears in court dressed like a Stepford wife. Inches away from freedom at last.
Lindsay Lohan gets into an altercation at the Standard hotel after accused of wearing a wig.
New Lindsay Lohan photo shoot: cleavage, nipples and wanton lust.
My hero Lilo arrives to NYC with a new poodle coat and what appears to be a pronounced double chin.
Yippe my hero Lilo changed her mind and is now heading off to Dubai for star studded new year's eve bash.
This can't be true? My hero Lilo turns down easy New Year's Eve money…
My hero Lindsay Lohan would like to inform all you haters that her Playboy cover spread is selling like hot cakes at the news stands.
Please Lindsay Lohan what's up with the double chin lately?
The courts heap praise on our hero Lindsay Lohan as a criminal reincarnate.
Lindsay Lohan's only unairbrushed Playboy shot released.
Breaking news: Lindsay Lohan finds her missing purse minus $10 000.
Lindsay Lohan Playboy entire photo spread leaked on line. Bye bye one million dollars.
My hero released from jail after only 4 and half hours. Pass me champagne!
My hero Lindsay Lohan crashes J. Edgar movie premiere party and freaks A listers out.»
MY HERO LINDSAY LOHAN IS ORDERED TO GO BACK TO JAIL.
LINDSAY LOHAN: LOOK AT ME, NO MORE METH TEETH (FOR NOW).
MY HERO LINDSAY LOHAN AGREES TO SPREAD FOR PLAYBOY FOR A COOL $1 MILLION BUCKS.
MICHAEL LOHAN: 'I THINK MY LITTLE GIRL IS A CRACKHEAD.'
Oh no! Lindsay Lohan scores herself a 5th mugshot picture.
Lindsay Lohan would like to explain how she ended up looking like a fashion faux pas in overdrive in court today.
My favorite hero's probation is revoked. Lindsay Lohan bail set at $100 000.
IT'S TIME TO FIND OUT WHICH A GRADE CELEBRITY WHORE THESE TEETH BELONG TO.
LINDSAY LOHAN, MY FAVORITE HAWT MESS IS BEING SUED AGAIN…
LINDSAY LOHAN TRIES TO BUY $5000 WORTH OF CLOTHES WITH NO MONEY OR CREDIT. SECURITY CAMERAS WATCHED HER CAREFULLY.
Lindsay Lohan is now living the life of a haute couture fashion model courtesy of designer Philip Plein.»
LINDSAY LOHAN CAUSES A SCENE AS SHE TELLS OFF HER MILLIONAIRE BOYFRIEND'S MODEL WIFE.
Did Lindsay Lohan slice up a fellow reveler at V magazine's party at the Boom Boom room last night?
Gawd no! Don't let this be Moma Lohan making out with the wicked wench of Crack-ville!!
Marc Jacobs has Lindsay Lohan kicked out of his after party.»
LINDSAY LOHAN HAS PAPARAZZO THROWN OUT OF FASHION TENTS.
LINDSAY LOHAN TO JUDGE; " I CAN'T AFFORD COUNSELING BUT I SURE CAN AFFORD $1200 LOUBOUTINS."
LINDSAY LOHAN WANTS TO SHOW YOU HER POOLSIDE POT BELLY.
LINDSAY LOHAN- A PERFECT BELLIGERENT MESS(AGAIN).
LINDSAY LOHAN GOES FOR THE SHEER LOOK.
GUESS WHICH DRUNK BITCH THIS IS?
PAYOLA: STARRING LINDSAY LOHAN AND CO.
LINDSAY LOHAN JUST WANTS TO PARTY ALL THE TIME.
IS THIS ONE READY TO COME OUT OF THE OVEN YET?
Say goodbye to Lindsay Lohan. Oh the tears…
IS LINDSAY LOHAN GETTING READY TO RETURN TO JAIL?
THE PAPARAZZI PHOTO THAT SET POLICE ON LILO
LINDSAY LOHAN ACCUSED OF STEALING A $5000 NECKLACE.