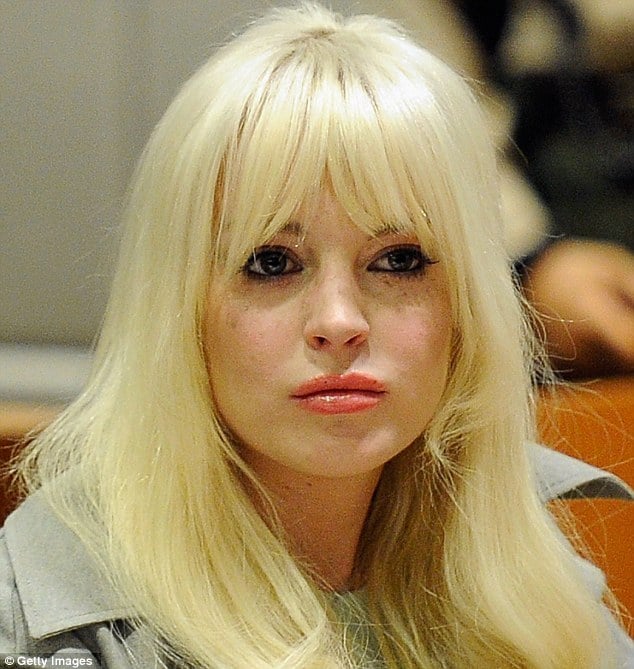 She did everything but hold back the tears. Lilo is finally Judge Stephanie's well behaved hawt bixch….
Kids, as you can imagine me and the chipmunks, Vladimir and Fyodor ( Mazeltov is taking a rest on account of having drunk too much moose moonshine the other night…) are doing slow motion sommersaults after Lindsay Lohanpassed the do not go back to jail sign this afternoon as she hauled her pretty simulated Stepford's wife act routine into court today.
In fact so well behaved was our collective heroine she decided to leave her crack pipe home today and even vapor rinsed her hair in another shade of ultra beach peroxide blonde for the occasion. If the judge had said she felt like an apple Lilo probably would've pulled one out of her armpit, spat at it and shined it against her mane before giving it to the school teacher judge.
msnbc: Lindsay Lohan is one court appearance away from putting her 2007 drunken driving case behind her. The actress, 25, received a glowing report from Los Angeles Superior Court Judge Stephanie Sautner on Wednesday during her brief — little more than five minutes long — scheduled progress hearing.
"Ms. Lohan, you're in the home stretch," Sautner told the actress. "The probation officer is pleased with your progress.  … You seem to be getting your life back on track."
Kids, could this be the moment our Lilo finally becomes irrelavent when she begins to live a life free of pathos, missing jewelry sets and half wet coco baggies?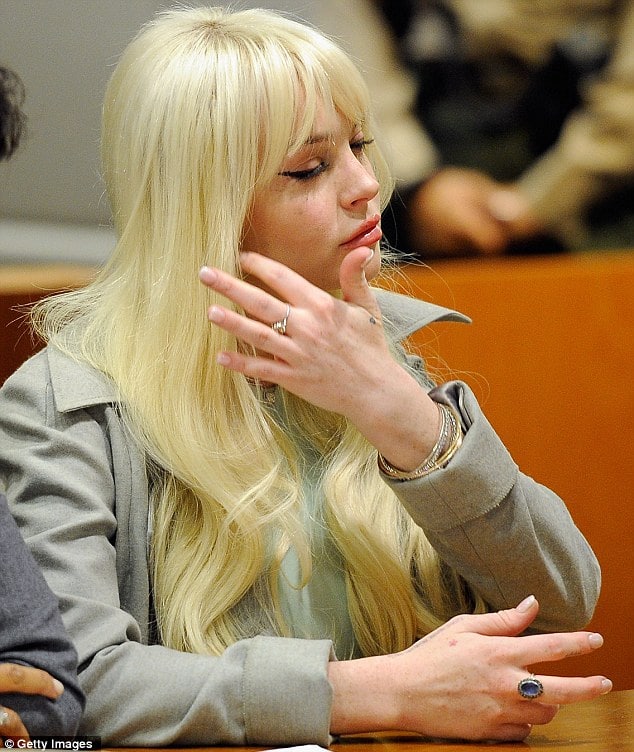 Standing in Lilo's way (yes kids, this hawt mess reads like an action thriller that includes a villain- Lilo,  a double agent, Lilo's attorney, Shawn 'I'm just happy that my lectures are paying off' Chapman Holley and the matriarchal figure head  Judge Stephanie) is 14 days at the morgue. 14 days of sweeping away the parts of dead people. 14 days of recognizing death in the face. 14 days off dry blowing dead people's air specs out of her hair. 14 days of wondering to herself how each dead person she walked over came to meet their maker.
One day when Lilo finally finishes clutching the straw called life she will fondly remember how for a period she was America's favorite hawt mess until she decided one day to mend her ways and break the hearts of every major media executive who promptly sought the adulation of a new Lindsay Lohan prototype down the street.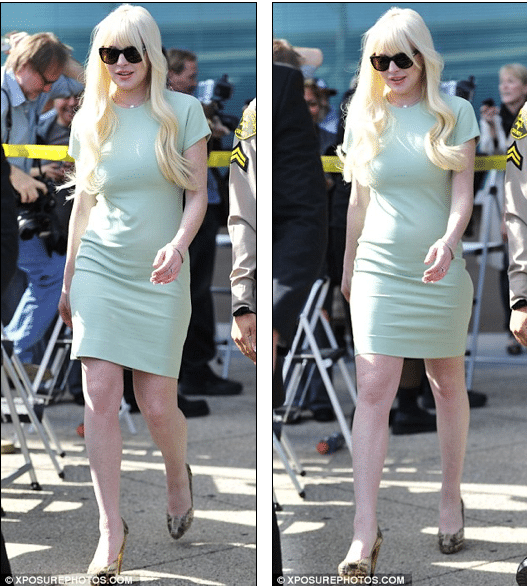 Lindsay Lohan gets into an altercation at the Standard hotel after accused of wearing a wig.
New Lindsay Lohan photo shoot: cleavage, nipples and wanton lust.
My hero Lilo arrives to NYC with a new poodle coat and what appears to be a pronounced double chin.
Yippe my hero Lilo changed her mind and is now heading off to Dubai for star studded new year's eve bash.
This can't be true? My hero Lilo turns down easy New Year's Eve money…
My hero Lindsay Lohan would like to inform all you haters that her Playboy cover spread is selling like hot cakes at the news stands.
Please Lindsay Lohan what's up with the double chin lately?
The courts heap praise on our hero Lindsay Lohan as a criminal reincarnate.
Lindsay Lohan's only unairbrushed Playboy shot released.
Breaking news: Lindsay Lohan finds her missing purse minus $10 000.
Lindsay Lohan Playboy entire photo spread leaked on line. Bye bye one million dollars.
My hero released from jail after only 4 and half hours. Pass me champagne!
My hero Lindsay Lohan crashes J. Edgar movie premiere party and freaks A listers out.»
MY HERO LINDSAY LOHAN IS ORDERED TO GO BACK TO JAIL.
LINDSAY LOHAN: LOOK AT ME, NO MORE METH TEETH (FOR NOW).
MY HERO LINDSAY LOHAN AGREES TO SPREAD FOR PLAYBOY FOR A COOL $1 MILLION BUCKS.
MICHAEL LOHAN: 'I THINK MY LITTLE GIRL IS A CRACKHEAD.'
Oh no! Lindsay Lohan scores herself a 5th mugshot picture.
Lindsay Lohan would like to explain how she ended up looking like a fashion faux pas in overdrive in court today.
My favorite hero's probation is revoked. Lindsay Lohan bail set at $100 000.
IT'S TIME TO FIND OUT WHICH A GRADE CELEBRITY WHORE THESE TEETH BELONG TO.
LINDSAY LOHAN, MY FAVORITE HAWT MESS IS BEING SUED AGAIN…
LINDSAY LOHAN TRIES TO BUY $5000 WORTH OF CLOTHES WITH NO MONEY OR CREDIT. SECURITY CAMERAS WATCHED HER CAREFULLY.
Lindsay Lohan is now living the life of a haute couture fashion model courtesy of designer Philip Plein.»
LINDSAY LOHAN CAUSES A SCENE AS SHE TELLS OFF HER MILLIONAIRE BOYFRIEND'S MODEL WIFE.
Did Lindsay Lohan slice up a fellow reveler at V magazine's party at the Boom Boom room last night?
Gawd no! Don't let this be Moma Lohan making out with the wicked wench of Crack-ville!!
Marc Jacobs has Lindsay Lohan kicked out of his after party.»
LINDSAY LOHAN HAS PAPARAZZO THROWN OUT OF FASHION TENTS.
LINDSAY LOHAN TO JUDGE; " I CAN'T AFFORD COUNSELING BUT I SURE CAN AFFORD $1200 LOUBOUTINS."
LINDSAY LOHAN WANTS TO SHOW YOU HER POOLSIDE POT BELLY.
LINDSAY LOHAN- A PERFECT BELLIGERENT MESS(AGAIN).
LINDSAY LOHAN GOES FOR THE SHEER LOOK.
GUESS WHICH DRUNK BITCH THIS IS?
PAYOLA: STARRING LINDSAY LOHAN AND CO.
LINDSAY LOHAN JUST WANTS TO PARTY ALL THE TIME.
IS THIS ONE READY TO COME OUT OF THE OVEN YET?
Say goodbye to Lindsay Lohan. Oh the tears…
IS LINDSAY LOHAN GETTING READY TO RETURN TO JAIL?
THE PAPARAZZI PHOTO THAT SET POLICE ON LILO