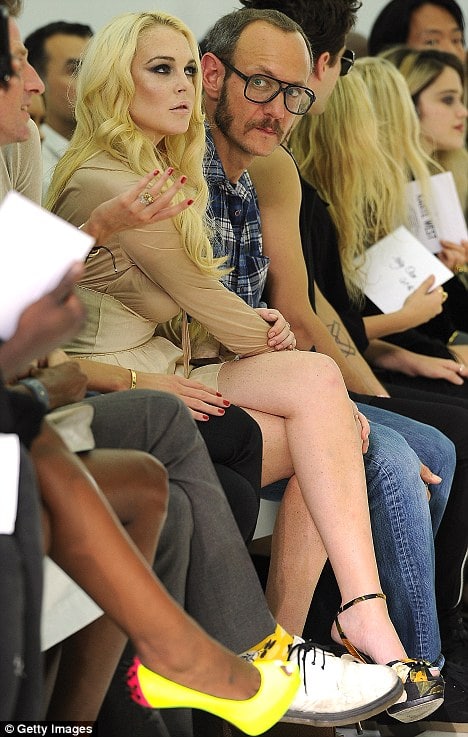 Oh dear. In the ongoing drama called 'my name is Lilo and I will always have a headline waiting for you before you wake up,' our collective media whore Lindsay Lohan true to form has manufactured a new campaign. What campaign you wonder? The Terry Richardson hawt bixch, he loves, he loves me not campaign…
dailymail.co.uk: She may only be 25, but it seems that Lindsay Lohan has a thing for older men.
The U.S. actress has reportedly got a soft spot for controversial photographer Terry Richardson.
Lohan apparently spent time with the 46-year-old following a photo shoot, and is now keen to start up a relationship with him.
Well she may be keen, but of course with respect to matters close to the heart it usually helps to have a complying partner which in Lilo's case may be a sore issue…
And the muck continues:
However, according to Radaronline.com, Richardson is 'just not interested,' and regrets 'hooking up with her.'
'They had a major night of passion after they worked on this photo shoot together and now she's going all out to get her claws into him,' a source told the website.
Lindsay and Terry have been friends for years, and she's always had a thing for him. Lindsay thinks he's really cool and hip and could be great for her career.'
Kids personally I think the public release statement is a bit coy. Reading between the lines me and the chipmunks, Fyodor  and Mazeltov came up with something else:
'Lindsay and I have been friends for years. We have sufficiently used each other's image, connections and on occasion even shared a white straw but that does not categorically mean I want to destroy or sully myself by wanting to have a relationship with that woman. Besides being the sleazebag that I am I always sleep with my models….'
But of course just because Terry has gone out of his way to let Lilo know that the bixch don't cut it doesn't mean she's going to take no for an answer (but really are you surprised?):
'Lindsay has been texting and phoning him nonstop and he's actually kind of freaked out by how strong she's been coming on to him,' the source added.
'It's a difficult situation though as they move in the same circles and have a lot of mutual friends. He's trying to work out a way to let her down gently without blowing their friendship.'
Of course Terry is no angel himself and has like Lilo found himself on the receiving end of some negative press (again are you surprised? Kids these two are perfect for each other…).
In relation to recent allegations of inappropriate behavior on the set Terry Richardson has in the past said in his own blog the following:
'I just want to take a moment to say I'm really hurt by the recent and false allegations of insensitivity and misconduct…
'I've always been considerate and respectful of the people I photograph and I view what I do as a real collaboration between myself and the people in front of the camera.'
Once again it's time to help Terry really get to the brunt of the message he'd really like you to understand:
'Being a hawt shot bixch, I'm used to getting away with most things including behaving like a sleaze bag and getting my models in bed, even media whores like Lilo, but under no circumstances will I ever find myself settling down when there are so many other bixches to conquer…
Sorry Lilo…'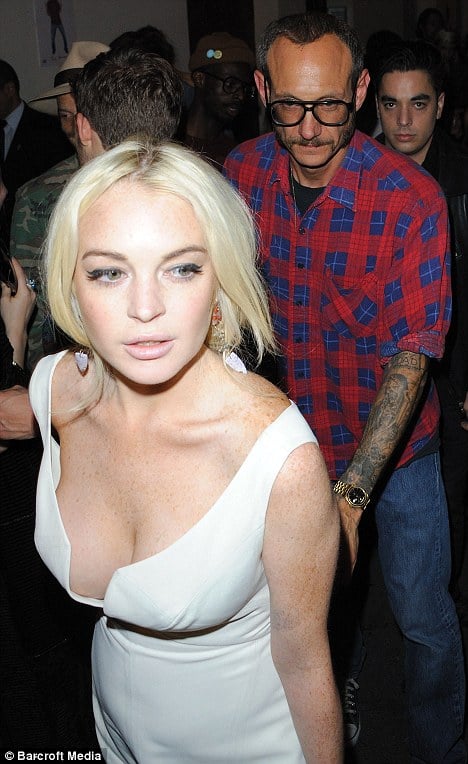 New Lindsay Lohan photo shoot: cleavage, nipples and wanton lust.
Terry Richardson creates furor by depicting women as waif thin silhouettes in ad campaign for Equinox.
Did Terry Richardson ask a freelance model for sexual favors in exchange for a picture?