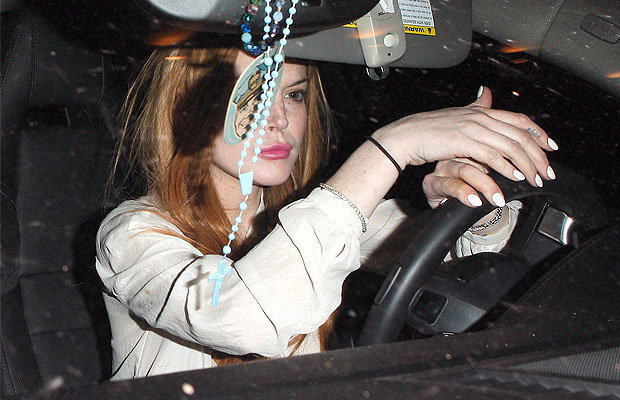 Kids, me and the chipmunks are stumbling over ourselves this morning with the latest installment in the Hollywood tragi comedy called 'This is my reckless life starring me Lindsay Lohan.' 
The object of our complete commiseration? Our living room hero being branded as a hit and run bixch which we all know is completely unfounded. Well at least according to our hignness who's dealing with the fallout of driving her Porsche through someone's body. But it was probably their fault anyway. Lilo explains for us…
washingtonpost: With less than two weeks to go until her probation effectively ends, Lindsay Lohan has been accused of grazing a man's knee with her car, then driving away. The actress called the accusation as a "complete lie" on Twitter.
And what Lilo says is always….? But just in case you want to hear the sorry song here it is:
Lilo's precious twitter pr machine: Twitter:
Scrape? This is all a complete lie. I've been at community service. Last night, I attempted to wish a friend happy birthday, which I didn't even get to do because I was freaked out by all of the paparazzi. These false accusations are absurd.
Hmm. Who should we believe kids? The guy with the gash and blood spilling out of him (so he tells us)? The blood hungry paparazzi or Lilo with the blood hued lipstick smearing off her jowls?
But the Hollywood drama thickens….
huffpo: Indeed, Sgt. Mark Ro told the AP that a police report wasn't taken because the man wasn't injured. A woman who said she was an eyewitness told TMZ that Lohan did not hit the man or a car.
Lohan's publicist told the AP, "We are confident this matter will be cleared up in the next few days."
But huffpo offers another story (yes this is Hollywood, so upping the stakes is the surest way of getting a better payday):
Shortly after the incident, Lohan was pulled over by the cops, X17online.com reports.
No charges were immediately filed, but sources told TMZ Wednesday morning that the 26-year-old manager who was hit by Lohan's car went to the emergency room after Lohan "grazed his knee and his car" and plans to file charges against the actress.
If charges are filed, the police said they will open a hit-and-run investigation, but Lohan is currently not in any trouble.
Personally me thinks it's a case of a douchebag trying to incriminate our hero, the media trying to crucify our Hollywood matyr and Lilo as usual confused as to why once again on a sleepy weekday morning she is once again the object of our collective concern.
Don't you wish you could hit and run any inconvenience that suddenly came your way too? I know I do…
Lindsay Lohan goes back to red. But is it just a ploy?
Will Terry Richardson cave in and become Lindsay Lohan's next love conquest?
Never mind Lilo is no longer a home body but a party animal once again.
Lindsay Lohan turns out to be a complete flop on SNL.
Lindsay Lohan announces she is now clean. But what happened to her face?
Lilo appears in court dressed like a Stepford wife. Inches away from freedom at last.
Lindsay Lohan gets into an altercation at the Standard hotel after accused of wearing a wig.
New Lindsay Lohan photo shoot: cleavage, nipples and wanton lust.
My hero Lilo arrives to NYC with a new poodle coat and what appears to be a pronounced double chin.
Yippe my hero Lilo changed her mind and is now heading off to Dubai for star studded new year's eve bash.
This can't be true? My hero Lilo turns down easy New Year's Eve money…
My hero Lindsay Lohan would like to inform all you haters that her Playboy cover spread is selling like hot cakes at the news stands.
Please Lindsay Lohan what's up with the double chin lately?
The courts heap praise on our hero Lindsay Lohan as a criminal reincarnate.
Lindsay Lohan's only unairbrushed Playboy shot released.
Breaking news: Lindsay Lohan finds her missing purse minus $10 000.
Lindsay Lohan Playboy entire photo spread leaked on line. Bye bye one million dollars.
My hero released from jail after only 4 and half hours. Pass me champagne!
My hero Lindsay Lohan crashes J. Edgar movie premiere party and freaks A listers out.»
MY HERO LINDSAY LOHAN IS ORDERED TO GO BACK TO JAIL.
LINDSAY LOHAN: LOOK AT ME, NO MORE METH TEETH (FOR NOW).
MY HERO LINDSAY LOHAN AGREES TO SPREAD FOR PLAYBOY FOR A COOL $1 MILLION BUCKS.
MICHAEL LOHAN: 'I THINK MY LITTLE GIRL IS A CRACKHEAD.'
Oh no! Lindsay Lohan scores herself a 5th mugshot picture.
Lindsay Lohan would like to explain how she ended up looking like a fashion faux pas in overdrive in court today.
My favorite hero's probation is revoked. Lindsay Lohan bail set at $100 000.
IT'S TIME TO FIND OUT WHICH A GRADE CELEBRITY WHORE THESE TEETH BELONG TO.
LINDSAY LOHAN, MY FAVORITE HAWT MESS IS BEING SUED AGAIN…
LINDSAY LOHAN TRIES TO BUY $5000 WORTH OF CLOTHES WITH NO MONEY OR CREDIT. SECURITY CAMERAS WATCHED HER CAREFULLY.
Lindsay Lohan is now living the life of a haute couture fashion model courtesy of designer Philip Plein.»
LINDSAY LOHAN CAUSES A SCENE AS SHE TELLS OFF HER MILLIONAIRE BOYFRIEND'S MODEL WIFE.
Did Lindsay Lohan slice up a fellow reveler at V magazine's party at the Boom Boom room last night?
Gawd no! Don't let this be Moma Lohan making out with the wicked wench of Crack-ville!!
Marc Jacobs has Lindsay Lohan kicked out of his after party.»
LINDSAY LOHAN HAS PAPARAZZO THROWN OUT OF FASHION TENTS.
LINDSAY LOHAN TO JUDGE; " I CAN'T AFFORD COUNSELING BUT I SURE CAN AFFORD $1200 LOUBOUTINS."
LINDSAY LOHAN WANTS TO SHOW YOU HER POOLSIDE POT BELLY.
LINDSAY LOHAN- A PERFECT BELLIGERENT MESS(AGAIN).
LINDSAY LOHAN GOES FOR THE SHEER LOOK.
GUESS WHICH DRUNK BITCH THIS IS?
PAYOLA: STARRING LINDSAY LOHAN AND CO.
LINDSAY LOHAN JUST WANTS TO PARTY ALL THE TIME.
IS THIS ONE READY TO COME OUT OF THE OVEN YET?
Say goodbye to Lindsay Lohan. Oh the tears…
IS LINDSAY LOHAN GETTING READY TO RETURN TO JAIL?
THE PAPARAZZI PHOTO THAT SET POLICE ON LILO
LINDSAY LOHAN ACCUSED OF STEALING A $5000 NECKLACE.