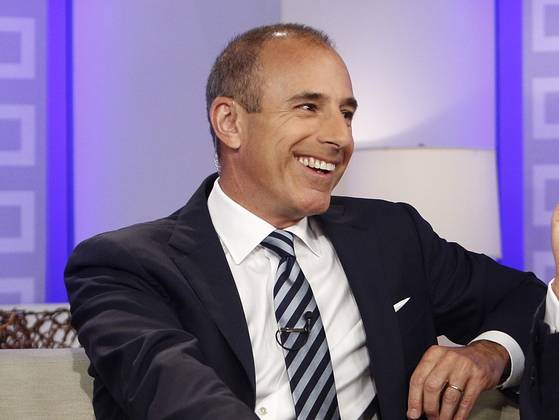 Ann Curry is being denied live interviews on NBC. Tensions escalate.
Interesting. Matt Lauer begs NBC to let Ann Curry out of her contract.
Matt Lauer will be replaced by Willie Geist. Just a matter of time.
Matt Lauer celebrates his 55th birthday in misery. Studying GMA's success….
Interesting. Matt Lauer's bosses can't get Ann Curry to have 'friendly' lunch with him.
Oh my! Matt Lauer is getting called nasty things on the street by people angry at him for Ann Curry's firing.
Matt Lauer will be fired by February if 'Today' ratings don't pick up. Replacement sought…
Matt Lauer is officially hated. Everyone desperate to get him to 'retire.'
At last! Matt Lauer is getting fired!
Matt Lauer to be scaled back from Today show cause no one likes him anymore.
Matt Lauer refuses to take a pay cut as 500 at NBC fear for their jobs.
Matt Lauer might now be replaced at Today show.
Matt Lauer is furious that Today's Jim Bell is forced out as Ann Curry supporter Alexandra Wallace is now brought on.
According to who one asks, co anchor of NBC's flagship, 'The Today show,' Matt Lauer deserves all the criticism that has been heaped at him since the ouster of his former co anchor Ann Curry this summer after it was thought getting rid of her would help the outlet revive lagging viewership.
At the time it was said that one of the stipulations of Matt Lauer signing back on with the show was if his co anchor, Ann Curry be replaced as Matt Lauer had increasingly had come to find her interviewing style and his personal rapport with her grating. At the time it was thought Lauer was only expressing misgivings that many in the media had been expressing, that chiefly Ms Curry was out of her league and she was best suited to reporting on site.
That however was easier said than done and instead of Ann Curry 'graciously' exiting as some may have hoped, she took the news to heart and by the time the media picked up on the story Ms Curry had become a sitting duck, albeit one humiliated and scorned to the brim. Unfortunately for NBC, they hadn't counted on viewers been so repulsed by the ouster and what they perceived to be her abusive treatment at the hands of Matt Lauer who by now was openly seen to be almost sanguine and nonchalant as the countdown to get rid of Ann Curry took place.
With her eventual departure and the continual slide of the show's ratings it wasn't long that viewers and media outlets alike began pointing out the deep disillusionment that had been building all along not towards Ms Curry but towards Mr Lauer himself. From reports of him being an unbearable primadonna, unfair team player (he refused to take a pay cut when 500 jobs in the entertainment division were to be scaled back) and a conniving schemer, as well as adulterer, the sharpening knives were fully out on the carving table.
At the time Jim Bell, the show's producer stood up and argued that it had been his sole decision to get rid of Curry and that all blame should be laid at him for that decision as well as for the slide in viewership ratings.
But that it seems wasn't enough to quell dissent as now NBC insiders nervous with the sagging fortunes of their outlet and perhaps having a few bones to pick against Mr Lauer himself began leaking anonymous disclosures to the press that it was now time for him to go.
Yet things kept getting worse for Lauer, as by now media outlets were reporting daily the faux pas and inner bickering at the outlet, with Matt Lauer being singled out as the instigator of bad blood. Of course it didn't help that Matt Lauer gave a less than stellar account of Thanksgiving day parades this past Thursday which led to an avalanche of twitter followers pounding on Matt Lauer, in essence branding him a has been whose hey day had come and gone.
Said one twitter follower: 'Matt Lauer doesn't age that well. Look at his hair though. I have a picture of him from awhile ago and he looks so much better', 'Dear Matt Lauer, RETIRE. YOU LOOK LIKE A CROTCHETY OLD MAN' and 'I remember when back when Matt Lauer had hair.' 
With respect to his presenting style, viewers tweeted:
'Matt Lauer's coverage of branded thanksgiving floats is indistinguishable from his coverage of the Olympic opening ceremony'; 'Matt Lauer should get a lifetime achievement award for saying ridiculous things with deadpan, absolute sincerity. Way to go Matt' and 'Is there a device to delete Matt Lauer's voice while watching the Macy's parade?'
Yet according to a dailybeast report out this morning, all that criticism of Matt Lauer might just might be unfair and in essence mean spirited. This according to NBC News President Steve Capus.
dailybeast: "Sadly, this is the era in which we live: Venomous tweets somehow threaten to drown out all of those who praised Matt for his coverage.
"The Twitter snarkiness is an unfortunate result of misdirected anger that's been unfairly placed on Matt. There has also been a lot of mean-spirited piling-on, which has been manufactured by many anonymous sources." 
Capus then goes on to adamantly assert the following with respect to Ann Curry being let go this summer:
"Matt had nothing to do with Ann's reassignment. He does not make those types of decisions. There has been an incredible amount of misplaced blame on Matt."
He adds: "If Matt is to blame for the ratings slippage then, is he the only one who gets credit for the two months of steady ratings gains we've enjoyed? It's always a team effort. As I have said repeatedly, he is one of, if not the best, morning show hosts in the history of that genre. We are lucky to have him."
Lucky to have him? Really? That may or may not be true given the increasing misgivings of some anonymous NBC insiders who are hoping by going to the media to that they might affect a decision to get rid of Matt Lauer, something that Mr Lauer must be very aware of and vigilantly watching to see who amongst NBC insiders is for and against him.
Which raises the ultimate question, regardless of the leaking of anonymous sources which in essence is aimed to take aim at Lauer, will NBC executives at the end of the day commit themselves to the man that not less than 10 months ago they offered a staggering $25 million to sign back on? Which is another way of saying does NBC have the guts to put its money on where it's mouth is….?
Oh really? Ann Curry firing leads to Today Producer Jim Bell being fired after ratings slump.
Ann Curry's firing and Today shows tabloid fare is the reason why the show is tanking with former viewers.
Ann Curry firing not Matt Lauer's fault insist Today crew. A turn of attitude?
Ann Curry's firing and Today shows tabloid fare is the reason why the show is tanking with former viewers.
Matt Lauer absence on Today show leads to huge sigh of relief from staff.
The Today show is groveling to have Ann Curry back.
Ann Curry firing now leads to Today show defending Matt Lauer.
Ann Curry gets her revenge as Matt Lauer now said to be forced to take huge pay cut…
Matt Lauer would like to tell you how his popularity has plummeted since Ann Curry was fired. Will he survive?
Ann Curry fired. Matt Lauer is looking very bad as Today ratings plummet further.
Matt Lauer urged to take a pay cut off his $25 million deal as Today show falters.
Ann Curry fired: Katie Couric slams NBC. But why?
Ann Curry Fired. Looks like Matt Lauer is hated even more as mini revolt at Today heats.
Ann Curry firing. Al Roker now calls Matt Lauer out…
Ann Curry fired: Reunites with Matt at London. Refuses to engage him.
Ann Curry: Now reckons she was fired cause of her flat shoes, gray hair and too multi colored style.
Ann Curry Today show: At last NBC Today show gets a rating boost with Olympics.
Ann Curry fired. Reckons that The Today show are not living up to promises made to her.
Matt Lauer calls Meredith Vieira an 'Indian giver.'
Ann Curry fired: Feels vindicated as NBC ratings falter at the London Olympics
Ann Curry to return to The Today show after James Holmes shooting.
Ann Curry replacement Savannah Guthrie said to be having debilitating migraines.
Ann Curry fired. Media pundits anxiously await new Nielsen ratings.
Ann Curry live interview with Ladies Home Journal released.
Ann Curry is not missed as NBC insists that they are thrilled with the new anchor team.
Ann Curry Fired: Can NBC still save itself?
Ann Curry Fired: Savannah Guthrie's 'Today' Debut tanks!
Ann Curry's replacement Savannah Guthrie waxes girlish charm with giggly Matt Lauer
Ann Curry fired: Surfaces with new tweets, inspires more controversy.
What's wrong with media today?
Ann Curry Fired: Matt Lauer was 100 % behind her ouster from Today show.
Ann Curry fired: NBC executive comes out bashing former Today anchor.
Ann Curry fired and the capitulation of the Today show.
Matt Lauer's wife to follow him to London cause she's afraid he might cheat with Today's Natalie Morales.
Ann Curry Fired: Matt Lauer and his crocodile tears.
Ann Curry Fired. 'I'm sorry I couldn't carry the ball over the finish line…
Matt Lauer's wife threatened to divorce him if Natalie Morales became Today co anchor.
Ann Curry fired: Officially leaving Today, to make farewell speech imminently.
Ann Curry fired. Lap dances, grumpy fits and behind the scenes back stabbing…
Ann Curry Fired: More upheaval as passed over Natalie Morales set to leave Today show.
Ann Curry Fired: Ann haggling for $20 million exit money and NBC confirms Savannah Guthrie.
Ann Curry Fired. Backstabbed by NBC.
Ann Curry Fired. Refuses to take the hint now fed up NBC will go public.
Ann Curry doesn't care that she's fired. "I'm here to stay!'
Ann Curry Fired: 'Am I not good enough?'
Ann Curry turns up to Today show, acting as if she hasn't been fired.
Ann Curry fired cause NBC hates her.
Matt Lauer re-signs with the Today show whilst Ann Curry is a goner.
Ann Curry rumored to be fired because her co host Matt Lauer hates her guts.