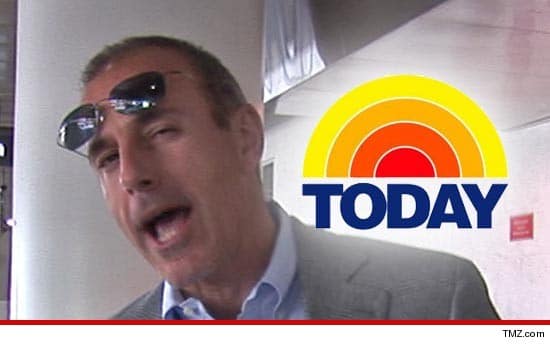 Ann Curry fired: NBC executive comes out to say she wasn't right for the job.
Ann Curry fired and the capitulation of the Today show.
Ann Curry Fired: Matt Lauer and his crocodile tears.
Ann Curry Fired. (Video)Gut wrenching '…sorry I couldn't be the groundbreaker…'
Matt Lauer's wife threatened to divorce him if Natalie Morales became Today co anchor.
Ann Curry fired: Officially leaving Today, to make farewell speech imminently.
Ann Curry fired. Lap dances, grumpy fits and behind the scenes back stabbing…
Ann Curry Fired: More upheaval as passed over Natalie Morales set to leave Today show.
Ann Curry Fired: Ann haggling for $20 million exit money and NBC confirms Savannah Guthrie.
Ann Curry Fired. Backstabbed by NBC.
Ann Curry Fired. Refuses to take the hint now fed up NBC will go public.
Ann Curry Fired: 'Am I not good enough?'
Ann Curry doesn't care that she's fired. "I'm here to stay!'
Ann Curry turns up to Today show, acting as if she hasn't been fired.
Ann Curry fired cause NBC hates her.
Ann Curry rumored to be fired because her co host Matt Lauer hates
Matt Lauer is going to become a very rich hawt bixch whilst Ann Curry is going to become an unemployed one. 
Oh dear, such catty behavior. Then again this is the world of high octane media where the likes of Matt Lauerget to greet us in the morning and explain to us in perfect tea cup manners which way is up. Though who will be thought to no longer be there with him in the not too distant future on the Today show where Matt rules, is his co host Ann Curry. Why? Cause he can't stand the bixch.
tmz; Matt Lauer has signed a new, long-term deal with the "Today" show.  He will become way richer than he already is, and we're told the next move will be to send Ann Curry packing.
As TMZ first reported, Lauer got close to his $30 million a year asking price, nearly doubling his $17 million a year current salary.  
Hmm. $30 million, that's not a bad paycheck for knowing how to hold a teacup and chat with some measure of charm and eloquence about the affairs of the world. Surely there must be some street bums who feel that they possess similar deep inner workings of the world and can give Matt a run for his money. Of course my money would be on Matt as he would sit there politely agreeing with said bum whilst managing to gently chide them and remind them it's a losing game. All with a smile of course. Which brings me back to Ann Curry.
Kids do you think Matt will give Ann the heave ho with a loving smile? Will he sit down with her after one of the shows, gently stirring his chamomile tea and explaining to Ann that some things in life aren't just meant to be? What do you think kids?
Don't you wish you were a high powered media whore who ruled the world. I know Ann does….