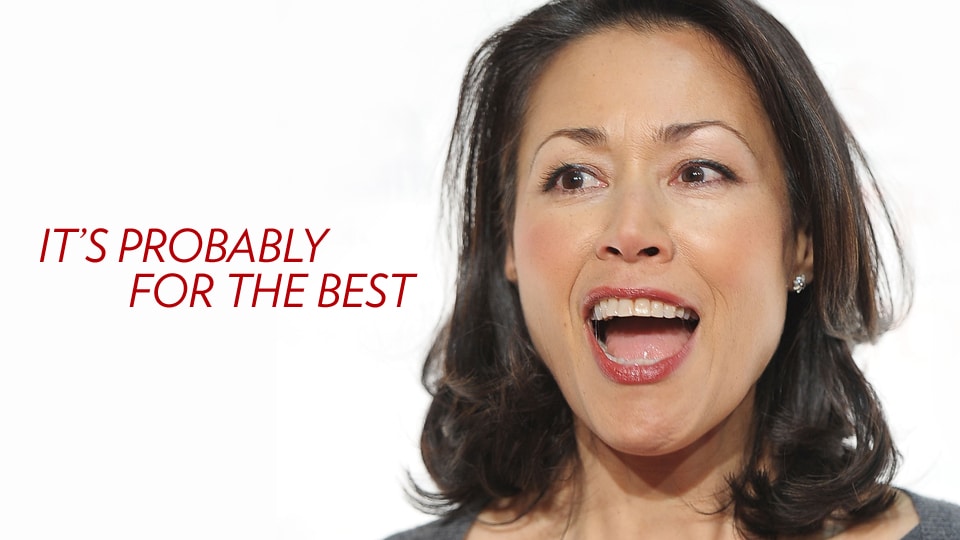 Ann Curry fired. Pundits anxiously await new Nielsen ratings.
Ann Curry video interview with Ladies Home Journal released.
Ann Curry fired: Today show loses with Savannah Guthrie week one.
Ann Curry is not missed as NBC insists that they are thrilled with the new anchor team.
Ann Curry Fired, NBC Dismal ratings and viewer contempt.
Ann Curry Fired: Savannah Guthrie's 'Today' Debut tanks.
Ann Curry's replacement Savannah Guthrie waxes girlish charm with giggly Matt Lauer.
Ann Curry fired: Savannah Guthrie makes her official Today debut, viewers flock in droves.
Anne Curry fired: Today show fighting for its life against Good Morning America.
Ann Curry fired: Surfaces with new tweets, inspires more controversy.
Ann Curry Fired: Matt Lauer was 100 % behind her ouster from Today show.
Ann Curry fired: NBC executive comes out to say she wasn't right for the job.
Matt Lauer's wife to follow him to London cause she's afraid he might cheat with Today's Natalie Morales.
Ann Curry fired and the imminent collapse of the Today show.
Ann Curry Fired. (Video)Gut wrenching '…sorry I couldn't be the groundbreaker…'
Matt Lauer's wife threatened to divorce him if Natalie Morales became Today co anchor.
Could it have been any other way?
Finally the vitriol and the bullying courtesy of NBC will stop as Ann Curry announces that it is official- she has been fired by NBC from her post as The Today show's co anchor.
NBC have finally for the first time since the rumors of Ann Curry's impending ouster via the nytimes(NBC's public relations department by proxy…) came out publicly to state that the co anchor has been relieved of her duties. A relief one would think for Ms Curry but as it appears a bitter sweet one too.
usatoday: Ann Curry's voice chokes when she talks about saying goodbye this morning on NBC's Today show, years earlier than she had hoped.
It's "going to be a bit of a tough day," she told USA TODAY in a 40-minute phone interview Wednesday, sounding as though she were fighting back tears. "I'm going to have to tell our viewers. That's what makes me more emotional than anything. I don't want to leave them. I love them. And I will really miss them."
Who though doesn't love her or nearly enough is that of NBC insiders who have been launching covert attacksin the media (via the nytimes) essentially blaming Ann Curry for the loss of morning rankings to their chief competitor Good Morning America. On top of the list of insiders who it appears has little love for Ms Curry is Matt Lauer, NBC's golden boy and exemplar of perfect tea cup manners.
Despite being unceremoniously dumped by NBC from the show, Ms Curry who it is widely thought to have wanted to be paid a total of $20 million and to move on from the network has agreed to remain at NBC where she will lead a 7 man team covering breaking foreign news stories.
And then there's this in case you think Ms Curry isn't mad as hell:
I don't know who has been behind the leaks, but no question they've hurt deeply," she says. She admits she would have liked more time to work things out as co-host, and she bristles a bit at the suggestion that she lacked "chemistry" with co-host Matt Lauer.
"You know, Matt and I have had great on-air chemistry for 14 years, been part of the No. 1 winning team for a history-making number of years," she says. "That said, I just finished my freshman year as co-host. In every single co-host's first year, there have been kinks to be worked out, and perhaps I deserve as much blame for that as anyone."
Does she think she was given enough time to work out those kinks? "No, I do not," she says flatly.
Would she have liked more time? "Oh, sure I would have," she says.
Chemistry with Matt? Interesting since it is publicly known that he had stipulated that Ms Curry be made to leave the show back in February when he first agreed to a new $25 million package, which makes one wonder how much chemistry between these two there really was?
Nevertheless Ms Curry when pressed about her relationship with Mr Lauer insists it's a healthy one, but does acknowledge he is the star, even if judging by the hundreds of comments our journal has received that he is anything but the star but a self conceited pompous individual. Then again one is inclined to say anything when their favorite morning tv show is going to the dogs.
Replacing Ms Curry will be Savannah Guthrie who was widely viewed as the favorite contender by insiders. Of note though is earlier assertions that Natalie Rodriguez (who it is rumored had an affair with Matt Lauer) would leave the show if she were once again passed over are according to her untrue (interesting…) as it has now been said that she is excited to remain where she is. For now at least.
No word as of yet what the terms of Ms Curry's new contract is valued at.
One can only watch and wonder what happens to NBC's rankings now….
Ann Curry fired. Lap dances, grumpy fits and behind the scenes back stabbing…
Ann Curry Fired: More upheaval as passed over Natalie Morales set to leave Today show.
Ann Curry Fired: Ann haggling for $20 million exit money and NBC confirms Savannah Guthrie.
Ann Curry Fired. Backstabbed by NBC.
Ann Curry Fired. Refuses to take the hint now fed up NBC will go public.
Ann Curry doesn't care that she's fired. "I'm here to stay!'
Ann Curry Fired: 'Am I not good enough?'
Ann Curry turns up to Today show, acting as if she hasn't been fired.
Ann Curry fired cause NBC hates her.
Matt Lauer re-signs with the Today show whilst Ann Curry is a goner.
Ann Curry rumored to be fired because her co host Matt Lauer hates her guts.