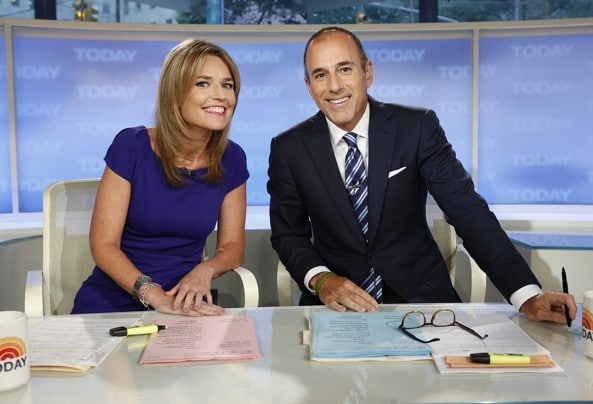 Ann Curry: Now reckons she was fired cause of her flat shoes, gray hair and too multi colored style.
Ann Curry Today show: At last NBC Today show gets a rating boost with Olympics.
Ann Curry fired. Reckons that The Today show are not living up to promises made to her.
Ann Curry fired: Feels vindicated as NBC ratings falter at the London Olympics
Ann Curry returns to The Today show after Batman Dark Knight shooting
Ann Curry replacement Savannah Guthrie said to be having debilitating migraines.
Ann Curry fired. Pundits anxiously await new Nielsen ratings.
Ann Curry video interview with Ladies Home Journal released.
Ann Curry fired: Today show loses with Savannah Guthrie week one.
Ann Curry is not missed as NBC insists that they are thrilled with the new anchor team.
Ann Curry Fired, NBC Dismal ratings and viewer contempt.
Ann Curry Fired: Savannah Guthrie's 'Today' Debut tanks.
Ann Curry fired: Savannah Guthrie makes official Today debut, viewers flock in droves.
Ann Curry fired: Today show fighting for its life against Good Morning America.
The farce called perfect tea manners has arrived this morning for your perfect viewing pleasure. 
In a deliberate attempt to sign off on NBC's recent public acrimonious faux pas, yesterday's introduction of Savannah Guthrie as the Today show's new co host alongside Matt Lauer read off as an incredulous re uniting of two supposed kindred souls who were always destined for each other but had only accidentally met that morning.
Beamed a too gushing Matt Lauer: "It truly is a new day around here,"  and almost wrapping his arms around his new best friend: "We're thrilled to have you here."
And then to prove to us Matt was Savannah's new best friend the two paused so as to let the cameras soak in the new aroma in the air, to fully notice the stench called, battered 'Ann Curry,' had been now finally cleaned off the family coach. Happy that the world had caught on with the subtle references of the new world beginning he then with giggle elan continued with the following:
"We have this goofy tradition, we get to do a little déjà vu,"
And after Matt paused sipped his too perfect chamomile tea he was at it again:
"We're happy because you bring a great attitude and what we like to call a weird sense of humor," Matt continued.
"7:02, and he's already calling me weird," Savannah eye-rolled.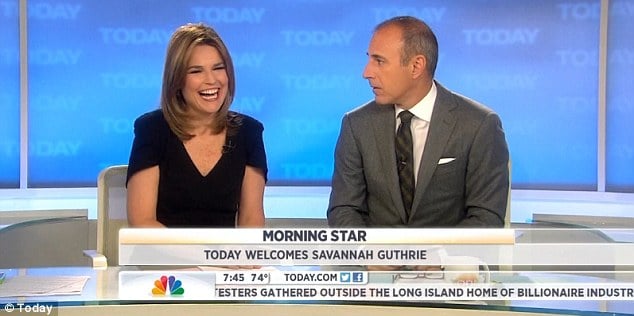 The repartee would go on for the rest of the first half of the show, each segment, glance, pause practiced and manicured to perfection. We the public had after all had dropped by to watch and this time nothing could be left to chance. No bitter tears of Ann Curry, no exasperated silences of painful remorse, not even one stale moment that gave away all the dirty secrets that were percolating as everyone nonchalantly attempted to cheerily smile back at the universe. The world might be fraught with misery and despair but at least at NBC studios all one could smell was the warm aroma of ginger cookies getting ready to be served.
Beamed Matt Lauer to his playful new best friend:
"We found out one other thing. Your favorite book – "
"No! No! No!" Savannah wailed.
Matt persisted: "The name of your favorite book— "
"War and Peace!" Savannah interrupted.
" — favorite book growing up was a book, your mom told me, 'Dreams Can Come True'!"
"It featured the picture of a cheerleader," Matt said, showing the universe a copy of the book.
He read from the book cover:
"She dreams of being beautiful, popular, becoming a cheerleader and dreams of having a handsome boyfriend."
"Then she sees Kip."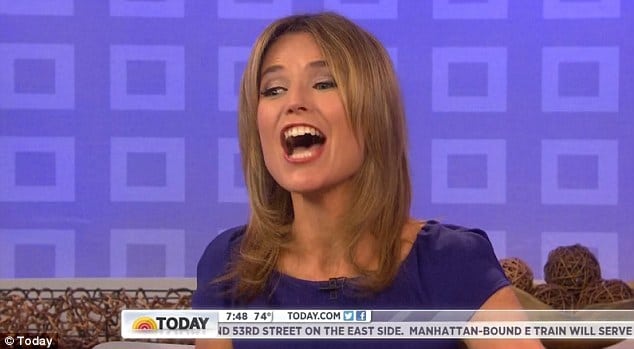 Of course it will be interesting to see how long this idyllic version of morning news entertainment reporting will last at NBC's new revamped line up. Audiences for the time being are quite reluctant and many have already switched off to new channels but then of course there will be the committed who will watch on excited and curious to see what magic Matt Lauer and his new team will pull off. Of course in the event Matt Lauer and his new team can not find the magic, the missing connection until yesterday it will be an agonizing withering of what at one stage was compelling viewership. Time will tell if Matt Lauer and Savannah Guthrie can resurrect the fortunes of NBC or whether a new bitter ugly game will be brought forth to viewers….
Ann Curry fired: Surfaces with new tweets, inspires more controversy.
What's wrong with media today?
Ann Curry Fired: Matt Lauer was 100 % behind her ouster from Today show.
Ann Curry fired: NBC executive comes out bashing former Today anchor.
Ann Curry fired and the capitulation of the Today show.
Matt Lauer's wife to follow him to London cause she's afraid he might cheat with Today's Natalie Morales.
Ann Curry Fired: Matt Lauer and his crocodile tears.
Ann Curry Fired. 'I'm sorry I couldn't carry the ball over the finish line…
Matt Lauer's wife threatened to divorce him if Natalie Morales became Today co anchor.
Ann Curry fired: Officially leaving Today, to make farewell speech imminently.
Ann Curry fired. Lap dances, grumpy fits and behind the scenes back stabbing…
Ann Curry Fired: More upheaval as passed over Natalie Morales set to leave Today show.
Ann Curry Fired: Ann haggling for $20 million exit money and NBC confirms Savannah Guthrie.
Ann Curry Fired. Backstabbed by NBC.
Ann Curry Fired. Refuses to take the hint now fed up NBC will go public.
Ann Curry doesn't care that she's fired. "I'm here to stay!'
Ann Curry Fired: 'Am I not good enough?'
Ann Curry turns up to Today show, acting as if she hasn't been fired.
Ann Curry fired cause NBC hates her.
Matt Lauer re-signs with the Today show whilst Ann Curry is a goner.
Ann Curry rumored to be fired because her co host Matt Lauer hates her guts.