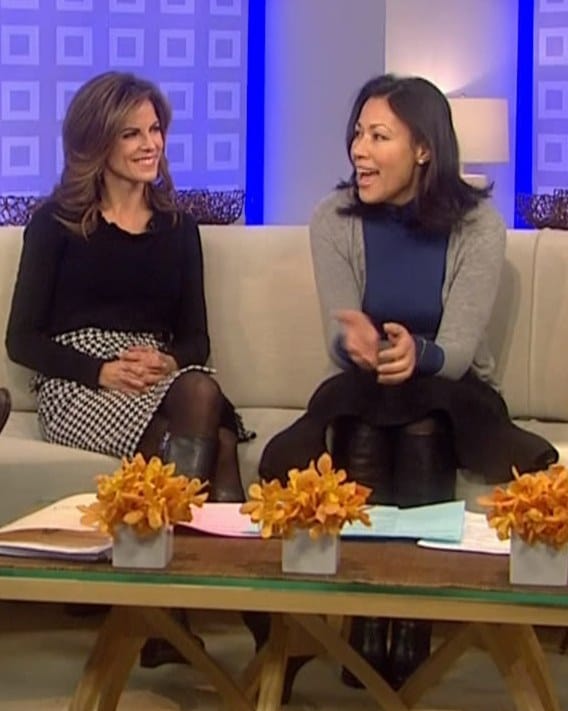 Ann Curry fired. Pundits anxiously await new Nielsen ratings.
Ann Curry video interview with Ladies Home Journal released.
Ann Curry fired: Today show loses with Savannah Guthrie week one
Ann Curry is not missed as NBC insists that they are thrilled with the new anchor team.
Ann Curry Fired, NBC Dismal ratings and viewer contempt.
Ann Curry Fired: Savannah Guthrie's 'Today' Debut tanks.
Ann Curry's replacement Savannah Guthrie waxes girlish charm with giggly Matt Lauer.
Ann Curry fired: Savannah Guthrie makes her official Today debut, viewers flock in droves.
Ann Curry fired: Today show fighting for its life against Good Morning America.
Ann Curry fired: Surfaces with new tweets, inspires more controversy.
Ann Curry Fired: Matt Lauer was 100 % behind her ouster from Today show.
Ann Curry fired: NBC executive comes out to say she wasn't right for the job.
Matt Lauer's wife to follow him to London cause she's afraid he might cheat with Today's Natalie Morales.
Ann Curry fired and the imminent collapse of the Today show.
Ann Curry Fired: Matt Lauer and his crocodile tears.
Ann Curry Fired. (Video)Gut wrenching '…sorry I couldn't be the groundbreaker…'
Matt Lauer's wife threatened to divorce him if Natalie Morales became Today co anchor.
Ann Curry fired: Officially leaving Today, to make farewell speech imminently.
Ann Curry fired. Lap dances, grumpy fits and behind the scenes back stabbing…
Ann Curry Fired: Ann haggling for $20 million exit money and NBC confirms Savannah Guthrie.
Ann Curry Fired. Backstabbed by NBC.
Ann Curry Fired. Refuses to take the hint now fed up NBC will go public.
Ann Curry doesn't care that she's fired. "I'm here to stay!'
Welcome to NBC's battle of the ego. Who needs news when you have backdoor news to hide from the world….?
It is generally thought to be understood that Ann Curry's position of co anchor of NBC's the Today show will be formally given to Savannah Guthrie sometime today (rumors nevertheless persist that Hoda Kotb is still in the running) whilst NBC still iron out financial arrangements with Ms Curry who is keen to get a $20 million payout as her contract stipulated as opposed to the $10 million NBC are at present content to pay Ms Curry (how she if she chooses to exercise her contractual rights remains to be seen).
Yet that said, there seems to be a new storm in the clouds of NBC as frayed egos now begin to take center stage. Who it said might walk out now that she has been passed over for the role of co anchor of the Today show is Natalie Morales who insiders reveal is mortified that NBC executives have ostensibly passed her over not once but twice.
Reports the NY Post: "This will be the second time [Natalie] has been passed over for the top job. And she's not happy," a source tell us.
A NBC Universal rep had no comment on Curry or her replacement, but said the talk about Morales being disgruntled is "totally untrue."
A different source adds: "Natalie couldn't be happier in her current role."
Curry, meanwhile, is expected to leave "Today" imminently, after a year on the job.
Oh dear. Happy, disgusted, disgruntled, elated? Who can really tell what is going on behind the closed doors of NBC whose wayward ways are certainly catching attention these days after the outlet's less than stellar handling of the Ann Curry debacle.
It will be of course interesting to see how the other members of NBC's Today show handle the re shuffle and who over the next few months gets to stay or who have little daggers start to mount silently behind their backs, hardly the chummy feeling that NBC could hope to evoke on their frazzled talent pool.
Ann Curry Fired: 'Am I not good enough?'
Ann Curry turns up to Today show, acting as if she hasn't been fired.
Ann Curry fired cause NBC hates her.
Matt Lauer re-signs with the Today show whilst Ann Curry is a goner.
Ann Curry rumored to be fired because her co host Matt Lauer hates her guts.