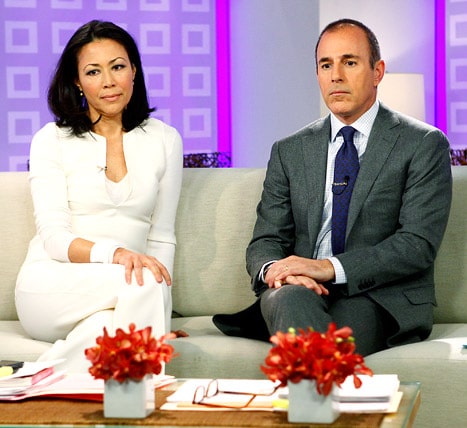 Ann Curry: Now reckons she was fired cause of her flat shoes, gray hair and too multi colored style.
Ann Curry Today show: At last NBC Today show gets a rating boost with Olympics.
Ann Curry fired. Reckons that The Today show are not living up to promises made to her.
Ann Curry fired. Pundits anxiously await new Nielsen ratings.
Ann Curry video interview with Ladies Home Journal released.
Ann Curry fired: Today show loses with Savannah Guthrie week one.
Ann Curry is not missed as NBC insists that they are thrilled with the new anchor team.
Ann Curry Fired, NBC Dismal ratings and viewer contempt.
Ann Curry Fired: Savannah Guthrie's 'Today' Debut tanks.
Ann Curry's replacement Savannah Guthrie waxes girlish charm with giggly Matt Lauer.
Ann Curry fired: Savannah Guthrie makes her official Today debut, viewers flock in droves.
Anne Curry fired: Today show fighting for its life against Good Morning America.
Ann Curry fired: Surfaces with new tweets, inspires more controversy.
Ann Curry fired: NBC executive comes out bashing former Today anchor.
"Ann Curry refused on her last week of the Today show to even talk to Matt Lauer." Insider reveals horror behind NBC's Today show.
There may have been reason why Ann Curry on her last day of NBC's the Today show was not too forthcoming with co host Matt Lauer as he leaned over to offer her his condolences.
According to an undisclosed source, US Weekly have just released an articlewhere it is claimed that Matt Lauer was 100 % behind Ann leaving," something that may strike seasoned TV viewers and devout Today show fans as less than compelling indictment on the highly paid co anchor.
But the source goes further to say so high were tensions between the two (if was by now no secret that Matt Lauer had orchestrated Ms Curry's departure at the show) that relations were said to be particularly icy and that 'she refused to speak to him all week.'
Meanwhile the ratings jump that NBC had been looking for has of yet not materialized and might put considerable heat under the assertion that NBC were rash to get rid of Ms Curry.
hollywoodreporter: Preliminary Nielsen data has the June 28 broadcast of Today pulling in 4.31 million viewers, topping ABC's Good Morning America by 180,000. And though it is a win for Today, that number was shy of the previous week's average (4.49 million) and the significantly stronger second-quarter numbers (5.03 million).
As for Curry's replacement, Savannah Guthrie's first day on the job did not immediately help her series' ongoing ratings battle with GMA. Fast affiliate ratings have the ABC show topping Today by 398,000 viewers on Friday — preliminary numbers give 4.41 million viewers to GMA and 4.02 million to Today.
Time will tell if NBC chose the right course of action, but judging from the above numbers it seems viewers are none too pleased with the way NBC handled Ms Curry and may have inadvertingly pushed away dedicated fans who were appalled by the supposedly 'family' channel's behavior towards one of its insiders.
Ann Curry fired and the capitulation of the Today show.
Matt Lauer's wife to follow him to London cause she's afraid he might cheat with Today's Natalie Morales.
Ann Curry Fired: Matt Lauer and his crocodile tears.
Ann Curry Fired. 'I'm sorry I couldn't carry the ball over the finish line…
Matt Lauer's wife threatened to divorce him if Natalie Morales became Today co anchor.
Ann Curry fired: Officially leaving Today, to make farewell speech imminently.
Ann Curry fired. Lap dances, grumpy fits and behind the scenes back stabbing…
Ann Curry Fired: More upheaval as passed over Natalie Morales set to leave Today show.
Ann Curry Fired: Ann haggling for $20 million exit money and NBC confirms Savannah Guthrie.
Ann Curry Fired. Backstabbed by NBC.
Ann Curry Fired. Refuses to take the hint now fed up NBC will go public.
Ann Curry doesn't care that she's fired. "I'm here to stay!'
Ann Curry Fired: 'Am I not good enough?'
Ann Curry turns up to Today show, acting as if she hasn't been fired.
Ann Curry fired cause NBC hates her.
Matt Lauer re-signs with the Today show whilst Ann Curry is a goner.
Ann Curry rumored to be fired because her co host Matt Lauer hates her guts.