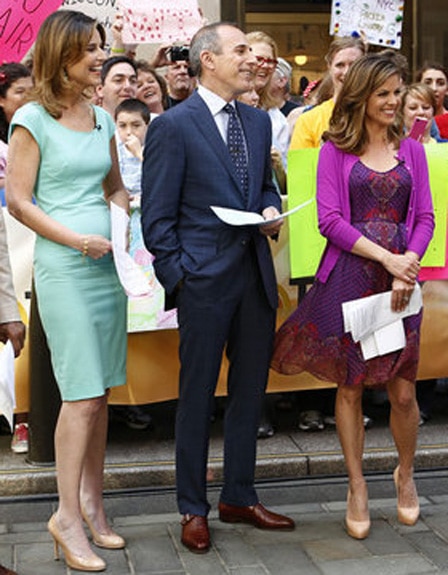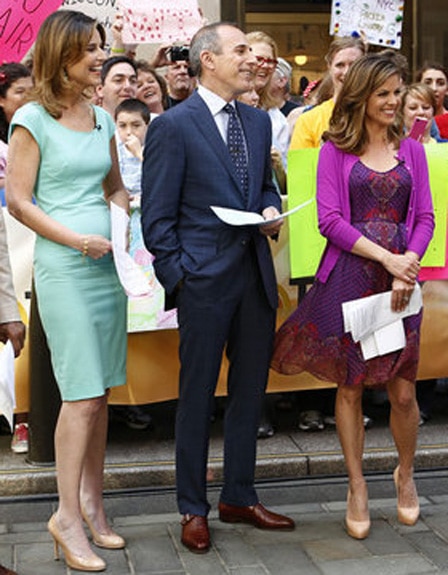 Ann Curry fired. Pundits anxiously await new Nielsen ratings.
Ann Curry video interview with Ladies Home Journal released.
Ann Curry fired: Today show loses with Savannah Guthrie week one
Ann Curry is not missed as NBC insists that they are thrilled with the new anchor team.
Ann Curry Fired, NBC Dismal ratings and viewer contempt.
Ann Curry Fired: Savannah Guthrie's 'Today' Debut tanks.
Ann Curry's replacement Savannah Guthrie waxes girlish charm with giggly Matt Lauer.
Ann Curry fired: Savannah Guthrie makes her official Today debut, viewers flock in droves.
Anne Curry fired: Today show fighting for its life against Good Morning America.
Ann Curry fired: Surfaces with new tweets, inspires more controversy.
Ann Curry Fired: Matt Lauer was 100 % behind her ouster from Today show.
Ann Curry fired: NBC executive comes out to say she wasn't right for the job.
Matt Lauer's wife to follow him to London cause she's afraid he might cheat with Today's Natalie Morales.
Ann Curry fired and the imminent collapse of the Today show.
Ann Curry Fired: Matt Lauer and his crocodile tears.
Ann Curry Fired. (Video)Gut wrenching '…sorry I couldn't be the groundbreaker…'
Matt Lauer's wife threatened to divorce him if Natalie Morales became Today co anchor.
Ann Curry fired: Officially leaving Today, to make farewell speech imminently.
Ann Curry Fired: More upheaval as passed over Natalie Morales set to leave Today show.
Ann Curry Fired: Ann haggling for $20 million exit money and NBC confirms Savannah Guthrie.
Ann Curry Fired. Backstabbed by NBC.
Ann Curry Fired. Refuses to take the hint now fed up NBC will go public.
Ann Curry doesn't care that she's fired. "I'm here to stay!'
Judging from many of the comments our journal has received of late pursuant to the mess over at NBC many of you have had enough and are on the way out with Ms Ann Curry when she's eventually given her marching orders. That said now might be a reminder to say that the mess happening daily on our tv screens will probably count for the best entertainment that NBC could ever have ever paradoxically hoped for.
By now it is publicly understood that NBC have decided to give Ms Ann Curry her marching papers because at the end of the day someone has to bite the bullet when a network's numbers are down. During this time the macabre charade that everything is fine and no one fell on the stage and cut themselves has been replaying itself with sadistic venom for just under a week now and ironically the viewership over at NBC probably hasn't been higher in recent memory as viewers tune in to watch the nasty game of 'will Ann Curry self implode live on national TV.'
To date Ms Curry to her credit has kept a very cool head but who hasn't it now seems is NBC who has been desperately using their friends over at the NY Times to act as their pr minions to do their dirty work. Each 'press release' making NBC look by default capricious, negligent, apathetic and mean spirited which at the end of the day they probably are except to the very few who have made it to the insider's club, ie Matt Lauer.
Who it seems hasn't made it to the insider's club and who wont be invited for the foreseeable future is Natalie Morales who probably got some publicist to bemoan to page 6that life is unfair and that she's going to now find a new home, unless of course she is just saying that and NBC actually fired her pretty self to make way for new blood.
Either way whilst blood was spilling on the dance floor the sight of Joe Manganiello dancing with Ann Curry was probably the best laugh anyone could have taken from the show in weeks and served to remind us all why NBC's the Today show has been the leader all these years. Of course who will keep that in mind will be Ann Curry as Joe Manganiello pressed his body up against hers, cause at least he understood who the real Queen in the jungle was even if NBC didn't…
Visit msnbc.com for breaking news, world news, and news about the economy
Ann Curry Fired: 'Am I not good enough?'
Ann Curry turns up to Today show, acting as if she hasn't been fired.
Ann Curry fired cause NBC hates her.
Matt Lauer re-signs with the Today show whilst Ann Curry is a goner.
Ann Curry rumored to be fired because her co host Matt Lauer hates her guts.