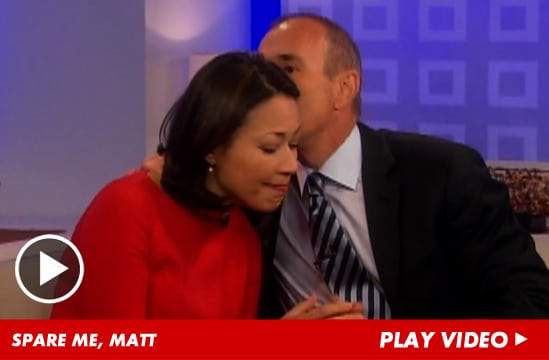 Ann Curry Fired. Looks like Matt Lauer is hated even more as mini revolt at Today heats.
Ann Curry firing. Al Roker now calls Matt Lauer out…
Ann Curry fired: Reunites with Matt at London. Refuses to engage him.
Ann Curry: Now reckons she was fired cause of her flat shoes, gray hair and too multi colored style.
Ann Curry Today show: At last NBC Today show gets a rating boost with Olympics.
Ann Curry fired. Reckons that The Today show are not living up to promises made to her.
Ann Curry fired: Feels vindicated as NBC ratings falter at the London Olympics
Ann Curry returns to The Today show after Batman Dark Knight shooting
Ann Curry replacement Savannah Guthrie said to be having debilitating migraines.
Will heads roll? Media execs anxiously await to see new Nielsen ratings to gauge how serious the decline at NBC is. 
With Ann Curry no longer hosting as NBC's co anchor at the Today show media pundits are now anxiously eyeing the latest batch of Nielsen ratings to see how bad things at NBC things really are at the beleaguered network.
With the release of last week's ratings which showed ABC's 'Good Morning America' with a handy 357 000 lead over NBC's 'The Today show' (4.57 million viewers vs 4.21 million viewers) and the biggest lead in the last 17 years questions are starting to be asked whether the ouster of Ann Curry may have been a superficial move that has done little to reverse NBC's steady viewership decline.
At stake this time isn't Ann Curry's job (that came and went) but more the fortunes of the network itself who must be silently seething at the less than stellar numbers, especially as they have since replaced Ms Curry with the show's legal analyst Savannah Guthrie.
A buoyant return to numbers might put a stop to commentators who have decried the show's glory days and may by osmosis bring back those viewers who have boycotted the show after Ms Curry's ouster. On the other hand another less than stellar showing might lead to studio executives silently wondering if the trouble has more to do with their other co anchor, Matt Lauer who was recently signed on for a $25 million package or simply the fact that the dialectics for what counts as morning viewing is no longer easily understood as it once used to be.
For the time being, NBC executive Jim Bell is keeping a happy face for the public with his recently released statement that "we are incredibly confident in the new `Today' anchor team. Although it's premature to look at one week of unofficial numbers and draw any conclusions, we just made a big change that we didn't take lightly, and we are in this for the long run."
That said the stoic disposition of studio heads may be about to reverse as more attention is sure to be called in the event that NBC falter at the ticket tape. Let's hope Matt Lauer keeps a calm head as he wearily drinks his morning chamomile tea…
above image found here
Ann Curry live interview with Ladies Home Journal released.
Ann Curry is not missed as NBC insists that they are thrilled with the new anchor team.
Ann Curry Fired: Can NBC still save itself?
Ann Curry Fired: Savannah Guthrie's 'Today' Debut tanks!
Ann Curry's replacement Savannah Guthrie waxes girlish charm with giggly Matt Lauer
Ann Curry fired: Surfaces with new tweets, inspires more controversy.
What's wrong with media today?
Ann Curry Fired: Matt Lauer was 100 % behind her ouster from Today show.
Ann Curry fired: NBC executive comes out bashing former Today anchor.
Ann Curry fired and the capitulation of the Today show.
Matt Lauer's wife to follow him to London cause she's afraid he might cheat with Today's Natalie Morales.
Ann Curry Fired: Matt Lauer and his crocodile tears.
Ann Curry Fired. 'I'm sorry I couldn't carry the ball over the finish line…
Matt Lauer's wife threatened to divorce him if Natalie Morales became Today co anchor.
Ann Curry fired: Officially leaving Today, to make farewell speech imminently.
Ann Curry fired. Lap dances, grumpy fits and behind the scenes back stabbing…
Ann Curry Fired: More upheaval as passed over Natalie Morales set to leave Today show.
Ann Curry Fired: Ann haggling for $20 million exit money and NBC confirms Savannah Guthrie.
Ann Curry Fired. Backstabbed by NBC.
Ann Curry Fired. Refuses to take the hint now fed up NBC will go public.
Ann Curry doesn't care that she's fired. "I'm here to stay!'
Ann Curry Fired: 'Am I not good enough?'
Ann Curry turns up to Today show, acting as if she hasn't been fired.
Ann Curry fired cause NBC hates her.
Matt Lauer re-signs with the Today show whilst Ann Curry is a goner.
Ann Curry rumored to be fired because her co host Matt Lauer hates her guts.