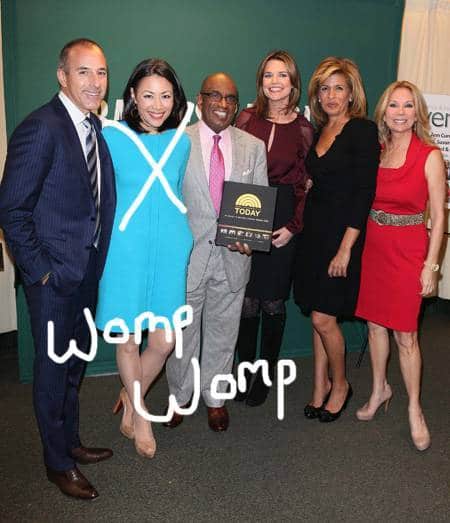 Ann Curry fired: NBC executive comes out to say she wasn't right for the job.
Ann Curry fired and the capitulation of the Today show.
Ann Curry Fired: Matt Lauer and his crocodile tears.
Ann Curry Fired. (Video)Gut wrenching '…sorry I couldn't be the groundbreaker…'
Matt Lauer's wife threatened to divorce him if Natalie Morales became Today co anchor.
Ann Curry fired: Officially leaving Today, to make farewell speech imminently.
Ann Curry fired. Lap dances, grumpy fits and behind the scenes back stabbing…
Ann Curry Fired: More upheaval as passed over Natalie Morales set to leave Today show.
Ann Curry Fired: Ann haggling for $20 million exit money and NBC confirms Savannah Guthrie.
Ann Curry Fired. Backstabbed by NBC.
Ann Curry Fired. Refuses to take the hint now fed up NBC will go public.
Ann Curry Fired: 'Am I not good enough?'
Ann Curry doesn't care that she's fired. "I'm here to stay!'
Ann Curry turns up to Today show, acting as if she hasn't been fired.
Ann Curry fired cause NBC hates her.
Matt Lauer re-signs with the Today show whilst Ann Curry is a goner.
It's time to find out about all the backstabbing that goes on at NBC.
According to Gawkerand insider sources it chooses not to disclose the days of waking up to the sight of Ann Curry politely staring into space are numbered. Numbered because her co host, hawt honcho Matt Lauer is orchestrating back door deals as the king of the shit that will ostensibly see his co host ousted. Ousted mind you cause he just can't stand the primadona.
Pointing to a piece recently run by nymag, the shadow of the dagger fast approaching Ms Curry are as follows:
Lauer's worth only increased when Meredith Vieira left and handed the co-anchor chair to Ann Curry, who in the eyes of many television-news executives has experienced a rocky transition to her new role.
And why did Lauer's role at NBC increase? Because the bixch pulls in hundreds of millions of dollars in ad revenue.
Offers mediate: The piece also emphasized Lauer's central role in NBC's "ad revenues in excess of $450 million in 2010." After "playing the beta to Katie Couric's alpha," the article notes, "he's now the linchpin of the franchise, his versatility and likability buoying the program ever since her departure in 2006."
Which should make any aspiring media player quite happy that as long as they play the game sweet, sharp, crisp, ruthlessly and with piled on daggers the world is theirs to be had. Of course needless to say one will forever be obliged to have a beguiling personality that the public can relate to and be adept at and cheering on, of course this will probably require keeping those daggers behind closed doors.
Observes gawker: The subtext of that "rocky" transition, according to sources, is that Matt Lauer just "absolutely hates her" as a co-host and is fed up with watching Curry turn what was once NBC's most charismatic and engaging program into a joyless slog.
Joyless slog? Oh dear, with a rumored $8 million package fast approaching the prince of teacup manners and back door deals surely one could make an attempt to keep the brawling to a quiet whisper?
Never mind Ann, me thinks them bixches are just jealous and if you keep staring openly into space and making the occasional ironic senseless remark someone at ABC or CBC will jump at you. Ps- it might help if you stop the partying and get some sleep, looking dishevelled is never too fondly appreciated from them corporate types, something that I can personally attest to.