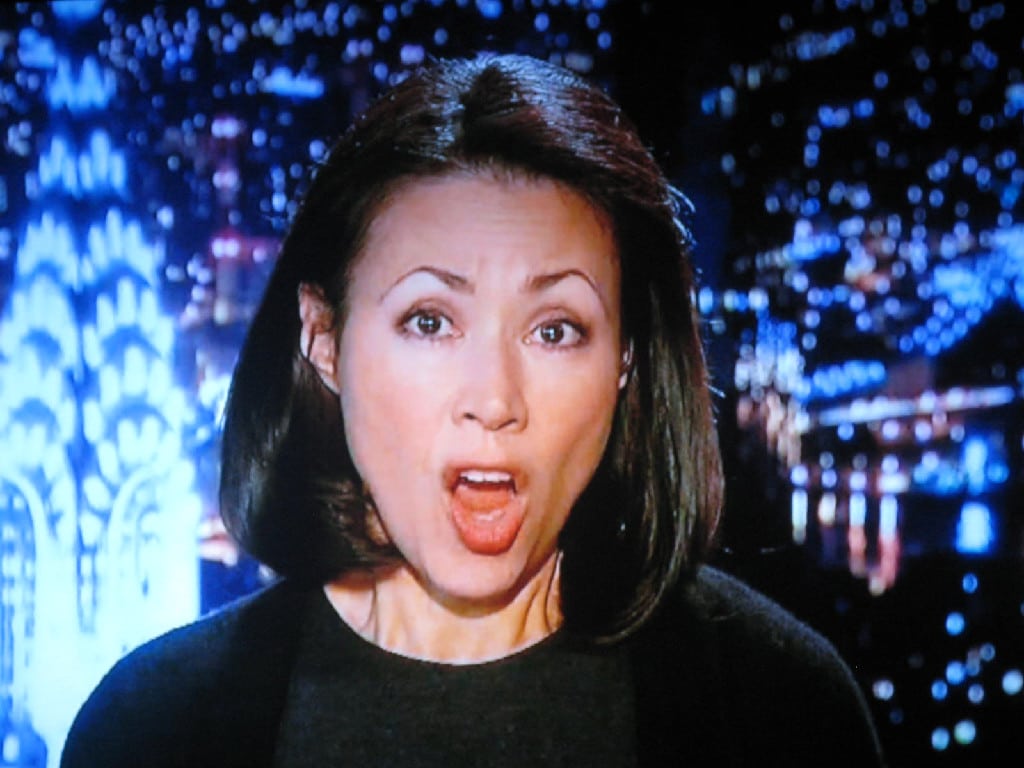 NBC's Ann Curry is finally on her way out and the tears are following suit…
The NYT's is reporting this evening that much maligned (sorry Ann) Today co host Ann Curry will soon be asked to leave the show, this after only serving as co anchor with Matt Lauer (more on him soon) for just on a year.
At present there are a number of reasons as to why Ms Curry has been asked to step aside, but it seems the predominant reason comes down to numbers:
nytimes: The planning — which is taking place in secret and has not been finalized — is effectively an admission that all is not well at "Today," the show that invented morning television 60 years ago and has inspired countless lower-rated competitors since. "Today" consistently ranked No. 1 in the morning ratings until this spring, when ABC's "Good Morning America" beat it for several weeks.
Secret planning. Hmm, Ann couldn't have been feeling too hot whilst insiders hemmed and hawed what to do with her as she sat whispering tea stories for morning viewers. Then again it is unlikely Ms Curry was oblivious that her ass was on the line (yes corporate media pays well but only when you perform girl).
Even before then, some at NBC were openly criticizing the co-hosting style of Ms. Curry, who succeeded Meredith Vieira last year, after spending 14 years on the show in a lesser role. Questions about her future have encircled the broadcast for months. Some staffers have placed the blame for the ratings woes on Ms. Curry and others have defended her.
Who of course wasn't defending her and who had even gone out of his way to stipulate that he would not return to another contract on the show was co host, Matt Lauer. In fact so disjointed by Ms Curry was our perfect tea cup manners that it is thought that he conspired with chief NBC honchos to effect Ms Curries ouster. Yikes and Ann had to sit there friendly like in the morning all the while probably wondering how she could politely slit his throat. Matter of speaking of course.
Yet replacing Ms Curry was always going to be a delicate exercise and outright firing her from the network risked alienating staff and the good grace the network has with viewers and most importantly advertisers.
Thus a plan was hatched.
Several weeks ago, network officials and Ms. Curry began to discuss a different job for her, according to people with knowledge of the negotiations, who insisted on anonymity because the matter was confidential. Those discussions have continued and are expected to be completed before NBC's coverage of the Summer Olympics begins in late July.
Which leaves the question where does Ms Curry go now? A cooking show? A talk feel good program with senior citizens?
Yet not to belittle Ms Curry who has put her time in comes the following:
"She got her dream job, and she doesn't want to let it go," one of the people said. But Ms. Curry has also expressed dissatisfaction with "Today," where her journalistic curiosities sometimes clash with morning television realities. Accordingly, she may be moved into a foreign correspondent role, reflecting her strengths in reporting from disasters both man-made, like the ethnic killings in Darfur, and natural, like the 2010 earthquake in Haiti.
Or she may be moved to interviewing over zealous and combative chefs and media whores, a certain downgrade for an ivy league princess used to interviewing the doyen of society and heads of state.
Either way one can only imagine now must be a tumultuous time for Ms Curry who will tomorrow morning have to face her audience and pretend nothing is wrong even if we all know everything is wrong. At least to her consolation the uncomfortableness of having to role play for stage is coming to an end, and that at the very least must be a bitter sweet relief. Good luck Ann.
Ps Matt, where do I send my resume again?
above image via moxieq
Ann Curry fired. Pundits anxiously await new Nielsen ratings.
Ann Curry video interview with Ladies Home Journal released.
Ann Curry fired: Today show loses with Savannah Guthrie week one
Ann Curry is not missed as NBC insists that they are thrilled with the new anchor team.
Ann Curry Fired, NBC Dismal ratings and viewer contempt.
Ann Curry Fired: Savannah Guthrie's 'Today' Debut tanks.
Ann Curry's replacement Savannah Guthrie waxes girlish charm with giggly Matt Lauer
Ann Curry fired: Savannah Guthrie makes her official Today debut, viewers flock in droves.
Ann Curry fired: Today show fighting for its life against Good Morning America.
Ann Curry fired: Surfaces with new tweets, inspires more controversy.
Ann Curry Fired: Matt Lauer was 100 % behind her ouster from Today show.
Ann Curry fired and the capitulation of the Today show.
Ann Curry Fired: Matt Lauer and his crocodile tears.
Ann Curry Fired. (Video)Gut wrenching '…sorry I couldn't be the groundbreaker…'
Matt Lauer's wife threatened to divorce him if Natalie Morales became Today co anchor.
Ann Curry fired: Officially leaving Today, to make farewell speech imminently.
Ann Curry fired. Lap dances, grumpy fits and behind the scenes back stabbing…
Ann Curry Fired: More upheaval as passed over Natalie Morales set to leave Today show.
Ann Curry Fired: Ann haggling for $20 million exit money and NBC confirms Savannah Guthrie.
Ann Curry Fired. Backstabbed by NBC.
Ann Curry Fired. Refuses to take the hint now fed up NBC will go public.
Ann Curry Fired: 'Am I not good enough?'
Ann Curry doesn't care that she's fired. "I'm here to stay!'
Ann Curry turns up to Today show, acting as if she hasn't been fired.
Matt Lauer re-signs with the Today show whilst Ann Curry is a goner.
Ann Curry rumored to be fired because her co host Matt Lauer hates her guts.