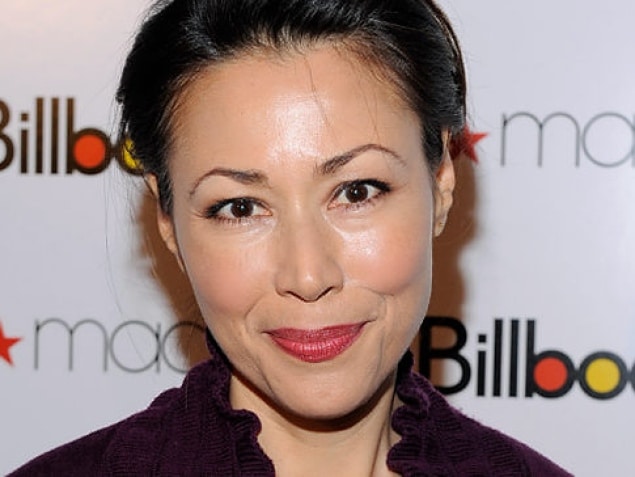 Ann Curry fired. Pundits anxiously await new Nielsen ratings.
Ann Curry video interview with Ladies Home Journal released.
Ann Curry fired: Today show loses with Savannah Guthrie week one
Ann Curry is not missed as NBC insists that they are thrilled with the new anchor team.
Ann Curry Fired, NBC Dismal ratings and viewer contempt.
Ann Curry Fired: Savannah Guthrie's 'Today' Debut tanks.
Ann Curry's replacement Savannah Guthrie waxes girlish charm with giggly Matt Lauer.
Ann Curry fired: Savannah Guthrie makes her official Today debut, viewers flock in droves.
Ann Curry fired: Today show fighting for its life against Good Morning America.
Ann Curry fired: Surfaces with new tweets, inspires more controversy.
Ann Curry Fired: Matt Lauer was 100 % behind her ouster from Today show.
Ann Curry fired: NBC executive comes out to say she wasn't right for the job.
Ann Curry fired and the capitulation of the Today show.
Matt Lauer's wife to follow him to London cause she's afraid he might cheat with Today's Natalie Morales.
Ann Curry fired and the imminent collapse of the Today show.
Ann Curry Fired: Matt Lauer and his crocodile tears.
Ann Curry Fired. (Video)Gut wrenching '…sorry I couldn't be the groundbreaker…'
Matt Lauer's wife threatened to divorce him if Natalie Morales became Today co anchor.
Ann Curry fired: Officially leaving Today, to make farewell speech imminently.
Ann Curry fired. Lap dances, grumpy fits and behind the scenes back stabbing…
Ann Curry Fired: More upheaval as passed over Natalie Morales set to leave Today show.
Ann Curry Fired: Ann haggling for $20 million exit money and NBC confirms Savannah Guthrie.
Ann Curry Fired. Backstabbed by NBC.
Ann Curry Fired. Refuses to take the hint now fed up NBC will go public.
Ann Curry doesn't care that she's fired. "I'm here to stay!'
Ann Curry turns up to Today show, acting as if she hasn't been fired.
Ann Curry fired cause NBC hates her.
The definitive answer to whether Ann Curry is 'good enough?' a question she first raised during an interview with August's upcoming Ladies Home Journal (whose cover she will grace) it seems is a resounding no.
Not only a year into her new job as co anchor with the Today show, Ms Curry has found herself being ousted out of what she once called her dream job.
A year into a 4 year contract the co anchor who the nytimes described as a 'cinderella without her prince' (does it getting any more brusque?) when they first came out with their damning article on the decay within NBC's Today show has shaken media pundits across the board. With NBC commanding hefty ad premiums over its rival Good Morning America, media analysts are watching closely to see whether NBC can reclaim it's footing now that Good Morning America has overtaken NBC in the morning ratings, which of course opens questions where does the money go now?
Rushing to stem the wound of lost ratings NBC have come out looking for the proverbial bogeyman and it seems Ms Curry is it. Even if she tells Ladies Home Journal that she imagined herself being with NBC's Today show for 20 years (she's been there going on 15 years) one senses with the following admissions that even Ms Curry knew as recently as April/May when the interview was first recorded that things were not going smooth for her at NBC.
Reflects Curry:
"It's hard not to take it personally. You worry, Am I not good enough? Am I not what people need? Am I asking the right questions? When people say negative things or speculate, you can't help but feel hurt. I know NBC pays my salary but I have never doubted who I work for. I think about the people who watch. They're the ones who matter to me. I want to feel I haven't dropped the ball when it comes to them."
Hardly the reflections one would expect from an uber star co anchor. Or to put it another way, had it been Matt Lauer, Ms Curry's co host making the above statements one would have wondered what the heck Mr Lauer was drinking that day.
Sadly Ms Curry will have to take things personally or perhaps she may choose to accept that some things in media are beyond its rising stars and understand that what makes an audience crave a particular individual who greets us on our morning tv has little to do with how knowledgeable or talented they are (obviously such things go a long way) but whether an audience for better of worse can relate to them and pass on them their aspirations and fears? In other words the missing 'it' quality of stardom.
Nevertheless Ms Curry is a very well versed media professional who will have no problem finding a new forum for her vast array of talents but one of those talents it seems was her lack of ability to become the type of cultural demi god that icons like Barbara Walters, Bryan Gumble, Katie Couric and Meredith Vieira were always destined to become. Perhaps that's what they mean about the 'it' factor in show business after all….?
Matt Lauer re-signs with the Today show whilst Ann Curry is a goner.
Ann Curry rumored to be fired because her co host Matt Lauer hates her guts.