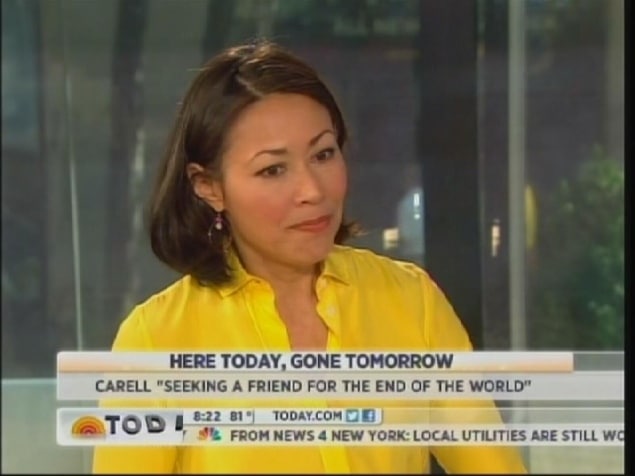 Ann Curry fired. Pundits anxiously await new Nielsen ratings.
Ann Curry video interview with Ladies Home Journal released.
Ann Curry fired: Today show loses with Savannah Guthrie week one
Ann Curry is not missed as NBC insists that they are thrilled with the new anchor team.
Ann Curry Fired, NBC Dismal ratings and viewer contempt.
Ann Curry Fired: Savannah Guthrie's 'Today' Debut tanks.
Ann Curry's replacement Savannah Guthrie waxes girlish charm with giggly Matt Lauer.
Ann Curry fired: Savannah Guthrie makes her official Today debut, viewers flock in droves.
Ann Curry fired: Today show fighting for its life against Good Morning America.
Ann Curry fired: Surfaces with new tweets, inspires more controversy.
Ann Curry Fired: Matt Lauer was 100 % behind her ouster from Today show.
Ann Curry fired: NBC executive comes out to say she wasn't right for the job.
Matt Lauer's wife to follow him to London cause she's afraid he might cheat with Today's Natalie Morales.
Ann Curry fired and the imminent collapse of the Today show.
Ann Curry Fired: Matt Lauer and his crocodile tears.
Ann Curry Fired. (Video)Gut wrenching '…sorry I couldn't be the groundbreaker…'
Matt Lauer's wife threatened to divorce him if Natalie Morales became Today co anchor.
Ann Curry fired: Officially leaving Today, to make farewell speech imminently.
Ann Curry fired. Lap dances, grumpy fits and behind the scenes back stabbing…
Ann Curry Fired: More upheaval as passed over Natalie Morales set to leave Today show.
Ann Curry Fired: Ann haggling for $20 million exit money and NBC confirms Savannah Guthrie.
Ann Curry Fired. Refuses to take the hint now fed up NBC will go public.
Ann Curry Fired: 'Am I not good enough?'
Ann Curry doesn't care that she's fired. "I'm here to stay!'
Ann Curry turns up to Today show, acting as if she hasn't been fired.
Ann Curry fired cause NBC hates her.
Nothing it seems can be more uncouth than being mercilessly cut to size without recourse or worse actual acknowledged complicity at the hands of your tormentor. Then again this is corporate media where street brawls and dissent are never conducted too publicly but rather deftly wiped under the matt by your preferred pr outlet.
The preferred pr outlet in this occasion included the nytimes when it first came out with a damning piece on one of NBC's stars and co anchor to the Today show, Ann Curry. The piece essentially pondered the notion that Ms Curry would soon find herself out of a job at NBC and that it 'may' have something to do with her co anchor, Matt Lauer not necessarily being impressed with her tea cup manners or that it was felt by insiders that Ms Curry may somehow be responsible for NBC's key money maker, the Today show slipping in it's numbers. All of course not affirmed by any one soul at NBC nor for that matter denied by anyone at NBC the few days after the report came out. It was in essence like watching the market double up against a beleaguered financial entity who's secret that they had found themselves on the wrong side of a financial bet go dizzily wrong magnify as the watch dogs came along the next morning to bet against the financial entity who's bet was now an outright disaster. And hence the media came and in essence also became NBC's publicist for hire, wondering out aloud when Ms Curry would be a good girl and just roll over.
Yet it seems that trick for now hasn't worked too well for NBC who hadn't bet on Ms Curry standing up for herself and instead of relinquishing she would continue to come to work as nothing had been printed, said or done (for the truth was it was all still a rumor and as far as she was concerned she had not been fired or told to stay home even if that was the hope of all the behind the scenes leaks aimed to pressure Ms Curry into submission).
As the week goes forward, media pundits will be closely watching to see how the headache called, 'why won't Ann Curry take the hint and accept that she is the bogeyman so we can save face,'will play out, although it seems almost certain that NBC will have to publicly get its hands dirty and bring out the guillotine and do what it must even if it would prefer to use less tactless ways of removing the proposed weed from the cinder box.
NBC, fun lighthearted family material all right, but a bunch of skeezy backstabbing bastards behind closed doors. Corporate media that you can get used to….
Matt Lauer re-signs with the Today show whilst Ann Curry is a goner.
Ann Curry rumored to be fired because her co host Matt Lauer hates her guts.