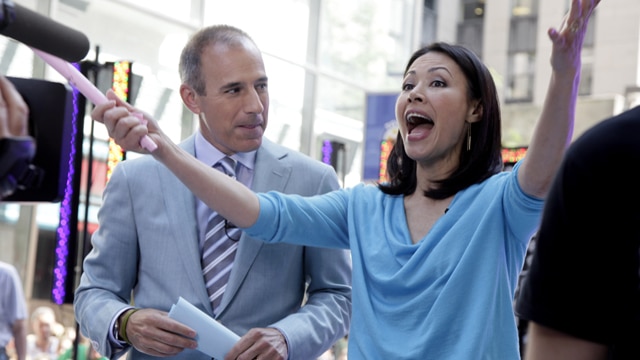 Ann Curry fired. Pundits anxiously await new Nielsen ratings.
Ann Curry video interview with Ladies Home Journal released.
Ann Curry fired: Today show loses with Savannah Guthrie week one
Ann Curry is not missed as NBC insists that they are thrilled with the new anchor team.
Ann Curry Fired, NBC Dismal ratings and viewer contempt.
Ann Curry Fired: Savannah Guthrie's 'Today' Debut tanks.
Ann Curry's replacement Savannah Guthrie waxes girlish charm with giggly Matt Lauer
Ann Curry fired: Savannah Guthrie makes her official Today debut, viewers flock in droves.
Ann Curry fired: Today show fighting for its life against Good Morning America.
Ann Curry fired: Surfaces with new tweets, inspires more controversy.
Ann Curry Fired: Matt Lauer was 100 % behind her ouster from Today show.
Ann Curry fired: NBC executive comes out to say she wasn't right for the job.
Ann Curry fired and the capitulation of the Today show.
Matt Lauer's wife to follow him to London cause she's afraid he might cheat with Today's Natalie Morales.
Ann Curry fired and the imminent collapse of the Today show.
Ann Curry Fired: Matt Lauer and his crocodile tears.
Ann Curry Fired. (Video)Gut wrenching '…sorry I couldn't be the groundbreaker…'
Matt Lauer's wife threatened to divorce him if Natalie Morales became Today co anchor.
Ann Curry fired: Officially leaving Today, to make farewell speech imminently.
Ann Curry fired. Lap dances, grumpy fits and behind the scenes back stabbing…
Ann Curry Fired: More upheaval as passed over Natalie Morales set to leave Today show.
Ann Curry Fired: Ann haggling for $20 million exit money and NBC confirms Savannah Guthrie.
Ann Curry Fired. Backstabbed by NBC.
Ann Curry Fired. Refuses to take the hint now fed up NBC will go public.
Ann Curry Fired: 'Am I not good enough?'
Ann Curry doesn't care that she's fired. "I'm here to stay!'
Ann Curry fired cause NBC hates her.
The real news isn't what Ann and Matt are discussing with their polite tea cup manners but rather what is not been said on air. Welcome to corporate media where backstabbing has taken new heights.
Ann Curry wasn't suppose to return to work today, or at least that's what NBC executives had hoped when nytimes story came out last night that Ms Curry has been ostensibly asked to step aside due to unnamed reasons (Good Morning America over taking the Today show in rankings for the first time in years is one of them but there are more disconcerting reasons as well). Betting that Ms Curry might prefer to save face and choose not to join Matt Lauer on the show as co host as she has done for the last year, one now has to wonder if Ms Curry rather than going silently and like a good trooper as she is supposed to, she just might end up putting up a fight and giving NBC a run for their money.
As the show got under way this morning (Hoda Kotb had been slated to take Ms Curry's place, yes the knives are very sharp indeed) neither Matt Lauer or Ann Curry made no mention of the nyt's article, nor for that matter did they go out of their way to refute media reports that by now were swelling.
And then there was this surreal moment:
"Good morning," Ms. Curry said to begin the broadcast. "From hot to hotter. You thought yesterday was a scorcher? In many places in the East today, it's going to get even hotter."
One could only imagine that Ms Curry was fully cognizant of the deeper meaning behind her comments as surely was Matt Lauer who politely looked on drinking chamomile tea or whatever it is that polite co anchors drink.
But sensing that the viewers were by now fully informed about the untoward backdoor dealings Ms Curry then took to twitter:
nyt's: A few minutes later, Ms. Curry wrote "Good morning" to her 1.2 million followers on Twitter — a mid-show message that she hadn't sent in more than a month. Dozens of her fans replied with affectionate messages and said they hoped that she wouldn't leave "Today." Within an hour, her name was a Twitter trend in the United States. She did not reply to any of the messages.
Of course one supposes who will be replying to 'messages' will be Ms Curry's lawyer, Robert B Barnett who is very well versed in the nefarious dealings within high power media stakes (he has represented Christiane Amanpour when things were going sour for her at one point). He could of course prove to become Ms Curry's biggest ally and a horrible thorn in NBC's side as NBC hopes to sweep the matter under the carpet before they head over to London in July for the Summer Olympics. Assuming of course Ms Curry has been properly disposed of.
At present rumors persist that co host Matt Lauer is behind his co hosts ouster as it has been publicly noted that he has no real love for his co host who he perceives as combative and lacking a certain kind of grace that Matt of course has bucket loads of.
Time will tell how this scenario will play out but one senses that Ms Curry isn't just a pretty face to play along to demands which is probably what got her in trouble in the first place…
Matt Lauer re-signs with the Today show whilst Ann Curry is a goner.
Ann Curry rumored to be fired because her co host Matt Lauer hates her guts.