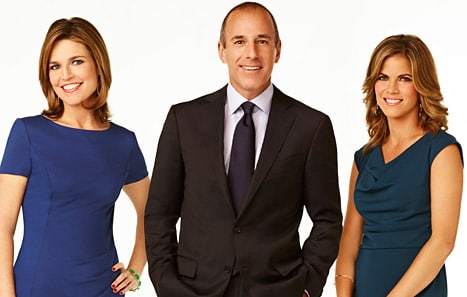 Ann Curry fired: Reunites with Matt at London. Refuses to engage him.
Ann Curry: Now reckons she was fired cause of her flat shoes, gray hair and too multi colored style.
Ann Curry Today show: At last NBC Today show gets a rating boost with Olympics.
Ann Curry fired. Reckons that The Today show are not living up to promises made to her.
Ann Curry fired: Feels vindicated as NBC ratings falter at the London Olympics
Ann Curry returns to The Today show after Batman Dark Knight shooting
Ann Curry replacement Savannah Guthrie said to be having debilitating migraines.
Ann Curry fired. Pundits anxiously await new Nielsen ratings.
Ann Curry video interview with Ladies Home Journal released.
Ann Curry fired: Today show loses with Savannah Guthrie week one.
With the end of the week since Savannah Guthrie replaced Ann Curry as NBC's 'Today show' co host, NBC executives despite more bad news in the ratings front (see below) are staying committed to their new line up.
Vowed executive producer Jim Bell: "We couldn't be happier with the new Today anchor team, and the fresh new feel of the show," he said in a statement. "It's impossible to draw conclusions after a few days of unofficial ratings. We just made a big change that we didn't take lightly, and we are in this for the long-run."
Of course what Mr Bell has to say holds merit but one should bear in mind that the trend since Ms Curry was forced out has only continued to go against NBC, something that ought to be worrying executives who are now hoping hype a cosmetic change of scenery to London will somehow erase the feeling of bad blood between viewers and the current crew, of which many viewers hold Matt Lauer solely responsible for bullyingMs Curry off the show.
Since Ms Curry's ouster the network has seen a steady parade taking to the web and openly criticizing NBC's decision to replace the "most genuine" character on the show, accordingly, and criticize even more the way the network handled her last day on set. Viewers have now even begun to pile on as to why they will never return to NBC paradoxically influencing other viewers to boycott what many perceive to be the 'belligerent' network.
Not helping NBC  were the release of Nielsen prelims, with ABC's Wednesday's margin win of more than 580,000 viewers the biggest yet (roughly 4.4 million to 3.8 million) disconcerting for an outlet that for the last 17 years has been used to holding the top slot.
For the week through Wednesday, ABC's "GMA" was comfortably ahead (4.38 million to 4.02 million). "GMA" is also leading the week in the key news demo of adults 25-54 (albeit by a slim 38,000-viewer margin), pulling ahead in a category that "Today" has consistently won — even during the ABC show's recent surge.
The upcoming week will interesting to watch and see if whether viewers have settled down or whether a more systemic shift in media dialectics has now set forth.
Let's hope Matt Lauer has some 'fun' anecdotes to entertain us with as the new week rolls in…
Ann Curry Fired: Can NBC still save itself?
Ann Curry Fired: Savannah Guthrie's 'Today' Debut tanks!
Ann Curry's replacement Savannah Guthrie waxes girlish charm with giggly Matt Lauer
Ann Curry fired: Surfaces with new tweets, inspires more controversy.
What's wrong with media today?
Ann Curry Fired: Matt Lauer was 100 % behind her ouster from Today show.
Ann Curry fired: NBC executive comes out bashing former Today anchor.
Ann Curry fired and the capitulation of the Today show.
Matt Lauer's wife to follow him to London cause she's afraid he might cheat with Today's Natalie Morales.
Ann Curry Fired: Matt Lauer and his crocodile tears.
Ann Curry Fired. 'I'm sorry I couldn't carry the ball over the finish line…
Matt Lauer's wife threatened to divorce him if Natalie Morales became Today co anchor.
Ann Curry fired: Officially leaving Today, to make farewell speech imminently.
Ann Curry fired. Lap dances, grumpy fits and behind the scenes back stabbing…
Ann Curry Fired: More upheaval as passed over Natalie Morales set to leave Today show.
Ann Curry Fired: Ann haggling for $20 million exit money and NBC confirms Savannah Guthrie.
Ann Curry Fired. Backstabbed by NBC.
Ann Curry Fired. Refuses to take the hint now fed up NBC will go public.
Ann Curry doesn't care that she's fired. "I'm here to stay!'
Ann Curry Fired: 'Am I not good enough?'
Ann Curry turns up to Today show, acting as if she hasn't been fired.
Ann Curry fired cause NBC hates her.
Matt Lauer re-signs with the Today show whilst Ann Curry is a goner.
Ann Curry rumored to be fired because her co host Matt Lauer hates her guts.