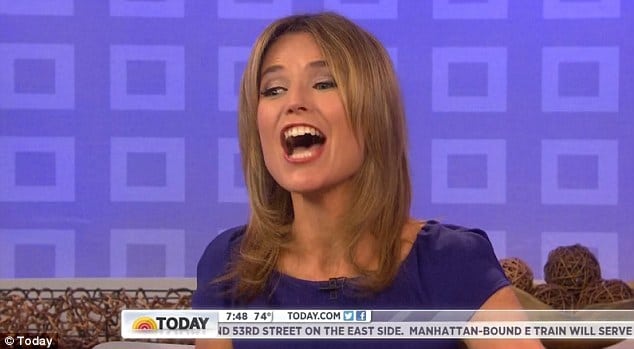 Ann Curry: Now reckons she was fired cause of her flat shoes, gray hair and too multi colored style.
Ann Curry Today show: At last NBC Today show gets a rating boost with Olympics.
Ann Curry fired. Reckons that The Today show are not living up to promises made to her.
Ann Curry fired: Feels vindicated as NBC ratings falter at the London Olympics
Ann Curry returns to The Today show after Batman Dark Knight shooting
Ann Curry replacement Savannah Guthrie said to be having debilitating migraines.
Ann Curry fired. Pundits anxiously await new Nielsen ratings.
Ann Curry video interview with Ladies Home Journal released.
Ann Curry fired: Today show loses with Savannah Guthrie week one.
Ann Curry is not missed as NBC insists that they are thrilled with the new anchor team.
Ann Curry Fired, NBC Dismal ratings and viewer contempt.
Ann Curry Fired: Savannah Guthrie's 'Today' Debut tanks.
Ann Curry's replacement Savannah Guthrie waxes girlish charm with giggly Matt Lauer.
Ann Curry fired: Today show fighting for its life against Good Morning America.
Ann Curry may be gone and Savannah Guthrie may have officially taken on Ms Curry's old role as co anchor of the NBC's The Today show this morning but it seems judging by recent Nielsen ratings and vociferous reader comments viewers are flocking by the droves.
Sensing things are quite shaky, it was noticeable that the NBC this morning gave Ms Guthrie quite an extended hello, going out of its way to show greatest hit blogs, reflect on company tweets and to spend a few extra moments shining the camera in her sunny direction. Ms Guthrie for her part even joked that her new title was 'a little unexpected, as we all know.'
Of course this morning's new found bliss might have a craggy Matt Lauer smiling with his perfect tea cup manners for now but things behind the scenes are less than rosy. In the last few weeks ABC's Good Morning America has tied back and forth with NBC's The Today show, (this after handedly beating them since 1995) never mind the the disastrous drop off of viewers the day after Ms Curry's ouster, which was completely anticipated.
Visit msnbc.com for breaking news, world news, and news about the economy
For now NBC executives will have to closely monitor the situation and assess whether with the presence of Savannah Guthrie the show can whip off ABC's challenge or whether in the not too distant future it will have to eat its hand off as many commentators have alluded to in order to save itself….
Then again there was these 2 telling comments that even had me sit up and take notice:
I have watched the Today show for the last 30 years, as I see it Campus,Burke and Matt Lauer should be fired for what they did to Ann Curry I will not be watching the show anymore or until Ann is back and Matt is gone…
Steven Capus, NBC News President, arrogantly served Ann Curry viewers with "cold turkey" in a very distasteful way. This act of infamy by Capus will have the Today Show falling to last place in the ratings just like NBC primetime ratings. Capus continues to scapegoat Ann Curry in the media in defiance of the outpouring of support for her and viewer backlash. Stephen B. Burke, CEO of NBCU/Comcast, needs to FIRE Capus, apologize to Ann Curry and bring her back to the Today Show. Until Ann Curry returns to the Today Show, a boycott list consists of the Today Show, NBC, NBC affiliates, Comcast, Universal, GE, and People Magazine.
And from huffpo this morning:
Unfortunately, Matt Lauer is still there and that is reason I switched my morning viewing.
CBS This Morning…Charlie Rose, Erica Hill, Gayle King. Try it. You'll like it!   
She is the prettiest morning personality since Sam Champion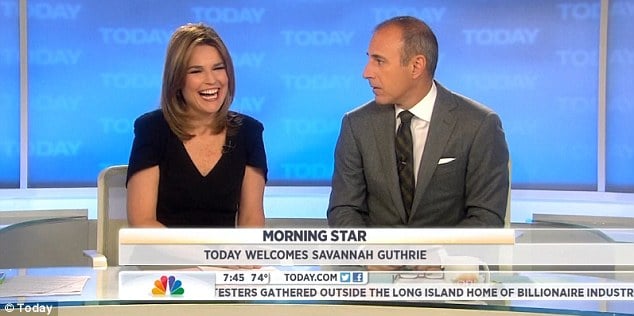 Ann Curry fired: Surfaces with new tweets, inspires more controversy.
What's wrong with media today?
Ann Curry Fired: Matt Lauer was 100 % behind her ouster from Today show.
Ann Curry fired: NBC executive comes out bashing former Today anchor.
Ann Curry fired and the capitulation of the Today show.
Matt Lauer's wife to follow him to London cause she's afraid he might cheat with Today's Natalie Morales.
Ann Curry Fired: Matt Lauer and his crocodile tears.
Ann Curry Fired. 'I'm sorry I couldn't carry the ball over the finish line…
Matt Lauer's wife threatened to divorce him if Natalie Morales became Today co anchor.
Ann Curry fired: Officially leaving Today, to make farewell speech imminently.
Ann Curry fired. Lap dances, grumpy fits and behind the scenes back stabbing…
Ann Curry Fired: More upheaval as passed over Natalie Morales set to leave Today show.
Ann Curry Fired: Ann haggling for $20 million exit money and NBC confirms Savannah Guthrie.
Ann Curry Fired. Backstabbed by NBC.
Ann Curry Fired. Refuses to take the hint now fed up NBC will go public.
Ann Curry doesn't care that she's fired. "I'm here to stay!'
Ann Curry Fired: 'Am I not good enough?'
Ann Curry turns up to Today show, acting as if she hasn't been fired.
Ann Curry fired cause NBC hates her.
Matt Lauer re-signs with the Today show whilst Ann Curry is a goner.
Ann Curry rumored to be fired because her co host Matt Lauer hates her guts.