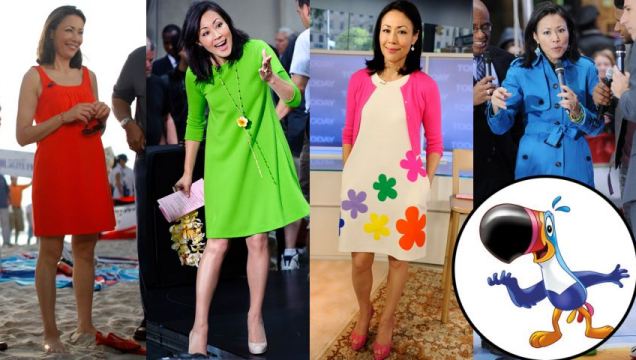 Ann Curry gets her revenge as Matt Lauer now said to be forced to take huge pay cut…
Matt Lauer would like to tell you how his popularity has plummeted since Ann Curry was fired. Will he survive?
Ann Curry fired. Matt Lauer is looking very bad as Today ratings plummet further.
Matt Lauer urged to take a pay cut off his $25 million deal as Today show falters.
Ann Curry fired: Katie Couric slams NBC. But why?
Ann Curry Fired. Looks like Matt Lauer is hated even more as mini revolt at Today heats.
Ann Curry firing. Al Roker now calls Matt Lauer out…
Ann Curry fired: Reunites with Matt at London. Refuses to engage him.
Ann Curry Today show: At last NBC Today show gets a rating boost with Olympics.
Ann Curry fired. Reckons that The Today show are not living up to promises made to her.
Is Ann Curry too frumpy?
Ann Curry has come out and said that she now was fired cause NBC producers were not sold on her personal style. From her 'too colorful' clothes, her frumpy attire, the fact that she hated wearing high heels and not to mention she had grey hair.
dailymail.co.uk: The former Today anchor – who was sacked after just a year in the job – claimed that she was mocked by a colleague for looking like Froot Loops mascot Toucan Sam one day when she wore a multicoloured dress.
Whenever she tried to wear clogs and flats it didn't 'go over very well with my bosses', she said in an interview.
Instead she was asked to wear 'ridiculously high heels' because female viewers would coo over her footwear, even though she didn't like them.
Curry also suggested that her refusal to dye her hair may have played a part as it is 'not tolerated' on a female TV presenter.
Too frumpy, too colorful, too grey? What are we to make of these assertions? Are we to believe Ms Curry? Or is she simply trying to save face in the knowledge that her popularity and acumen as a tv journalist may be well behind her? Then again hadn't Ms Curry always worn frumpy colorful clothes (as she likes to put it) before she was awarded the coveted co anchor slot? Why is she bringing up these points now? Hasn't the public moved on beyond the acrimony, and then again she did receive a $10 million payout for her misery, far more than most when they are relieved of their office (except for various CEO's of course).
But it now gets worse, so disjointed has Ms Curry been by her ouster that it is said that she is seriously considering leaving television entirely to pursue teaching.
With her recently released interview with the Ladies Home Journal the former co anchor had the following to say:
One day I wore a multicoloured dress and someone asked if I was trying to be Toucan Sam.
'But I chose it because I thought, this will perk up America. I'm encouraged by my bosses to wear these ridiculously high heel shoes because women say: 'I love your shoes!' So if it makes women happy, I'll wear them. But I'm still going to be me'.
'Elsewhere she also admits: 'I've tried to wear clogs and flats and it hasn't gone over very well with my bosses.'
That said the real reason behind her ouster might have more to do with insiders arguing that Curry may have angered executives and infuriated Today anchor Matt Lauer, with whom she struggled to develop an on-air chemistry.
Then there this was interesting comment that I came across that might explain why in the end why Ms Curry had to go. See what you think….
I would say the reason was that she was a clueless commentator, she was ignorant of anything she talked about and often wrong when she argued with conservative guests. Not to mention she was so partisan that she should have worn a White House Advisors badge whenever she talked about politics.
Matt Lauer calls Meredith Vieira an 'Indian giver.'
Ann Curry fired: Feels vindicated as NBC ratings falter at the London Olympics
Ann Curry to return to The Today show after James Holmes shooting.
Ann Curry replacement Savannah Guthrie said to be having debilitating migraines.
Ann Curry fired. Media pundits anxiously await new Nielsen ratings.
Ann Curry live interview with Ladies Home Journal released.
Ann Curry is not missed as NBC insists that they are thrilled with the new anchor team.
Ann Curry Fired: Can NBC still save itself?
Ann Curry Fired: Savannah Guthrie's 'Today' Debut tanks!
Ann Curry's replacement Savannah Guthrie waxes girlish charm with giggly Matt Lauer
Ann Curry fired: Surfaces with new tweets, inspires more controversy.
What's wrong with media today?
Ann Curry Fired: Matt Lauer was 100 % behind her ouster from Today show.
Ann Curry fired: NBC executive comes out bashing former Today anchor.
Ann Curry fired and the capitulation of the Today show.
Matt Lauer's wife to follow him to London cause she's afraid he might cheat with Today's Natalie Morales.
Ann Curry Fired: Matt Lauer and his crocodile tears.
Ann Curry Fired. 'I'm sorry I couldn't carry the ball over the finish line…
Matt Lauer's wife threatened to divorce him if Natalie Morales became Today co anchor.
Ann Curry fired: Officially leaving Today, to make farewell speech imminently.
Ann Curry fired. Lap dances, grumpy fits and behind the scenes back stabbing…
Ann Curry Fired: More upheaval as passed over Natalie Morales set to leave Today show.
Ann Curry Fired: Ann haggling for $20 million exit money and NBC confirms Savannah Guthrie.
Ann Curry Fired. Backstabbed by NBC.
Ann Curry Fired. Refuses to take the hint now fed up NBC will go public.
Ann Curry doesn't care that she's fired. "I'm here to stay!'
Ann Curry Fired: 'Am I not good enough?'
Ann Curry turns up to Today show, acting as if she hasn't been fired.
Ann Curry fired cause NBC hates her.
Matt Lauer re-signs with the Today show whilst Ann Curry is a goner.
Ann Curry rumored to be fired because her co host Matt Lauer hates her guts.