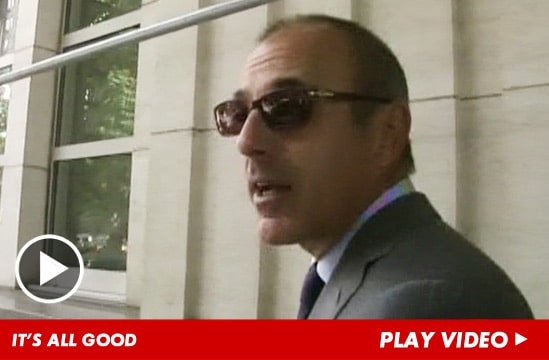 Matt Lauer might now be replaced at Today show.
Matt Lauer is furious that Today's Jim Bell is forced out as Ann Curry supporter Alexandra Wallace is now brought on.
Oh really? Ann Curry firing leads to Today Producer Jim Bell being fired after ratings slump.
Ann Curry firing not Matt Lauer's fault insist Today crew. A turn of attitude?
Ann Curry's firing and Today shows tabloid fare is the reason why the show is tanking with former viewers.
Ann Curry's firing and Today shows tabloid fare is the reason why the show is tanking with former viewers.
Matt Lauer absence on Today show leads to huge sigh of relief from staff.
The Today show is groveling to have Ann Curry back.
Ann Curry firing now leads to Today show defending Matt Lauer.
Ann Curry gets her revenge as Matt Lauer now said to be forced to take huge pay cut…
It may be one thing to watch the popularity of the show that one presides over tank but then again it's an altogether another thing to watch one's own personal popularity plummet even further, which in essence is what has been happening to anchor Matt Lauer of NBC's 'The Today show.'
According to an industry yardstick which measures likability factor, 'Q scores,' Mr Lauer's Q score has seen a drastic fall of 25% over the last year. The yardstick which is often closely watched by entities when deciding to allocate their advertising budget has even led to NBC commissioning their own study which has found much the same thing, something that hardly bodes well for Mr Lauer. For their part NBC according to the NY Daily news have been loathe to publicly acknowledge the internal study.
Offers Henry Schafer, a vice president of Q Scores:
'These morning shows are driven by personalities — so there's a real challenge out there for NBC News,'
'At present Mr Lauer's score is raising a red flag.'
A red flag? That can't hardly be too good for Mr Lauer who earlier this year re signed with the 'The Today show' for an estimated $25 million package. One can only wonder what bosses over at Comcast who own NBC might be thinking and how they might be able to assuage their continual financial hit (it is understood ad sales are now suffering over at NBC prior to their mantle piece the 'Today show,' now being overtaken by ABC's 'Good Morning America.')
The report follows a less than stellar piece courtesy on Mr Lauer by the New York Post recently where insiders described Mr Lauer who has been the 'Today's show's' co anchor since 1997 as a dictatorial 'anchor animal.' Hmm, one can only wonder what Ann Curry, Matt Lauer's until recently co anchor who found herself being metaphorically chopped to pieces and served in a media shredder, courtesy of her pal Matt Lauer, might think about such statements?
For his part Mr Lauer is fully aware that things aren't looking too good, having publicly reacted to his falling Q score by announcing: 'Is it only 25%? Because it actually feels much worse.'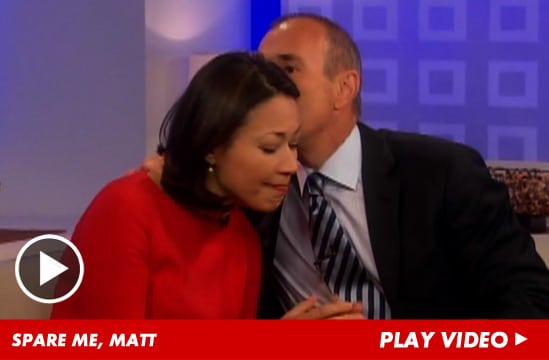 The question that perhaps Mr Lauer and studio heads might now be asking is how much worse can it possibly get and to what degree will it go on to affect already dissipating ad revenues? After all the brutal reality of corporate media is that one can eventually only flourish as long as the corporate ad dollars are there to substantiate one's position.
It has been thought that Mr Lauer's dwindling popularity has something to do with his relationships with the show's female co anchors (never mind his own often frayed relationship with his wife). First there was Meredith Viera, then Ann Curry (where it was plain to all things between them had gone terribly sour) and now one has to wonder about his relationship with Savannah Guthrie who unfortunately hasn't been able to pick up the shattered pieces and one has to wonder how well her relationship with Mr Lauer is faring now that recent reports have come back showing the Today show continuing to cede viewership to it's arch rival, 'The Goodmorning show,' who until this year, the 'Today show' had literally smacked year after year over the last 16 years.
According to Nielsen ratings in the 10 weeks before Curry was ousted, Today got 4.94 million viewers, but in the 10 weeks since her ouster there were were just 4.6million.
Sources close to page 6 had even gone so far as to disclose to the outlet that Matt Lauer is now 'running the show and he's not listening to anyone,' causing a 'huge problem.'
Another source lamented that the staff is overworked in an effort to catch up to GMA's ratings.
'Matt's telling the staff they don't work hard enough, which is hard to take from a guy working four days a week, making millions,' the source told Page Six.
And how did Mr Lauer react to the brouhaha? According to page 6 when asked to respond to the comments made about him he had this to say:
'Please print this story – it's the most interesting and dangerous I've ever sounded!'
Interesting cause I'm willing to bet if things don't resuscitate the most dangerous and interesting thing Mr Lauer might get to hear is that Comcast is no longer interested in retaining his services, unless of course that's not a conversation that might already might be taking place behind closed doors?
Ann Curry fired. Matt Lauer is looking very bad as Today ratings plummet further.
Matt Lauer urged to take a pay cut off his $25 million deal as Today show falters.
Ann Curry fired: Katie Couric slams NBC. But why?
Ann Curry Fired. Looks like Matt Lauer is hated even more as mini revolt at Today heats.
Ann Curry firing. Al Roker now calls Matt Lauer out…
Ann Curry fired: Reunites with Matt at London. Refuses to engage him.
Ann Curry: Now reckons she was fired cause of her flat shoes, gray hair and too multi colored style.
Ann Curry Today show: At last NBC Today show gets a rating boost with Olympics.
Ann Curry fired. Reckons that The Today show are not living up to promises made to her.
Matt Lauer calls Meredith Vieira an 'Indian giver.'
Ann Curry fired: Feels vindicated as NBC ratings falter at the London Olympics
Ann Curry to return to The Today show after James Holmes shooting.
Ann Curry replacement Savannah Guthrie said to be having debilitating migraines.
Ann Curry fired. Media pundits anxiously await new Nielsen ratings.
Ann Curry live interview with Ladies Home Journal released.
Ann Curry is not missed as NBC insists that they are thrilled with the new anchor team.
Ann Curry Fired: Can NBC still save itself?
Ann Curry Fired: Savannah Guthrie's 'Today' Debut tanks!
Ann Curry's replacement Savannah Guthrie waxes girlish charm with giggly Matt Lauer
Ann Curry fired: Surfaces with new tweets, inspires more controversy.
What's wrong with media today?
Ann Curry Fired: Matt Lauer was 100 % behind her ouster from Today show.
Ann Curry fired: NBC executive comes out bashing former Today anchor.
Ann Curry fired and the capitulation of the Today show.
Matt Lauer's wife to follow him to London cause she's afraid he might cheat with Today's Natalie Morales.
Ann Curry Fired: Matt Lauer and his crocodile tears.
Ann Curry Fired. 'I'm sorry I couldn't carry the ball over the finish line…
Matt Lauer's wife threatened to divorce him if Natalie Morales became Today co anchor.
Ann Curry fired: Officially leaving Today, to make farewell speech imminently.
Ann Curry fired. Lap dances, grumpy fits and behind the scenes back stabbing…
Ann Curry Fired: More upheaval as passed over Natalie Morales set to leave Today show.
Ann Curry Fired: Ann haggling for $20 million exit money and NBC confirms Savannah Guthrie.
Ann Curry Fired. Backstabbed by NBC.
Ann Curry Fired. Refuses to take the hint now fed up NBC will go public.
Ann Curry doesn't care that she's fired. "I'm here to stay!'
Ann Curry Fired: 'Am I not good enough?'
Ann Curry turns up to Today show, acting as if she hasn't been fired.
Ann Curry fired cause NBC hates her.
Matt Lauer re-signs with the Today show whilst Ann Curry is a goner.
Ann Curry rumored to be fired because her co host Matt Lauer hates her guts.