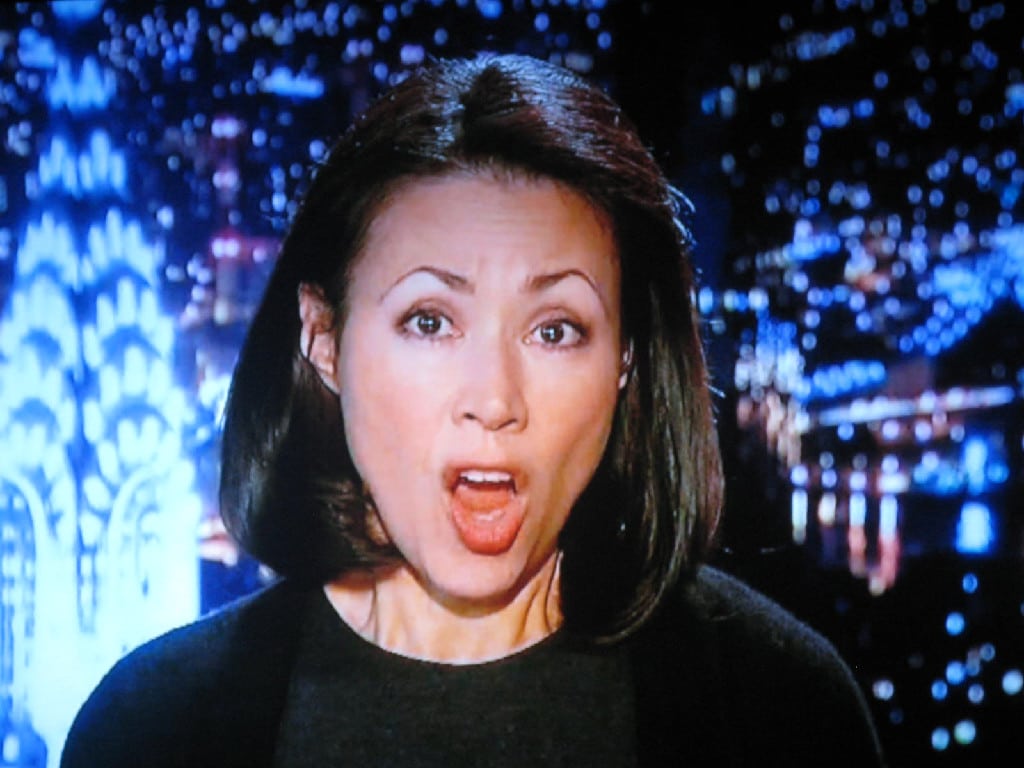 Matt Lauer will be fired by February if 'Today' ratings don't pick up. Replacement sought…
Has Matt Lauer become an unfair target? How he fell from grace…
Matt Lauer is officially hated. Everyone desperate to get him to 'retire.'
At last! Matt Lauer is getting fired!
Matt Lauer to be scaled back from Today show cause no one likes him anymore.
Matt Lauer refuses to take a pay cut as 500 at NBC fear for their jobs.
Matt Lauer might now be replaced at Today show.
Matt Lauer is furious that Today's Jim Bell is forced out as Ann Curry supporter Alexandra Wallace is now brought on.
Ann Curry's firing and Today shows tabloid fare is the reason why the show is tanking with former viewers.
Ann Curry firing not Matt Lauer's fault insist Today crew. A turn of attitude?
Ann Curry's firing and Today shows tabloid fare is the reason why the show is tanking with former viewers.
What's good for the goose is now good for the gander…
It seems things have come to a head at NBC with the media outlet set to announce the imminent dismissal of Today show producer Jim Bell said to be responsible for the firing of Ann Curry which soon led to a large exodus of the shows videos after many complained of the mistreatment and humiliation the co anchor received.
To date the firing rather than alleviating sagging ratings has only aggravated them as the outlet has continued to segue viewership to its long term rival, ABC and its morning show, 'Good Morning America.'
nytimes: Alexandra Wallace, a senior vice president of NBC News, will be the new executive in charge of all four hours of the highly profitable "Today," according to people at the network who described the plan on condition of anonymity because it had not been announced. She and a producer yet to be selected will succeed Jim Bell, who has been in charge of the show since 2005. Mr. Bell led the campaign for Ms. Curry's removal from the show earlier this year and received much of the blame for the damage done by the transition.
Hmm, doesn't sound too good over there at NBC, time to trim the overhanging leaves which have clouded the once pristine view at Rockefeller studios.
At present it isn't known when the changes will go into effect, as things are rather nasty tenuous:
But it is unclear when the changes at the top will take effect. Some people with knowledge of the plan, who said they could be fired if they were identified, cautioned that it was still subject to change.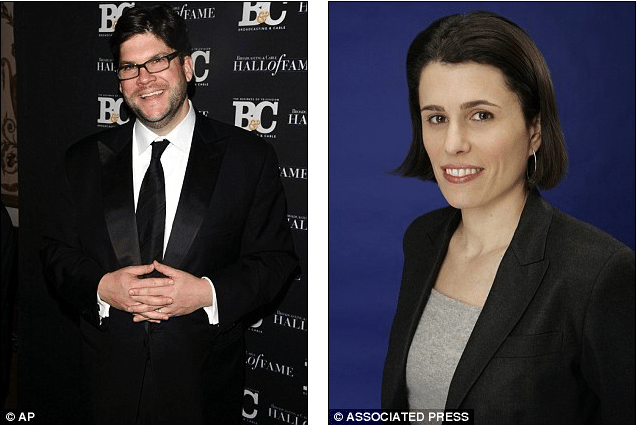 Which raises another awkward question. Who's next on the chopping block? Can one suppose Matt Lauer with his perfect chamomile tea cup manners might be brought to be held account on account of assertions that he was one of the principal individuals that manifested Ann Curry being abruptly shown out the door? In the end after much complaining on Matt Lauer's part that he had been earmarked as the fall guy for Ann Curry's outster, Jim Bell publicly stepped up and asserted that it had been his decision all alone to get rid of Ann Curry.
Said Bell to the The Hollywood Reporter after ratings a the outlet continued to sour after Ann Curry was terminated:
'Obviously the transition didn't go quite as we had hoped,' he conceded, admitting that viewers may have been turned off by how the episode played out. 
'Matt, I need to say for the record, really should not bear any of the blame for that. I'm the executive producer of the show. He's not. He's the public face of the show, so he's taken some of this. But it has been wrong. And that fact should be corrected.'
Continues the nytimes: A shake-up like this one has been rumored about for months — making "Today" an awkward place to work in the meantime. Mr. Bell, who took over "Today" in 2005 and kept it No. 1 until this year, has continued to run the show this fall while fending off rumors about his future there.
Offers the UK's dailymail: After taking a hit to their ratings, Lauer addressed the show's decline in a CNN interview in May and took responsibility for its lackluster performance. 
'Perhaps we have let up on in the past couple of years … the competition is tougher and there are a lot of challenges out there,' he said on Piers Morgan Tonight on May 30.
'When people start to write articles about what might be wrong with the Today show you know where you should point the finger, point it at me because I have been there the longest. And it's my responsibility,' he added.
But with a new side-kick, reports circulated that Lauer saw himself as the show's savior and began micromanaging decisions on set at 30 Rock, much to the chagrin of the show's crew.
The show's savior? But for how long? And can Matt Lauer really lead the charge? Or does he face the same fate as Jim Bell? It is after all no secret that he has inflamed fellow cast and crew who have found to date his attitude overbearing….
Since the Today show's reversal of fortune it has been no secret that NBC owner's, Comcast were in search of a new replacement for Mr Bell leading to the outlet interviewing a variety of day to day producers including Izzy Povich and Amy Chiaro.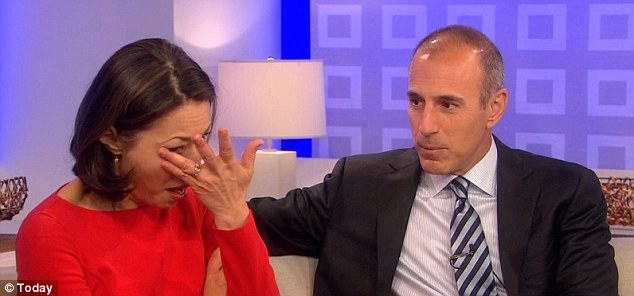 Nevertheless the Today show may be making some ground:
nytimes: Lately, though, there have been positive signs for "Today": after losing for 10 consecutive weeks in the category that matters most to advertisers, viewers ages 25 to 54, the show beat "G.M.A." by a few thousand viewers in the last week of October. "Today" still lost among total viewers, with 5.27 million, compared with 5.49 million for "G.M.A." The ratings results were incomplete because of show pre-emptions and power failures across the Northeast caused by Hurricane Sandy.
Ironic because some may say that NBC has had its own very version of Hurricane Sandy out in the parking lot to deal with for months now and there doesn't necessarily seem to be too many signs that the storm has blown over just yet.
above image found here.
Matt Lauer absence on Today show leads to huge sigh of relief from staff.
The Today show is groveling to have Ann Curry back.
Ann Curry firing now leads to Today show defending Matt Lauer.
Ann Curry gets her revenge as Matt Lauer now said to be forced to take huge pay cut…
Matt Lauer would like to tell you how his popularity has plummeted since Ann Curry was fired. Will he survive?
Ann Curry fired. Matt Lauer is looking very bad as Today ratings plummet further.
Matt Lauer urged to take a pay cut off his $25 million deal as Today show falters.
Ann Curry fired: Katie Couric slams NBC. But why?
Ann Curry Fired. Looks like Matt Lauer is hated even more as mini revolt at Today heats.
Ann Curry firing. Al Roker now calls Matt Lauer out…
Ann Curry fired: Reunites with Matt at London. Refuses to engage him.
Ann Curry: Now reckons she was fired cause of her flat shoes, gray hair and too multi colored style.
Ann Curry Today show: At last NBC Today show gets a rating boost with Olympics.
Ann Curry fired. Reckons that The Today show are not living up to promises made to her.
Matt Lauer calls Meredith Vieira an 'Indian giver.'
Ann Curry fired: Feels vindicated as NBC ratings falter at the London Olympics
Ann Curry to return to The Today show after James Holmes shooting.
Ann Curry replacement Savannah Guthrie said to be having debilitating migraines.
Ann Curry fired. Media pundits anxiously await new Nielsen ratings.
Ann Curry live interview with Ladies Home Journal released.
Ann Curry is not missed as NBC insists that they are thrilled with the new anchor team.
Ann Curry Fired: Can NBC still save itself?
Ann Curry Fired: Savannah Guthrie's 'Today' Debut tanks!
Ann Curry's replacement Savannah Guthrie waxes girlish charm with giggly Matt Lauer
Ann Curry fired: Surfaces with new tweets, inspires more controversy.
What's wrong with media today?
Ann Curry Fired: Matt Lauer was 100 % behind her ouster from Today show.
Ann Curry fired: NBC executive comes out bashing former Today anchor.
Ann Curry fired and the capitulation of the Today show.
Matt Lauer's wife to follow him to London cause she's afraid he might cheat with Today's Natalie Morales.
Ann Curry Fired: Matt Lauer and his crocodile tears.
Ann Curry Fired. 'I'm sorry I couldn't carry the ball over the finish line…
Matt Lauer's wife threatened to divorce him if Natalie Morales became Today co anchor.
Ann Curry fired: Officially leaving Today, to make farewell speech imminently.
Ann Curry fired. Lap dances, grumpy fits and behind the scenes back stabbing…
Ann Curry Fired: More upheaval as passed over Natalie Morales set to leave Today show.
Ann Curry Fired: Ann haggling for $20 million exit money and NBC confirms Savannah Guthrie.
Ann Curry Fired. Backstabbed by NBC.
Ann Curry Fired. Refuses to take the hint now fed up NBC will go public.
Ann Curry doesn't care that she's fired. "I'm here to stay!'
Ann Curry Fired: 'Am I not good enough?'
Ann Curry turns up to Today show, acting as if she hasn't been fired.
Ann Curry fired cause NBC hates her.
Matt Lauer re-signs with the Today show whilst Ann Curry is a goner.
Ann Curry rumored to be fired because her co host Matt Lauer hates her guts.