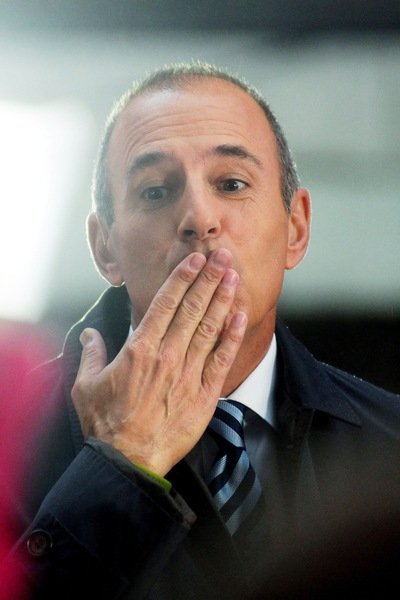 Matt Lauer celebrates his 55th birthday in misery. Studying GMA's success….
Interesting. Matt Lauer's bosses can't get Ann Curry to have 'friendly' lunch with him.
Oh my! Matt Lauer is getting called nasty things on the street by people angry at him for Ann Curry's firing.
Matt Lauer will be fired by February if 'Today' ratings don't pick up. Replacement sought…
Has Matt Lauer become an unfair target? How he fell from grace…
Matt Lauer is officially hated. Everyone desperate to get him to 'retire.'
At last! Matt Lauer is getting fired!
Matt Lauer refuses to take a pay cut as 500 at NBC fear for their jobs.
Matt Lauer might now be replaced at Today show.
Matt Lauer is furious that Today's Jim Bell is forced out as Ann Curry supporter Alexandra Wallace is now brought on.
Oh really? Ann Curry firing leads to Today Producer Jim Bell being fired after ratings slump.
Ann Curry's firing and Today shows tabloid fare is the reason why the show is tanking with former viewers.
Ann Curry firing not Matt Lauer's fault insist Today crew. A turn of attitude?
Ann Curry's firing and Today shows tabloid fare is the reason why the show is tanking with former viewers.
It looks like the rooster has finally come to lay an egg on Matt Lauer's head and it doesn't look like Matt is all too pleased…
According to a report via perezhilton, a NBC insider has disclosed that going forward Matt Lauer will be given diminished presence on the Today show.
Says the source: "Matt's on air reporting and interviews for the TODAY show are going to be cut back because Alexandra recognizes that he is widely unpopular and many view him to be responsible for Ann Curry being fired from the co-host spot."
And who gave the order to give Matt less air time? He's new boss, Alexandra Wallace who was brought on to take over Today producer Jim Bell who was giving his marching orders after the show's prolonged slump in ratings and what many feel to be his comeuppance for unceremoniously getting rid of Ann Curry over the summer which many still directly back to Matt Lauer, even if Jim Bell finally announced that it had been his decision alone to take Ann Curry off air.
Continues the source:
"This isn't personal, but Alexandra will be doing whatever is necessary to get the show back in first place, even if that means ruffling Lauer's feathers.
Look for Willie Geist, one of the co-hosts of the third hour, to be featured more during the first two hours of the show because viewers absolutely love him. Willie comes across as genuine and warm, unlike Matt Lauer."
As an aside it has been widely reported that Matt Lauer and Alexandra Wallace don't have too much love for each other as they have previously butted heads with each other. Nevertheless Matt's less obvious presence on the show might be what the doctor ordered as the Today show attempts to revive its sagging fortunes…
The NBC insider disclosure comes off the heels off another NBC insider (is it the same insider and is this NBC's way of trying to get Matt to get the hint his time is perhaps limited?) who earlier offered the following to the nydailynews:
"This problem is not going to go away until Matt Lauer does. He's great, but fairly or unfairly, his brand is damaged."
Let's hope Matt enjoys his chamomile tea from the sidelines…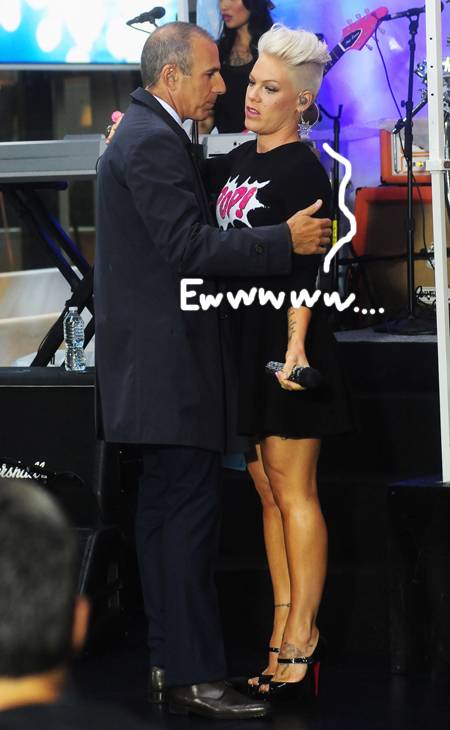 Matt Lauer absence on Today show leads to huge sigh of relief from staff.
The Today show is groveling to have Ann Curry back.
Ann Curry firing now leads to Today show defending Matt Lauer.
Ann Curry gets her revenge as Matt Lauer now said to be forced to take huge pay cut…
Matt Lauer would like to tell you how his popularity has plummeted since Ann Curry was fired. Will he survive?
Ann Curry fired. Matt Lauer is looking very bad as Today ratings plummet further.
Matt Lauer urged to take a pay cut off his $25 million deal as Today show falters.
Ann Curry fired: Katie Couric slams NBC. But why?
Ann Curry Fired. Looks like Matt Lauer is hated even more as mini revolt at Today heats.
Ann Curry firing. Al Roker now calls Matt Lauer out…
Ann Curry fired: Reunites with Matt at London. Refuses to engage him.
Ann Curry: Now reckons she was fired cause of her flat shoes, gray hair and too multi colored style.
Ann Curry Today show: At last NBC Today show gets a rating boost with Olympics.
Ann Curry fired. Reckons that The Today show are not living up to promises made to her.
Matt Lauer calls Meredith Vieira an 'Indian giver.'
Ann Curry fired: Feels vindicated as NBC ratings falter at the London Olympics
Ann Curry to return to The Today show after James Holmes shooting.
Ann Curry replacement Savannah Guthrie said to be having debilitating migraines.
Ann Curry fired. Media pundits anxiously await new Nielsen ratings.
Ann Curry live interview with Ladies Home Journal released.
Ann Curry is not missed as NBC insists that they are thrilled with the new anchor team.
Ann Curry Fired: Can NBC still save itself?
Ann Curry Fired: Savannah Guthrie's 'Today' Debut tanks!
Ann Curry's replacement Savannah Guthrie waxes girlish charm with giggly Matt Lauer
Ann Curry fired: Surfaces with new tweets, inspires more controversy.
What's wrong with media today?
Ann Curry Fired: Matt Lauer was 100 % behind her ouster from Today show.
Ann Curry fired: NBC executive comes out bashing former Today anchor.
Ann Curry fired and the capitulation of the Today show.
Matt Lauer's wife to follow him to London cause she's afraid he might cheat with Today's Natalie Morales.
Ann Curry Fired: Matt Lauer and his crocodile tears.
Ann Curry Fired. 'I'm sorry I couldn't carry the ball over the finish line…
Matt Lauer's wife threatened to divorce him if Natalie Morales became Today co anchor.
Ann Curry fired: Officially leaving Today, to make farewell speech imminently.
Ann Curry fired. Lap dances, grumpy fits and behind the scenes back stabbing…
Ann Curry Fired: More upheaval as passed over Natalie Morales set to leave Today show.
Ann Curry Fired: Ann haggling for $20 million exit money and NBC confirms Savannah Guthrie.
Ann Curry Fired. Backstabbed by NBC.
Ann Curry Fired. Refuses to take the hint now fed up NBC will go public.
Ann Curry doesn't care that she's fired. "I'm here to stay!'
Ann Curry Fired: 'Am I not good enough?'
Ann Curry turns up to Today show, acting as if she hasn't been fired.
Ann Curry fired cause NBC hates her.
Matt Lauer re-signs with the Today show whilst Ann Curry is a goner.
Ann Curry rumored to be fired because her co host Matt Lauer hates her guts.