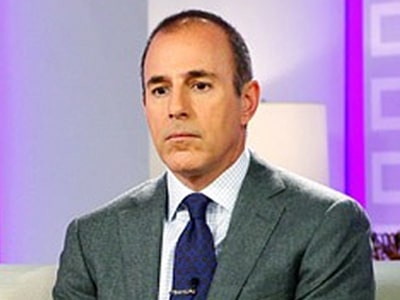 Matt Lauer will be fired by February if 'Today' ratings don't pick up. Replacement sought…
Has Matt Lauer become an unfair target? How he fell from grace…
Matt Lauer is officially hated. Everyone desperate to get him to 'retire.'
At last! Matt Lauer is getting fired!
Matt Lauer refuses to take a pay cut as 500 at NBC fear for their jobs.
Matt Lauer might now be replaced at Today show.
Oh really? Ann Curry firing leads to Today Producer Jim Bell being fired after ratings slump.
Ann Curry's firing and Today shows tabloid fare is the reason why the show is tanking with former viewers.
Ann Curry firing not Matt Lauer's fault insist Today crew. A turn of attitude?
Ann Curry's firing and Today shows tabloid fare is the reason why the show is tanking with former viewers.
It seems long time Today anchor Matt Lauer is not exactly thrilled that NBC's Today producer Jim Bell is being forced out and now being replaced with long time supporter and Ann Curry fan Alexandra Wallace.
According to sources close to radaronline, Matt Lauer and his new boss, Alexandra Wallace already have a history of terse standoffs and Matt isn't particularly receptive to the idea of Wallace coming on board as the show's producer as he has already begun fretting about the changes she may choose to make. Changes that it is no open secret that Wallace will be looking to make ever since the ouster of previous co anchor this summer led to a wide exodus of viewers who were repulsed by the way Curry was humiliated and dumped, with many laying the blame on Lauer.
Said the source: "Matt Lauer is NOT happy that Jim Bell who had been the executive producer of the TODAY show since 2005 has been forced out."
The source goes on to reiterate that Alexandra Wallace, who will be Bell's replacement, and Matt have never had a good working relationship. What's also unnerving Lauer is the fact that Alexandra Wallace is a big advocate of Ann Curry's. Which may or may not mean that Ann Curry may get to come back to the show (despite assurances that she would be a special correspondent, Ms Curry has been conspicuously absent from the show's line up) something that probably wont sit too well with Matt Lauer given the frosty nature of his relations with Curry.
Continues the source:
"Alexandra is going to be shaking things up on the show in order to get it back on top. For instance, against Matt and Jim Bell's long-time stance of only having NBC-paid experts to comment on current events in the news, which has made the show feel very, very stale, Alexandra plans on using non-NBC staffers to do that. The reason is that having different experts will give the audience a much more diverse and knowledgeable base of information they can use in their own lives that isn't the same predictable information being dispersed.
"Matt hates the idea and likes the continuity of using NBC talent such as Star Jones, Dr. Gail Saltz and Donnie Deutsch. They will still be used, just not as much."
What makes Wallace's entry more beguiling is the fact that she will be the Today show's first executive producer who happens to be widely respected by cast and crew except for Matt Lauer.
Adding spice to the shake up is also this comment made to the nydailynews by an unnamed prominent former NBC News executive.
"This problem is not going to go away until Matt Lauer does. He's great, but fairly or unfairly, his brand is damaged."
Hmm, let's see if Matt will be able to keep his perfect chamomile tea cup manners in check as Wallace shakes things up… or rather shakes Matt up…?
.
Matt Lauer absence on Today show leads to huge sigh of relief from staff.
The Today show is groveling to have Ann Curry back.
Ann Curry firing now leads to Today show defending Matt Lauer.
Ann Curry gets her revenge as Matt Lauer now said to be forced to take huge pay cut…
Matt Lauer would like to tell you how his popularity has plummeted since Ann Curry was fired. Will he survive?
Ann Curry fired. Matt Lauer is looking very bad as Today ratings plummet further.
Matt Lauer urged to take a pay cut off his $25 million deal as Today show falters.
Ann Curry fired: Katie Couric slams NBC. But why?
Ann Curry Fired. Looks like Matt Lauer is hated even more as mini revolt at Today heats.
Ann Curry firing. Al Roker now calls Matt Lauer out…
Ann Curry fired: Reunites with Matt at London. Refuses to engage him.
Ann Curry: Now reckons she was fired cause of her flat shoes, gray hair and too multi colored style.
Ann Curry Today show: At last NBC Today show gets a rating boost with Olympics.
Ann Curry fired. Reckons that The Today show are not living up to promises made to her.
Matt Lauer calls Meredith Vieira an 'Indian giver.'
Ann Curry fired: Feels vindicated as NBC ratings falter at the London Olympics
Ann Curry to return to The Today show after James Holmes shooting.
Ann Curry replacement Savannah Guthrie said to be having debilitating migraines.
Ann Curry fired. Media pundits anxiously await new Nielsen ratings.
Ann Curry live interview with Ladies Home Journal released.
Ann Curry is not missed as NBC insists that they are thrilled with the new anchor team.
Ann Curry Fired: Can NBC still save itself?
Ann Curry Fired: Savannah Guthrie's 'Today' Debut tanks!
Ann Curry's replacement Savannah Guthrie waxes girlish charm with giggly Matt Lauer
Ann Curry fired: Surfaces with new tweets, inspires more controversy.
What's wrong with media today?
Ann Curry Fired: Matt Lauer was 100 % behind her ouster from Today show.
Ann Curry fired: NBC executive comes out bashing former Today anchor.
Ann Curry fired and the capitulation of the Today show.
Matt Lauer's wife to follow him to London cause she's afraid he might cheat with Today's Natalie Morales.
Ann Curry Fired: Matt Lauer and his crocodile tears.
Ann Curry Fired. 'I'm sorry I couldn't carry the ball over the finish line…
Matt Lauer's wife threatened to divorce him if Natalie Morales became Today co anchor.
Ann Curry fired: Officially leaving Today, to make farewell speech imminently.
Ann Curry fired. Lap dances, grumpy fits and behind the scenes back stabbing…
Ann Curry Fired: More upheaval as passed over Natalie Morales set to leave Today show.
Ann Curry Fired: Ann haggling for $20 million exit money and NBC confirms Savannah Guthrie.
Ann Curry Fired. Backstabbed by NBC.
Ann Curry Fired. Refuses to take the hint now fed up NBC will go public.
Ann Curry doesn't care that she's fired. "I'm here to stay!'
Ann Curry Fired: 'Am I not good enough?'
Ann Curry turns up to Today show, acting as if she hasn't been fired.
Ann Curry fired cause NBC hates her.
Matt Lauer re-signs with the Today show whilst Ann Curry is a goner.
Ann Curry rumored to be fired because her co host Matt Lauer hates her guts.