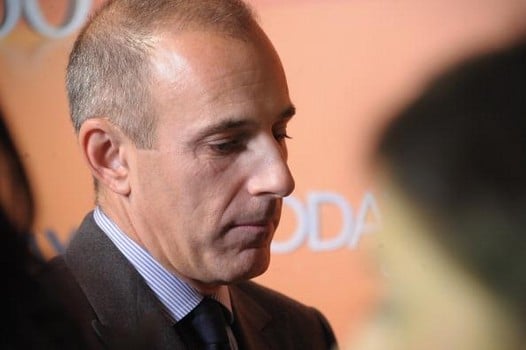 Matt Lauer celebrates his 55th birthday in misery. Studying GMA's success….
Interesting. Matt Lauer's bosses can't get Ann Curry to have 'friendly' lunch with him.
Oh my! Matt Lauer is getting called nasty things on the street by people angry at him for Ann Curry's firing.
Matt Lauer will be fired by February if 'Today' ratings don't pick up. Replacement sought…
Has Matt Lauer become an unfair target? How he fell from grace…
Matt Lauer is officially hated. Everyone desperate to get him to 'retire.'
Matt Lauer to be scaled back from Today show cause no one likes him anymore.
Matt Lauer refuses to take a pay cut as 500 at NBC fear for their jobs.
Matt Lauer might now be replaced at Today show.
Matt Lauer is furious that Today's Jim Bell is forced out as Ann Curry supporter Alexandra Wallace is now brought on.
Oh really? Ann Curry firing leads to Today Producer Jim Bell being fired after ratings slump.
Ann Curry's firing and Today shows tabloid fare is the reason why the show is tanking with former viewers.
Ann Curry firing not Matt Lauer's fault insist Today crew. A turn of attitude?
Ann Curry's firing and Today shows tabloid fare is the reason why the show is tanking with former viewers.
It looks like Matt Lauer is finally on his way out of the 'Today' show, this according to what tabloid rag, the National Enquirer describes courtesy of a Studio 1-A insider.
Tells the source:
"It's just desserts. Matt is finally getting what he deserves!"
"His years-long feuds with former co-hosts Katie Couric, Meredith Vie­ira and Ann Curry have taken their toll. Everyone has turned against him, and Matt is going to be ousted because he's being blamed for the show's collapse."
The disclosure comes as the 'Today' show continues to cede viewership to its long term rival, ABC's 'Good Morning America,' who until earlier this year had been consistently beating for the last 16 years in viewership polls.
That though all came to a head this summer after studio executive Jim Bell is said to have pulled the plug on co anchor  Ann Curry who was literally booted off the show in one of the most humiliating ousters on prime tv which saw the seasoned TV journalist unabashedly weeping. At the time Ms Curry could hardly hide her sense of disbelief and betrayal as a nonchalant Matt Lauer sat along hardly trying to console the disillusioned Curry. It had been thought by many that Curry's ouster was single handedly orchestrated by Lauer himself, a result of him not being happy with her performance as well as blaming her for the recent slide in viewership rankings.
In fact it is understood Matt Lauer had stipulated before signing back on to the show earlier this year he would only do so if executives would get rid of Curry.
Nevertheless viewer reaction to the ouster of Curry only came back to haunt NBC, with many repulsed by the way she was treated and the cavalier approach of anchor Matt Lauer who by now had begun to cause viewers to resent him. The resentment it seems didn't stop with Curry or the viewers who rallied behind Curry but that of crew as well who would soon begin leaking their ardent dissatisfaction with Lauer who by now was said to be acting like an over bearing primadonna.
As the dissent escalated, Lauer found himself continuously attacked by the media who by now had sensed there was more going on that meets the eye. It wasn't soon long before Lauer began to complain that he was 'sick and tired' of being the fall guy for Curry's ouster and had ostensibly demanded that the show's executive producer, Jim Bell, step up to the plate and acknowledge that it had been his decision alone to get rid of Curry. The eventual admission by Bell would eventually cost him his job, who is now said to be replaced with season veteran Alexandra Wallace who it is widely known to have little love for Lauer given the many clashes that they have had over the years.
The browbeating and the rumor mill then took an unexpected turn as recently as a week ago when a high ranking NBC executive then went on to reveal the following:
"This prob­lem is not going to go away until Matt Lauer does," a "prominent" former NBC News exec recently told a Big Apple newspaper. "He's great, but fairly or unfairly, his brand is damaged."
Tensions once again escalated after NBC announcing that they planned to fire up to 500 employees from its entertainment division with Lauer refusing to cede part of his recent $30 million a year salary deal to help keep some of the crew on. This despite Jay Leno of the 'Tonight Show,' agreeing to give up half of his salary to help fellow crew remain employed.
What had once been underlying loyalty to Lauer by now had begun to reach a crescendo of disgust and seething resentment that the king of morning tv was by no means a team player.
But it gets worse:
And NOW sources say well-liked weatherman Al Roker is secretly plotting to push Lauer aside, and will lobby the new boss for help.
"Matt and Al used to be good bud­dies – until Al found out Matt had been instrumental in Ann's ouster," said a "Today" source. "They come across as friends on the air, but that's all an act."
Then again this may not necessarily have come out of left field as Roker was seen to make a cryptic wise crack over the summer which hinted at the degree of discord amongst crew and fellow air hosts. By now rumors were flying that Lauer faced the very real possibility of being let go before the end of the year .
Says the National Enquirer: Roker has been campaigning for 37-year-old Willie Geist – who was recently named co-host of "Today's" 9 a.m. hour – to take over Matt's seat, said the first source.
"Adding a fresh new guy like Willie to the mix is just what Al feels 'To­day' needs to help pull the show out of the ratings doldrums and compete with 'GMA,'" the source explained.
Exacerbating Lauer's problems and by extension humiliating NBC was Lauer's wandering eye which by now had even his wife, Annette Roque running to the media and accusing her husband of cheating on her, even going so far as to accuse him of having an affair with co host, Natalie Morales. Something that needless to say hardly did 'the Today' show any favors and if anything served to debase the program to a sartorial version of its own tabloid folly.
Reports the Enquirer: As The ENQUIRER has reported, Lauer carried on an affair with Jes­sica Thorman, a married Florida woman, until just months before his 1998 wedding to Annette.
Her husband, Zoltan Molnar, accused Lauer of wrecking their marriage, and declared: "Matt is not the goody-goody nice guy he looks like on TV."
How bitter sweet it must all seem now as Matt Lauer has now found himself a sitting duck as he must awkwardly sip on his morning chamomile tea and pretend that everything is 'nice' in the tabloid junkland that in essence has come courtesy of his own folly…
Matt Lauer absence on Today show leads to huge sigh of relief from staff.
The Today show is groveling to have Ann Curry back.
Ann Curry firing now leads to Today show defending Matt Lauer.
Ann Curry gets her revenge as Matt Lauer now said to be forced to take huge pay cut…
Matt Lauer would like to tell you how his popularity has plummeted since Ann Curry was fired. Will he survive?
Ann Curry fired. Matt Lauer is looking very bad as Today ratings plummet further.
Matt Lauer urged to take a pay cut off his $25 million deal as Today show falters.
Ann Curry fired: Katie Couric slams NBC. But why?
Ann Curry Fired. Looks like Matt Lauer is hated even more as mini revolt at Today heats.
Ann Curry firing. Al Roker now calls Matt Lauer out…
Ann Curry fired: Reunites with Matt at London. Refuses to engage him.
Ann Curry: Now reckons she was fired cause of her flat shoes, gray hair and too multi colored style.
Ann Curry Today show: At last NBC Today show gets a rating boost with Olympics.
Ann Curry fired. Reckons that The Today show are not living up to promises made to her.
Matt Lauer calls Meredith Vieira an 'Indian giver.'
Ann Curry fired: Feels vindicated as NBC ratings falter at the London Olympics
Ann Curry to return to The Today show after James Holmes shooting.
Ann Curry replacement Savannah Guthrie said to be having debilitating migraines.
Ann Curry fired. Media pundits anxiously await new Nielsen ratings.
Ann Curry live interview with Ladies Home Journal released.
Ann Curry is not missed as NBC insists that they are thrilled with the new anchor team.
Ann Curry Fired: Can NBC still save itself?
Ann Curry Fired: Savannah Guthrie's 'Today' Debut tanks!
Ann Curry's replacement Savannah Guthrie waxes girlish charm with giggly Matt Lauer
Ann Curry fired: Surfaces with new tweets, inspires more controversy.
What's wrong with media today?
Ann Curry Fired: Matt Lauer was 100 % behind her ouster from Today show.
Ann Curry fired: NBC executive comes out bashing former Today anchor.
Ann Curry fired and the capitulation of the Today show.
Matt Lauer's wife to follow him to London cause she's afraid he might cheat with Today's Natalie Morales.
Ann Curry Fired: Matt Lauer and his crocodile tears.
Ann Curry Fired. 'I'm sorry I couldn't carry the ball over the finish line…
Matt Lauer's wife threatened to divorce him if Natalie Morales became Today co anchor.
Ann Curry fired: Officially leaving Today, to make farewell speech imminently.
Ann Curry fired. Lap dances, grumpy fits and behind the scenes back stabbing…
Ann Curry Fired: More upheaval as passed over Natalie Morales set to leave Today show.
Ann Curry Fired: Ann haggling for $20 million exit money and NBC confirms Savannah Guthrie.
Ann Curry Fired. Backstabbed by NBC.
Ann Curry Fired. Refuses to take the hint now fed up NBC will go public.
Ann Curry doesn't care that she's fired. "I'm here to stay!'
Ann Curry Fired: 'Am I not good enough?'
Ann Curry turns up to Today show, acting as if she hasn't been fired.
Ann Curry fired cause NBC hates her.
Matt Lauer re-signs with the Today show whilst Ann Curry is a goner.
Ann Curry rumored to be fired because her co host Matt Lauer hates her guts.