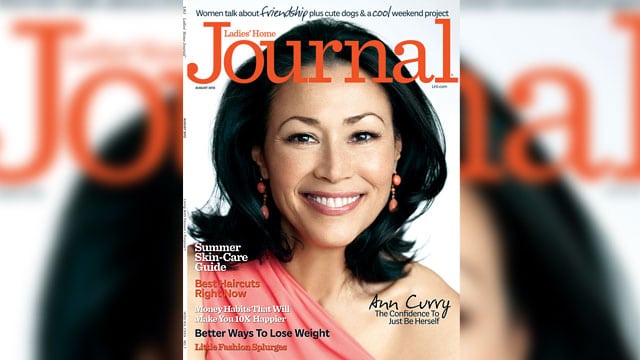 Ann Curry fired: Reunites with Matt at London. Refuses to engage him.
Ann Curry: Now reckons she was fired cause of her flat shoes, gray hair and too multi colored style.
Ann Curry Today show: At last NBC Today show gets a rating boost with Olympics.
Ann Curry fired. Reckons that The Today show are not living up to promises made to her.
Ann Curry fired: Feels vindicated as NBC ratings falter at the London Olympics
Ann Curry returns to The Today show after Batman Dark Knight shooting
Ann Curry replacement Savannah Guthrie said to be having debilitating migraines.
Ann Curry fired. Pundits anxiously await new Nielsen ratings.
Ann Curry hinted at limitations of self.
With Ann Curry set to grace Ladies Home Journal August hard cover issue the outlet has releases a video of the time that the former NBC co anchor sat down with the journal to discuss thoughtful topics such as aging, achievement, the Summer Olympics and beauty. Of course what makes the interview so uncanny is who could have known back in May when it all took place what awaited Ms Curry literally around the corner.
What though caught this author's attention was the response Ms Curry gave to the following question:
On what she'd change about herself:
"I don't always understand my worth. I think it's a chronic condition for women. I'm not talking about professionally. I'm talking about in our personal lives. We constantly punish ourselves with degrading thoughts when we look at ourselves in the mirror. We allow people to treat us poorly, we allow our husbands or boyfriends to get away with things or we have relationships with girlfriends or colleagues who don't treat us well. We don't defend ourselves as we would our own children. Women have demanded and gotten better jobs and more power. But the one thing we deserve is a better relationship with ourselves. We waste too much time beating ourselves up. I think at my age of 55, it's time to stop doing that."
The video too also shows the 55 year old Ms Curry in a more intimate repose than most of her fans and viewers are used to seeing her and one is struck by the degree of candor and savvy that she portrays as she reflects on the questions asked of her. Such are the banal days of media….
Ann Curry live interview with Ladies Home Journal released.
Ann Curry is not missed as NBC insists that they are thrilled with the new anchor team.
Ann Curry Fired: Can NBC still save itself?
Ann Curry Fired: Savannah Guthrie's 'Today' Debut tanks!
Ann Curry's replacement Savannah Guthrie waxes girlish charm with giggly Matt Lauer
Ann Curry fired: Surfaces with new tweets, inspires more controversy.
What's wrong with media today?
Ann Curry Fired: Matt Lauer was 100 % behind her ouster from Today show.
Ann Curry fired: NBC executive comes out bashing former Today anchor.
Ann Curry fired and the capitulation of the Today show.
Matt Lauer's wife to follow him to London cause she's afraid he might cheat with Today's Natalie Morales.
Ann Curry Fired: Matt Lauer and his crocodile tears.
Ann Curry Fired. 'I'm sorry I couldn't carry the ball over the finish line…
Matt Lauer's wife threatened to divorce him if Natalie Morales became Today co anchor.
Ann Curry fired: Officially leaving Today, to make farewell speech imminently.
Ann Curry fired. Lap dances, grumpy fits and behind the scenes back stabbing…
Ann Curry Fired: More upheaval as passed over Natalie Morales set to leave Today show.
Ann Curry Fired: Ann haggling for $20 million exit money and NBC confirms Savannah Guthrie.
Ann Curry Fired. Backstabbed by NBC.
Ann Curry Fired. Refuses to take the hint now fed up NBC will go public.
Ann Curry doesn't care that she's fired. "I'm here to stay!'
Ann Curry Fired: 'Am I not good enough?'
Ann Curry turns up to Today show, acting as if she hasn't been fired.
Ann Curry fired cause NBC hates her.
Matt Lauer re-signs with the Today show whilst Ann Curry is a goner.
Ann Curry rumored to be fired because her co host Matt Lauer hates her guts.