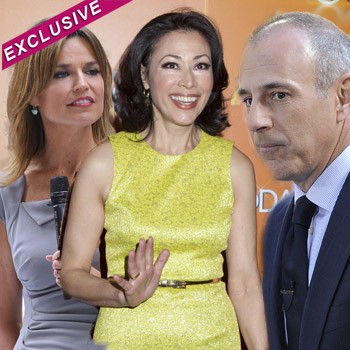 Ann Curry fired: Katie Couric slams NBC. But why?
Ann Curry Fired. Looks like Matt Lauer is hated even more as mini revolt at Today heats.
Ann Curry firing. Al Roker now calls Matt Lauer out…
Ann Curry fired: Reunites with Matt at London. Refuses to engage him.
Ann Curry: Now reckons she was fired cause of her flat shoes, gray hair and too multi colored style.
Ann Curry Today show: At last NBC Today show gets a rating boost with Olympics.
Ann Curry fired. Reckons that The Today show are not living up to promises made to her.
Ann Curry would like to remind NBC that they should have never pinned the blame on their falling ratings on her…
It seems Ann Curry is the one with the last laugh as the fortunes at NBC continue to falter pursuant to her humiliating ousterfrom the network's 'Today' show as it's co anchor.
radaronline: "Ann feels completely vindicated by the TODAY show's poor ratings since she left," a source close to the situation exclusively told Radar. "She feels she was fired completely unfairly and wasn't given a fair shot at the gig."
"Ann feels she was made a scapegoat by the network and that it's the whole show that needed an overhaul, not her replacing," our insider added.
"She feels they should have booked better guests and had a more exciting line-up and better stories to cover and better writing. Ann believes that point has been proved by the show's ratings declining even further since she left."
And then there's this particularly unpleasant morsel clogging the drainpipes:
As we previously reported, replacement Savannah Guthrie is under increasingly intense pressure after TODAY was beaten out in the ratings race by arch-rival ABC's Good Morning America for the fourth straight week.
In fact so dire have things become for the folks at NBC they felt compelled to beg Hoda Kotb to get herself over to London (this despite she had a two week hiatus lined up for vacation) in the hope that the networks ratings can be turned around.
"They called Hoda on Thusday begging her to go to London because they said it wasn't working like they thought," a source tells the NY Daily News.
Like they thought it would work? Hmm. Kids how come I have the feeling that Matt Lauer is gagging on his camomile tea?
Since Guthrie stepped into Curry's role back on July 9, the "Today" show hasn't beaten rival "Good Morning America" in the ratings even once. If Savannah Guthrie was looking for the good stuff to block out overwhelming head achesa few weeks ago, she might be looking for a box of the good shit now, but that's just a hunch.
Continues radaronline: "She has no hard feelings towards Savannah," said the source, however her opinion of host Lauer is much more damning.
"There's definitely no love lost for Matt Lauer though, who she feels threw her under the bus completely."
No love lost for Matt Lauer? Kids wouldn't that be the understatement of the year?
Who knows there might be some new revamping at the blighted morning show in the months to come if the numbers don't somehow pick up. But then again we'll have to wait and see what Matt has to say on the matter….
Ann Curry to return to The Today show after James Holmes shooting.
Ann Curry replacement Savannah Guthrie said to be having debilitating migraines.
Ann Curry fired. Media pundits anxiously await new Nielsen ratings.
Ann Curry live interview with Ladies Home Journal released.
Ann Curry is not missed as NBC insists that they are thrilled with the new anchor team.
Ann Curry Fired: Can NBC still save itself?
Ann Curry Fired: Savannah Guthrie's 'Today' Debut tanks!
Ann Curry's replacement Savannah Guthrie waxes girlish charm with giggly Matt Lauer
Ann Curry fired: Surfaces with new tweets, inspires more controversy.
What's wrong with media today?
Ann Curry Fired: Matt Lauer was 100 % behind her ouster from Today show.
Ann Curry fired: NBC executive comes out bashing former Today anchor.
Ann Curry fired and the capitulation of the Today show.
Matt Lauer's wife to follow him to London cause she's afraid he might cheat with Today's Natalie Morales.
Ann Curry Fired: Matt Lauer and his crocodile tears.
Ann Curry Fired. 'I'm sorry I couldn't carry the ball over the finish line…
Matt Lauer's wife threatened to divorce him if Natalie Morales became Today co anchor.
Ann Curry fired: Officially leaving Today, to make farewell speech imminently.
Ann Curry fired. Lap dances, grumpy fits and behind the scenes back stabbing…
Ann Curry Fired: More upheaval as passed over Natalie Morales set to leave Today show.
Ann Curry Fired: Ann haggling for $20 million exit money and NBC confirms Savannah Guthrie.
Ann Curry Fired. Backstabbed by NBC.
Ann Curry Fired. Refuses to take the hint now fed up NBC will go public.
Ann Curry doesn't care that she's fired. "I'm here to stay!'
Ann Curry Fired: 'Am I not good enough?'
Ann Curry turns up to Today show, acting as if she hasn't been fired.
Ann Curry fired cause NBC hates her.
Matt Lauer re-signs with the Today show whilst Ann Curry is a goner.
Ann Curry rumored to be fired because her co host Matt Lauer hates her guts.